Indonesia's new law to ban extreme groups may backfire: Experts
JAKARTA — A new decree that allows the Indonesian government to ban groups that oppose its official state ideology could spark opposition from Islamists, analysts told TODAY.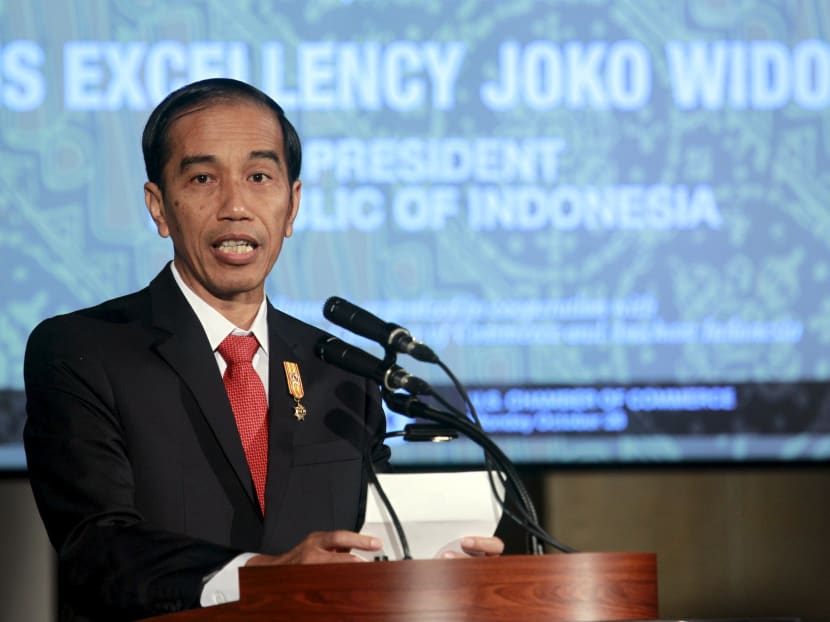 JAKARTA — A new decree that allows the Indonesian government to ban groups that oppose its official state ideology could spark opposition from Islamists, analysts told TODAY.
The law, signed by President Joko Widodo on Monday, comes as concerns grow about the influence of hardliners in the world's largest Muslim-majority nation, where most of the population practises a moderate form of Islam.
The decree empowers the government to disband without trial any group that challenges Pancasila — a set of founding national principles that include national unity, social justice and democracy alongside belief in God, and enshrines religious diversity in an officially secular system of government.
It is believed that Hizbut Tahrir Indonesia (HTI), a group that campaigns for the country to adopt Syariah law and become a caliphate, is among the targets of the decree after the government announced in May that it planned to ban the group.
Associate Professor Gregory Fealy, an expert in Indonesian politics at the Australian National University, warns that the decree may backfire on the Widodo administration. "The risk here is this causes an Islamist backlash against him, and this doesn't look like a thing a nation of laws should be doing," he told The New York Times.
Mr Keith Loveard, an analyst at Jakarta-based Concord Consulting, expects a pushback from the Islamists in that they would mount a legal challenge headed by constitutional law expert Yusril Ihza Mahendra to the new ruling.
"It is also likely that some groups — most likely including HTI — will take to the streets to protest," said Mr Loveard, who is also an author of books about Indonesian politics.
"It needs to be noted that HTI itself has always been extremely disciplined and well-behaved in its public outings, a factor that will inevitably be used by Mahendra as a good reason why it should not be banned," he added.
Indonesia expert Shinta Eka Puspasari says that any Islamist pushback against the new ruling is unlikely to be violent, at least in the short term.
"I don't foresee any fierce backlash from radical groups notorious for vigilantism such as the FPI (Islamic Defenders Front) at the moment, particularly due to the absence of FPI leader Rizieq Shihab," the analyst at Concord Consulting told TODAY.
The firebrand Shihab is facing charges for violating Indonesia's pornography law after screen captures emerged of sexually explicit text messages, purportedly between him and a woman who is not his wife.
Ms Puspasari, cautioned, however, that Islamist groups could use the new decree to reaffirm the message of the protests last year against former Jakarta governor Basuki Tjahaja Purnama — that Muslims are being marginalised in the country.
HTI, along with other Islamist groups such as the FPI, were behind the protests against Purnama last year, who was then accused of blasphemy. He was convicted in May and sentenced to two years' imprisonment.
Over the last few months, hardline Islamist groups have set up posters around Jakarta that say the Widodo regime is "criminalising" religious scholars.
Indonesian political observer and businessman Johannes Nugroho warns that the decree may toughen the hardline stance of Indonesian jihadists and their sympathisers for what they will see as persecution of their faith.
"The government should bear in mind that radical Islam now has had the momentum to grow after the fall of (former Indonesian president) Suharto largely because Suharto tried to silence it for much of his tenure, so much so it developed a persecution complex," Mr Nugroho told TODAY.
Mr Suharto ruled Indonesia for 32 years during which he demanded loyalty to the secular state ideology Pancasila and discouraged the organisation of religious groups.
His downfall in 1998 ushered in democratic reforms, and alongside them a new-found freedom for hardline Islamist groups, many of which have been involved in harassing and violently attacking religious minorities, feminists and lesbian, gay, bisexual and transgender groups. WITH AGENCIES