Inside the secret lives of Myanmar's women garment workers
YANGON — When Ms Wutt Ye followed her doctor's orders to ask for medical leave from her garment factory job in northern Mingaladon industrial zone, she was immediately dismissed.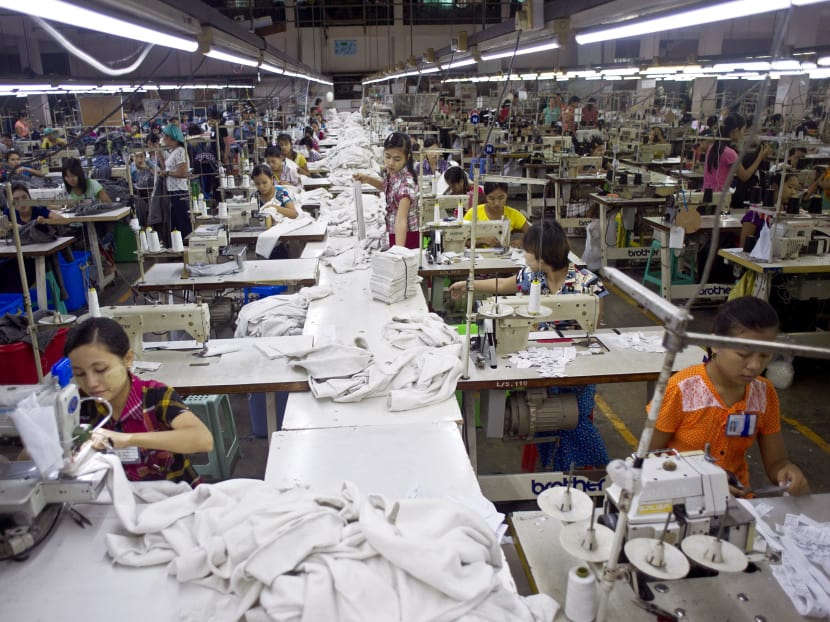 YANGON — When Ms Wutt Ye followed her doctor's orders to ask for medical leave from her garment factory job in northern Mingaladon industrial zone, she was immediately dismissed.
The doctor had diagnosed Ms Wutt Ye with depression and a series of heart problems. However, the factory denied her leave request as her doctor worked at a public clinic, which was not accepted by the Myanmar Social Security Board.
The factory had repeatedly denied Ms Wutt Ye the right to a social security card. Without social security cards, workers are systematically denied health and retirement benefits and more. In Myanmar, it is up to the employer to give social security cards to their workers, which in certain conditions can be used as leverage.
Ms Wutt Ye's story is not unique. Factory workers across Myanmar – and women especially – routinely bear the brunt of abuse and exploitation. Being a woman in the workplace means facing a unique series of gender-based discriminations, as well as challenges to health and safety.
HARROWING CONDITIONS
Throwing light on the bare facts of exploitation in a lucrative industry is Forgotten Voices behind the Reform, a new documentary and research paper that aim to bring these women's unheard stories to the public eye.
Released last month by the Burmese Women's Union (BWU), the documentary is the culmination of 66 interviews of women garment workers over four months in 13 multinational corporations in industrial zones outside Yangon's outer townships. The three industrial zones are Mingaladon, Shwe Pyi Thar and Hlaing Thar Yar.
"We wanted women's voices out in the public, women speaking about their problems after settling for the daily lowest income wage," said Ms Ei Mon Pyo, a researcher for the documentary and a member of the Burmese Women's Union. She said the group chose to focus on women because they make up 90 per cent of the garment factory labour force. "We went to the factories and met with woman workers. We discussed what they wanted and how they were treated in the factories by splitting up into groups," added Ms Ei Mon Pyo.
The 30-minute film follows just three workers as they fight for their labour rights from within the factory system and reveal the harrowing conditions on the production line.
THE FACTORY SYSTEM
According to the Centre for Research on Multinational Corporations (Somo), a Dutch NGO which investigates the impact of MNC activities around the globe, factory workers – and some may be aged below 15 – typically come from the countryside to live in slums that may not have running water or electricity, as they cannot afford better lodgings. At peak periods, workers may be forced to do overtime without pay and without redress.
In the factory, workers are not allowed to speak out against their managers and supervisors, even in the case of abuse. Workers are discouraged against forming labour unions with the threat of being fired.
At the beginning of many factory jobs, workers must sign a contract promising to obey the rules and regulations of the factory, no matter how unjust.
For example, if a fire breaks out on production line, the responsibility falls on the workers instead of the manager because the machine switches are technically closer to the workers.
Workers are also limited to two bathroom breaks per shift. If they stay longer than their allotted time for any reason, such as menstruation pain and others, they are criticised and threatened with salary cuts.
Thus, for many workers, silence is the best option if they wish to keep their jobs, and even better for companies and foreign investors who continue to profit from cheap labour.
A RACE TO THE BOTTOM?
According to Ms Hel Lay Paw, the Information and Documentation Department coordinator, foreign investments in Myanmar's garment industry have increased six-fold from K2.2 billion (S$2.3 million) in 2007 to K12 billion in 2012.
This K10 billion jump in one decade puts the garment industry as one of Myanmar's most lucrative and attractive investments to foreign spenders. It is attractive to foreign investors as the minimum monthly pay for workers is US$63 (S$88), much less compared with the US$90 for Cambodia and US$145 for Bangladesh.
Fast-fashion brands, say reports, have historically sourced factories in countries with low wages. In the early 1960s, they set their sights on Japan. Later it was Hong Kong, Taiwan and Korea in the 1970s, then China in the 1980s and now it is South-east Asia, namely Myanmar, Vietnam and Cambodia.
There were 230,000 workers in the garment industry in 2015 and this could rise to one million by 2020. Despite the economic boom, analysts call it a race to the bottom from which few factory workers can hope to raise them out of poverty.
"Factory workers lives are more difficult under pressure and exploitation," said Ms Hel Lay Paw. "Instead of changing the living standard of the workers, the managers just make more rules. The workers are always in factories, working 11-hour shifts six days a week. They are lacking general knowledge and disciplinary abuse is rampant."
Like Ms Wutt Ye, many factory workers lack social security cards and when they ask their factory supervisors, they are met with myriad excuses. According to Somo, the abuses of the garment factories have gone largely unchecked in an environment where the rule of law is still not strong. It noted that garment brands are not doing enough to identify and tackle risks before they place orders. "Garment brands should think twice before they start production in Myanmar. The risk of labour rights violations is very high," said Ms Martje Theuws, a researcher at Somo.
Later in May, said Ms Hel Lay Paw, the documentary and research paper will be distributed to Parliament, human rights groups and social organisations throughout the country. The hope is that they will bring about positive action to end the exploitation of the female workers. "We will fight for labour rights awareness throughout the country and educate women workers about their voice," she said. MYANMAR TIMES