Japan pushes tech innovation for greying population
TOKYO — Japan's rapidly ageing society is spurring technological innovation, including the use of a tracking system to help families and nursing homes locate people with dementia when they lose their way or go missing.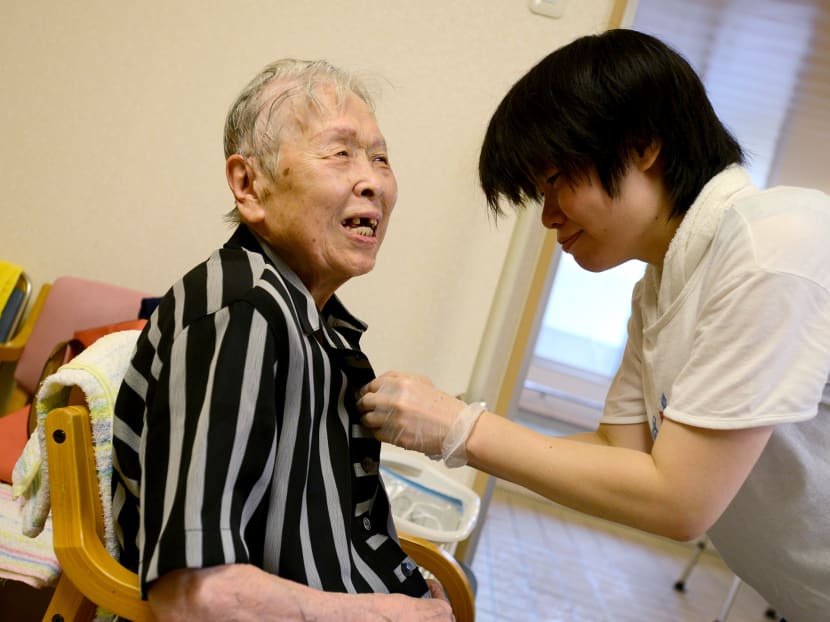 TOKYO — Japan's rapidly ageing society is spurring technological innovation, including the use of a tracking system to help families and nursing homes locate people with dementia when they lose their way or go missing.
As the country with the most aged population, Japan is poised to see its post-war baby-boomer generation form a population stratum aged 75 or older by 2025.
A thumb-sized portable electronic device that can be placed in a pocket, wallet or attached to a shoe can be used to quickly find those suffering from dementia who go missing. The device is developed by Sohgo Security Services Company, known as Alsok.
The system works using Bluetooth wireless technology – the standard for exchanging data over short distances.
Volunteers from the community have to download a free app onto a smartphone. These volunteers and their smartphones then become a network that feeds the location of a missing person to Alsok's computer servers.
So if a person with dementia is simply wandering – unnoticed – down a street, carrying a Mimamori Tag gadget, and happens to pass someone who has the app, their location is picked up by Alsok.
Local businesses can also install tabletop detectors for the same purpose. As the data is sent anonymously, there is no concern about leaking private information.
Family members or others can then find the elderly person by checking the stored data via the app, and pinpoint their location and where the person is headed.
The more people download the app to their smartphones and the more tabletop detectors are employed, the easier it will be to find the missing person.
TO "WATCH OVER"
The Mimamori device – mimamori means "watch over" in Japanese – is smaller and lighter than a typically fist-sized GPS gadget, commonly used by hundreds of municipalities across Japan for the same purpose.
In a trial conducted in Japan's south-western city of Kitakyushu in January, the security service company "obtained a good result", according to Mr Daiki Shimamura, an Alsok official promoting the system.
Two search teams consisting of six people each were both able to find a person holding the device inside 10 minutes within a 2sqkm area, assisted by 30 tabletop detectors. It took dozens of people about 30 minutes to search for a person without using the system. The test subjects were not actual dementia patients.
Alsok's devices are expected to be sold to municipalities for ¥2,200 (S$27.36) per individual, plus ¥200 a month for the use. The tabletop detectors cost ¥23,000 per unit and can be rented on a monthly basis for ¥1,400. Alsok plans to begin commercial sales of the equipment and devices before the spring of 2018.
The number of persons who went missing due to dementia jumped 27.1 per cent to 12,208 in 2015 from 2012, accounting for 14.9 per cent of total missing persons, according to the National Police Agency.
The figure is expected to rise further as the ratio of elderly people – those aged 65 or older – in the population is forecast to reach 40 per cent in 2060 from 26.7 per cent in 2015, according to a projection by the Cabinet Office.
Anticipating demand, Eisai Company, a Tokyo-based pharmaceutical firm that has developed medications for dementia, has created a similar device to Alsok's with a Tokyo-based technology venture. The two companies are conducting trials in a number of municipalities and plan to begin commercial sales, also before the spring of 2018.
PILOT PROGRAMME
As part of a pilot programme around the nation, more than 2,000 Mimamori Tags are being provided for use in 10 cities nationwide by Alsok.
Tama, located in suburban Tokyo, is one of them. The city began employing Alsok's system in April to support elderly residents and their families.
The city encompasses part of Tama New Town, which was developed from the mid-1960s during Japan's era of high economic growth in response to the rising demand for affordable housing for people who commuted to central Tokyo. The town occupies 60 per cent of the city's total land area today. About two-thirds of the community's population of some 150,000 is living in the residential town. According to the local government, the ratio of persons 65 and over was 29.4 per cent in March, higher than the national average.
Tama represents a prime example of the task that faces the nation. One in three people in the city are expected to be at least 75 years old in 2025, as all the baby boomers who were born between 1947 to 1951, about 8.5 million, will have reached that age about then. Since 2006, Tama city has expanded its budget for elderly care, including building networks to closely watch seniors. Inagi, a city next to Tama, is also taking part in the pilot.
"Elderly residents come and go across city borders to visit hospitals in both cities, sometimes by train. We can prepare to care for those in need by using the system," said Mr Koji Takeda, a Tama city official.
Twenty-three companies and organisations, including Seven-Eleven Japan Company, the leading parcel delivery service Yamato Transport Company, post offices, non-profit organisations, co-op supermarkets, and care service providers, have agreed to cooperate.
"We call on (these companies) to voluntarily download the app into their employees' smartphones, in addition to placing the tabletop detectors at a number of their bases," said Mr Takeda.
The city is also asking the hundreds of senior citizen volunteers in Tama who regularly clean public elementary and junior high schools and various buildings across the city to participate in the neighbourhood watch. "If many of them cooperate by downloading the app, we could have a very reliable network to detect the elderly that covers the entire city," said Mr Takeda.
KYODO