Jokowi pledges to act against forest fires
MERANTI ISLANDS (Riau) — Indonesia President Joko Widodo yesterday (Nov 27) verbalised his preference for farms owned by people, rather than corporations, to curb the haze crisis that stems from peatland fires in Riau and elsewhere in Sumatra and Kalimantan.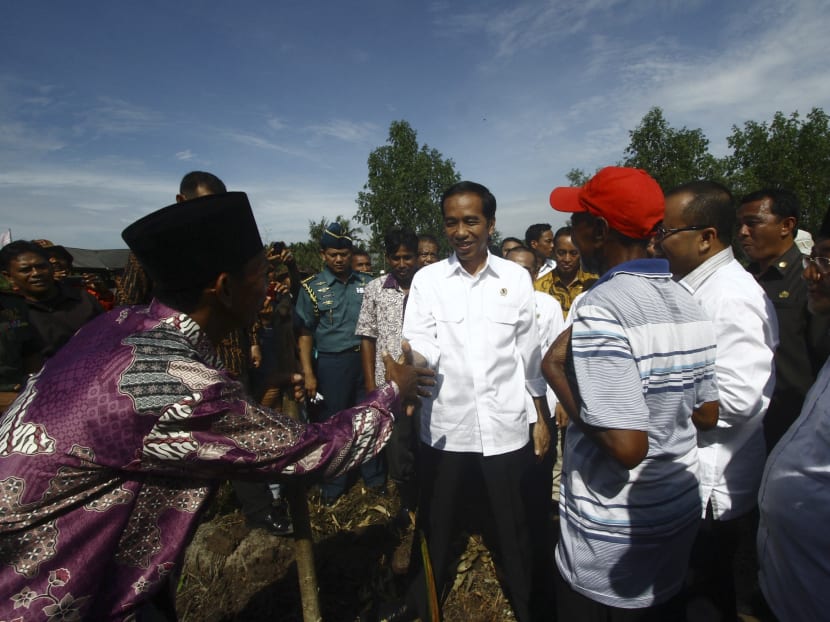 MERANTI ISLANDS (Riau) — Indonesia President Joko Widodo yesterday (Nov 27) verbalised his preference for farms owned by people, rather than corporations, to curb the haze crisis that stems from peatland fires in Riau and elsewhere in Sumatra and Kalimantan.
During a visit to Sungai Tohor village in the Meranti Islands district, one of the regions in Riau often hit hard by forest fires and haze, Mr Widodo said people's farming had a minimal impact to the environment, when compared to corporate monoculture plantations.
"The best thing to do is to give the land to people so they can use it to plant sago. What's made by people is usually environmentally friendly. They won't do any harm to nature," the president said. "However, if we give the land to corporations, they will only switch it to monoculture plantations."
Residents of Sungai Tohor and other surrounding villages said several pulpwood plantation companies operating in the area burned land, causing haze while damaging local people's sago plantations.
Mr Widodo said corporate-run monoculture plantations such as those consisting of oil palms and pulpwood were the main cause of environmental damage in the district.
He said he had ordered Environment and Forestry Minister Siti Nurbaya to review concessions for plantation companies in Riau and elsewhere in Indonesia.
"If they are indeed destroying the ecosystem with their monoculture plantations, they will have to be terminated," Mr Widodo said. "It must be stopped, we mustn't allow our tropical rainforests to disappear because of monoculture plantations like oil palms."
Ms Nurbaya, who was visiting the Sungai Tohor site along with Mr Widodo, said she would terminate licences of companies whose activities damage the ecosystem.
"We will work on this matter. There are so many things to do starting from technical matters, spatial planning and water management, to law enforcement and environmental education for people and corporations," she added.
Mr Widodo also said yesterday that the government would employ a new approach to manage peatlands, vast expanses of which can be found in Sumatra and Kalimantan.
Fires on these two Indonesian islands, which often cause transboundary haze problems affecting neighbouring Singapore and Malaysia, begin on peatlands as it is drained and subjected to slashing and burning to give way for the cultivation of commercial plants.
Local farmers and big corporations have for years been placing the blame on each other for igniting fires on peatlands, which cause recurring haze crises.
Corrupt officials, meanwhile, have been blamed for lax law enforcement that allows the fires and haze crises to recur every year, increasing economic costs as airports are forced to close, which disrupts flights, as well as harming local residents' health.
CARBON TIME-BOMB
Environmentalists also have lamented the amount of carbon dioxide released into the air, contributing to global warming and climate change. They describe peatland as a so-called "carbon time-bomb".
According to Wetlands International, a Netherlands-based NGO engaging in wetland conservation and restoration, peatlands contain twice as much carbon stock as the entire forest biomass of the world (550 gigatonnes of carbon). Wetlands says Indonesia has the dubious honour of being responsible for the highest CO2 emissions from peatlands due to logging and drainage — amounting to around 900 megatonnes per year.
Indonesia's environmental ministry has said peat fires contributed to 25 per cent of the country's carbon emissions between 2000 and 2005, second only to deforestation.
The new approach Mr Widodo says he wants to adopt deploys use of canals and water gates to control water levels in peatlands to prevent them from burning easily. Canals also allow farmers to optimise soil conditions to grow plants without having to first set fire to the land.
A pilot project was completed last year in Central Kalimantan under the supervision of the government-run Indonesia Climate Change Trust Fund.
Mr Widodo, in a symbolic gesture, installed a water gate on a canal surrounding a plot of peatland in Sungai Tohor.
"This canal [water gate] is initiated by our people, and is a positive step, therefore it should be followed up by the government, permanently," he said.
"It will keep peatlands wet. That's the key [to manage peatlands]. They will be wet all the time so they won't easily catch fire, intentionally or unintentionally."
Minister Nurbaya said her office would also educate local farmers how to build ditches and install water gates through peatlands to make them fire-resistant.
"We'll work on this as soon as possible," the minister said.
Environmentalists applauded Mr Widodo's "blusukan asap". "Blusukan" is a Javanese term meaning impromptu visits, usually to constituents by officials. It has become trademark activity of Mr Widodo that has contributed to his popularity and later landed him the presidency. "Asap" is an Indonesian term meaning smoke or haze.
Mr Widodo in fact made the Riau visit after Sungai Tohor villager Abdul Manan began a petition in late October against the haze crisis that has often plagued Riau, asking for Mr Widodo to come and see for himself the sites in the centre of the crisis.
The petition, called "Blusukan Asap", was registered at petition.org and has been signed by 27,900 people as of yesterday.
The Indonesian Forum for the Environment, or WALHI, hailed Mr Widodo's Riau visit as proof of the president's commitment to solving ecological problems.
WALHI executive director Abetnego Tarigan, though, added that the president must soon follow up the visit with "concrete actions" in the form of firm law enforcement.
"Among concrete actions that President Jokowi can immediately do is ordering the termination or review of concessions for companies proven to have been involved in forest and land fires," Mr Tarigan said, referring to the president by his popular nickname.
"Law enforcement must continue legal action against companies that have been named suspects, as well as develop investigations into companies that civilians have filed reports against," he added.
International environmental group Greenpeace, meanwhile, voiced its support for the canal initiative, saying that clearance and drainage creates dry peatlands, laying the foundation for forest fires that can burn for days or even months.
PERMANENT PROTECTION
Greenpeace considered the initiative as proof of Mr Widodo's commitment to protecting Indonesia's peatlands.
"The country's existing peatland regulations are weak and poorly enforced. We look to Jokowi now to take clear action to stop expansion by industry into peatlands, to crack down on illegality and to support the permanent protection of peatland landscapes," country director of Greenpeace Indonesia Longgena Ginting said in a press statement.
Greenpeace International executive director Kumi Naidoo also extended his praise.
"I welcome President Joko Widodo's vision for peatland protection, which has the potential to slow Indonesia's greenhouse gas emissions," Mr Naidoo said.
"Indonesia's new president has wasted no time stepping into an international leadership role, well timed to position his country ahead of next week's UNFCCC climate negotiations in Lima, Peru."
Greenpeace said when left in its natural state, peatland rarely burns. However since draining began, the number of fires recorded in Indonesia by satellites has sky-rocketed, reaching 6,644 in 2011 and climbing further to 21,467 fires so far this year. THE JAKARTA GLOBE