Kazakhstan beckons with reopening of old Silk Road
The ancient land routes that once linked Europe to China are back in vogue, as China shifts more of its factories inland and businessmen look to transport goods to and from Europe via Central Asia and Russia instead of by sea, following the paths taken by merchants from the Han Dynasty to the time of Marco Polo.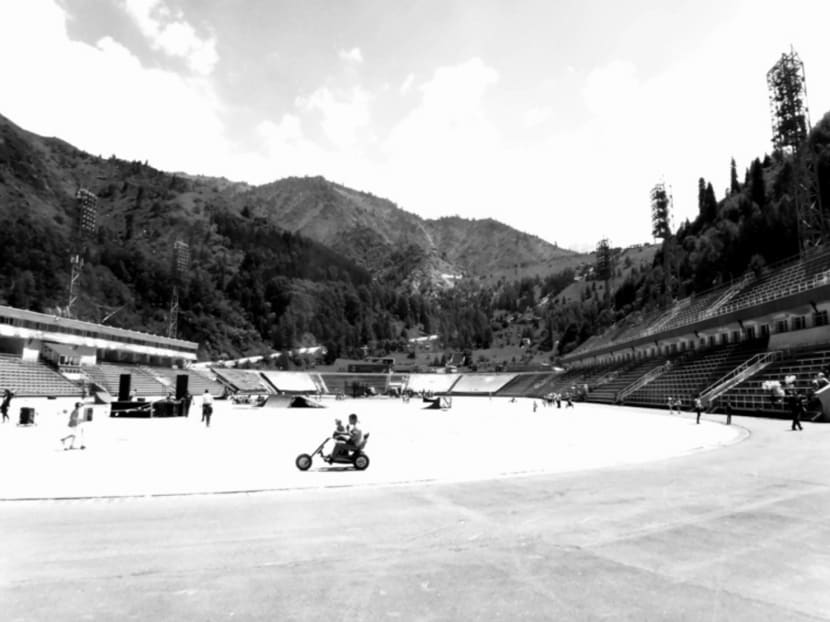 The ancient land routes that once linked Europe to China are back in vogue, as China shifts more of its factories inland and businessmen look to transport goods to and from Europe via Central Asia and Russia instead of by sea, following the paths taken by merchants from the Han Dynasty to the time of Marco Polo.
The Silk Road Economic Belt initiative, which includes building or expanding roads and railway tracks across the sparsely-populated region, was first mooted by Chinese President Xi Jinping during a 2013 visit to Kazakhstan, the largest and wealthiest of the new states that became independent following the break-up of the Soviet Union in 1991.
The initiative has been warmly welcomed in landlocked Kazakhstan, which is keen to build economic ties with countries far from its borders, diversify its economy, and reduce its dependence on oil and gas, which together account for a large part of gross domestic product and government revenue.
Kazakhstan is the world's ninth-largest country in terms of land area — bigger than all of Western Europe put together. Its population of 17 million means that it is also one of the world's most sparsely-populated countries.
About 40 per cent of the workforce is engaged in agriculture, and the authorities are aware that that proportion could shrink to single digits as productivity in the sector catches up with developed economies such as Australia and the United States.
Kazakhstan recently finalised negotiations to join the World Trade Organization. Almaty, its biggest city and a major stopover along the ancient Silk Road, is one of the finalists in the bid to host the 2022 Winter Olympics, while the capital, Astana, will be the host of Expo 2017.
"The goal of connectivity is a number one priority for Kazakhstan," Foreign Minister Erlan Idrissov told members of the Singapore Press Club who visited the country last month.
The eight-day trip included meetings with government officials in Almaty and Astana as well as visits to the sites that would host the Winter Olympics if the bid is successful.
POLITICAL UNCERTAINTIES
Kazakhstan has identified six priority sectors where it hopes to attract foreign investment: Metals; oil refining; food processing; chemicals; industrial goods such as motor vehicles, railway and mining equipment; and construction material.
The government is also taking steps to professionalise its civil service with the help of the National University of Singapore's Lee Kuan Yew School of Public Policy. In addition, Kazakhstan is setting up the Astana International Financial Centre, which it hopes will become the regional banking centre for Central Asia and a base for banks from the region as well as Europe and Asia.
Singapore firms that have invested or undertaken projects in Kazakhstan include Keppel Corp and Surbana. Mr Donald Low, associate dean of research and executive education at the Lee Kuan Yew School, said Kazakh officials he has met are conscious of the challenges involved in bringing economic growth to the large, resource-rich but landlocked country with a relatively small population.
However, the poor connectivity can be overcome as the development of the new Silk Road improves links to China and Europe as well as nearby countries such as Iran and other newly-independent former Soviet states.
"Railways and roads can play the role that rivers did for Austria and Switzerland," said Mr Low, referring to the two developed but landlocked European countries.
According to a recent report in The Economist magazine, goods can be delivered from Chongqing in south-west China to Germany via Kazakhstan, Russia, Belarus and Poland in only 14 days — a quarter of the 60 days it takes to transport the goods from Chongqing to a Chinese coastal port, where they are then loaded onto a container ship that will sail to Europe via the Straits of Malacca and Suez Canal.
The amount of goods that move along this route is relatively small, however, because of the much higher cost and lack of capacity.
Mr Low said a greater challenge for Kazakhstan is the so-called "resource curse", with fluctuations in oil prices causing wild swings in the value of the currency and government revenues, making it difficult to develop other industries.
The Lee Kuan Yew School helped develop the Graduate School of Public Policy at Nazarbayev University, the country's top university, and continues to assist in the training of Kazakh civil servants by regularly sending staff to Astana.
Besides oil and gas, the nation is rich in minerals such as gold and uranium.
Currently, Moody's has a Baa2 investment grade rating on Kazakhstan with a stable outlook because of the country's low debt levels and substantial reserves that had been accumulated when oil prices were high.
"Upward pressure on the rating could develop if the country's institutional strength, for example the rule of law and control of corruption, is to improve or if economic diversification is to broaden beyond commodities," the ratings agency said.
Conversely, political uncertainty relating to the appointment of President Nursultan Nazarbayev's successor could negatively affect the rating. Mr Nazarbayev, who is in his mid-70s, has been President since the country became independent. He has not said who would succeed him, but has devolved power towards Parliament.
Looking ahead, Mr Low said Kazakhstan can learn from Singapore the merits of having an effective, modern and technocratic civil service, which is a prerequisite for development.
As for Singapore, the lesson from Kazakhstan is that while the city-state lacks land or natural resources, it benefits from its geographical position. "It's only after you've visited Kazakhstan that you'll truly appreciate our position along major sea routes and deep-water port," said Mr Low.
ABOUT THE AUTHOR:
Kevin Lim is a senior editor of Singapore news at Channel NewsAsia.