Lending a helping hand in Penang, regardless of race or religion
SEBERANG PERAI, Penang ― They drove to Seberang Perai upon receiving calls on Sunday (Nov 5) that the people affected by floods needed immediate help.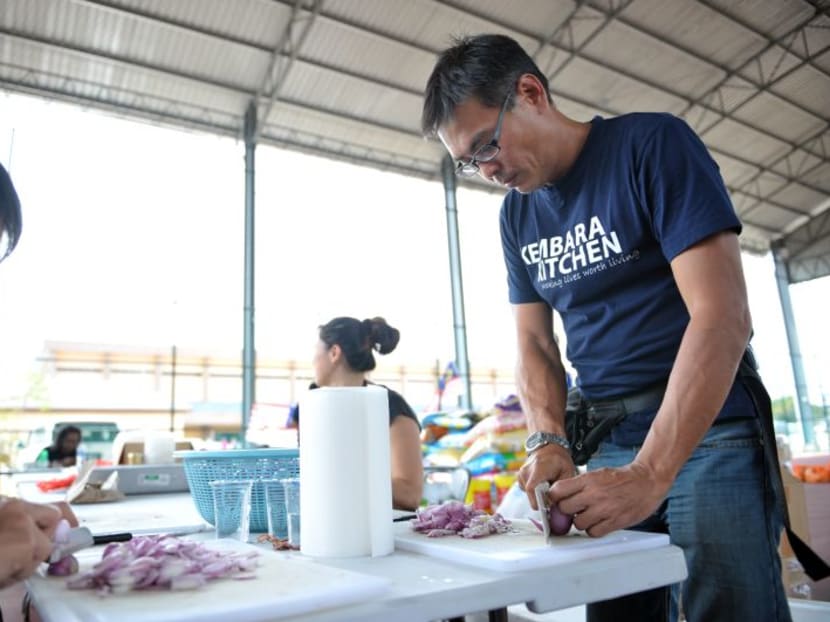 SEBERANG PERAI, Penang ― They drove to Seberang Perai upon receiving calls on Sunday (Nov 5) that the people affected by floods needed immediate help.
Since then, this group of volunteers from Kuala Lumpur has cooked up countless hot meals for flood evacuees all over the hinterland across Penang island.
Looking at this motley crew of volunteers from Kuala Lumpur, led by William Cheah, one could never imagine how efficient and organised the whole operation, called Kembara Kitchen, is as they work together cooking and packing hundreds of packets of food.
What is more interesting is that this group of volunteers consists of people of various ages, races and religious beliefs. Some of the main cooks are Muslims.
"We have a mix of different races so when we have to deal with a certain culture that we don't understand, they can better explain it to us on how to manage the situation," Cheah said when met at the impromptu kitchen they had set up inside a futsal court in Sungai Dua here.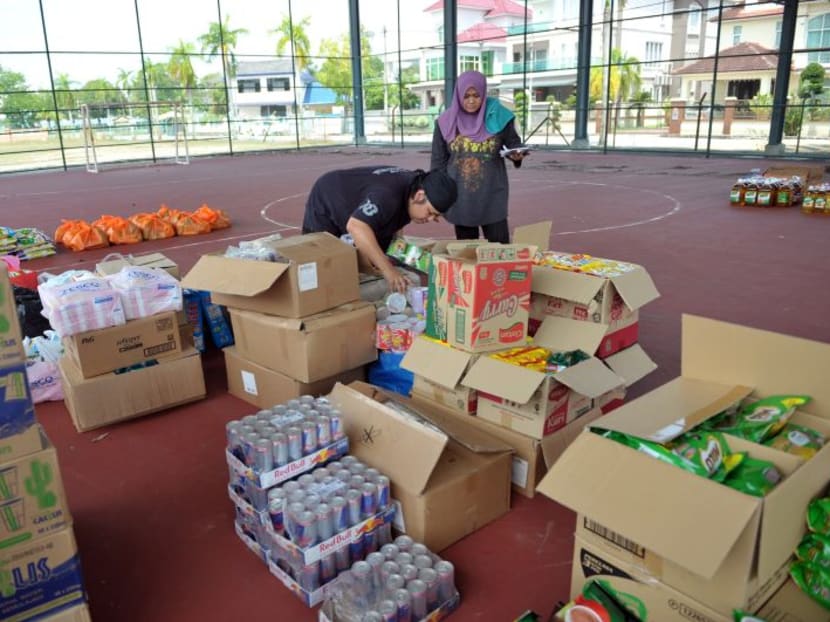 The Kembara Kitchen started five years ago and is run almost entirely by volunteers, some of whom are long-term volunteers who follow the team to every of its relief efforts all over the country.
"We only have one criteria [sic] for volunteers to join us, willingness to help in any way," Cheah said. True enough, anyone can walk into the makeshift kitchen and immediately start work.
Cheah drove up to Penang with his team of eight volunteers on Monday morning after receiving calls about the floods on Sunday.
"We packed all our relief effort items, food, household items, packets of beverages and loaded up two tonnes of supplies on a lorry and immediately drove up here," he said, adding even the lorry was supplied and driven by a volunteer.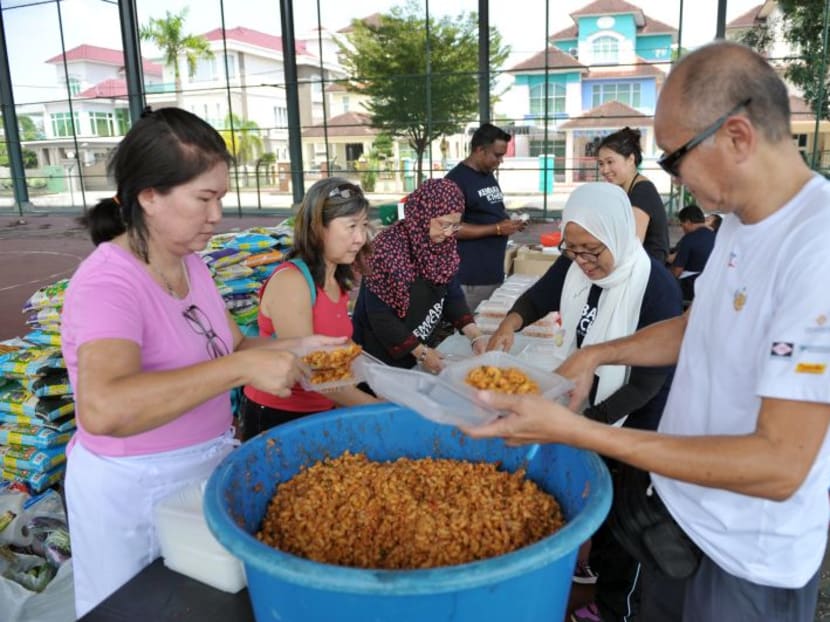 First-timer Mohd Al-Hafiz Mohd Zam, 33, from Cheras, decided to join Kembara Kitchen's trip up to Penang as he is able to cook for large crowds.
"I have a restaurant in Cheras, Mee Curry Udang Galah, and I also offer catering services so I am used to cooking for large crowds. That's why I offered to come and help," he said.
Cheah said it is important to have four to five cooks to prepare the food as they need to prepare for hundreds of hungry people within a short period of time and they needed to be fast.
Therefore, to make things simple and fast, they have a "disaster menu" of food that they serve at disaster relief centres such as seafood fried rice, macaroni with sardines, nasi lemak with their specialty "mamabear sambal" and if poultry is easily available at the location they set up, ayam masak merah with rice.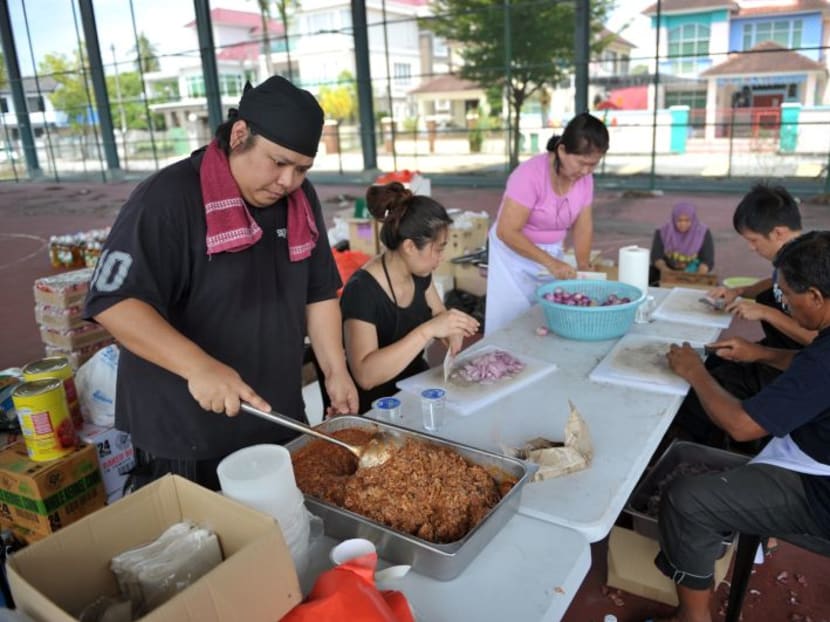 "We offer fast, simple fare for these people and in order to be efficient and fast, we use ingredients that are easily available and transportable such as canned sardines, macaroni, rice and dry ingredients for us to make our own sambal," he said.
Kembara Kitchen is based in Shah Alam and it is publically funded and from profits made by Cheah's Kembara Catering and Kembara Events companies.
"I realised that I needed to create a business to sustain the relief effort. So I created a social enterprise, the catering and events business where all profits go directly to Kembara Kitchen," he said.
In fact, Kembara Kitchen not only travels to help in disaster hit areas all over the country, but it also helps local underprivileged groups that needed assistance.
"Once a month, we will open up our storage of rice, milo, cooking oil and other grocery items for orphanages, senior citizen homes and homes for the disabled to come in and pick whatever items they need like they are in a supermarket, except it's free for them," he said.
But Kembara Kitchen is not the only one providing relief efforts for those affected by the floods in Penang, as volunteers from Amriteswari Foundation of Malaysia, a Hindu society, and Tzu Chi Society Malaysia, a Buddhist society, have also gone down to the ground to offer their help.
Tzu Chi Society volunteers, dressed in their signature dark blue and white uniforms, started going down to the ground distributing water and bread at flooded areas all over the state early Sunday morning.
The volunteers continued to go around offering help and since Tuesday, they started bringing in shovels and cleaning apparatus to help with the massive cleaning up.
"Tzu Chi volunteers are the best, they are so efficient and they were the first ones to come and help us," said an Air Itam resident, Mohamed Nizar Mohamed Ismail, 41, whose house was inundated in five-feet high flood waters.
The volunteers, in their black boots, can be seen digging out mud and slime from drains and hosing down the muddy floors of a house belonging to an elderly man.
"We usually help the elderly first, especially those who have no one else to help them or no children to help them," one of the volunteers, who declined to be named, said.
She said it was standard operating procedure for them in any disaster for all the registered volunteers to be immediately immobilised and sent out to help in all affected areas.
"We have the same SOP throughout the world and we have volunteers all over the world to help in case of any disaster," she added.
As for Amriteswari Foundation, its chairman Athi Sivan said they started giving out vegetarian meals cooked and supplied by local restaurant, Ananda Bahwan, on Sunday.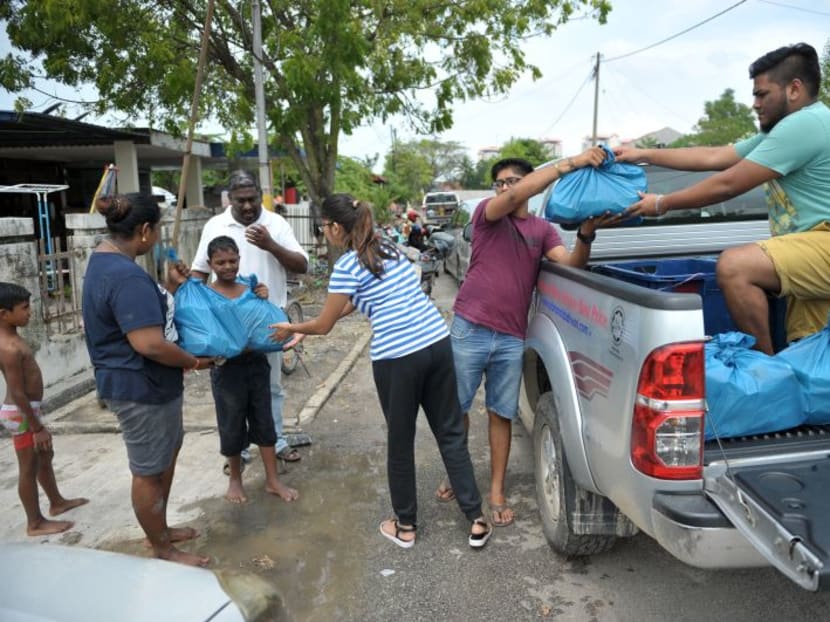 He said they had also reached out to many small, private senior citizen homes and homes for the disabled in many flood-hit residential areas that were mostly forgotten.
"Very few people knew about these smaller homes. So they were largely forgotten. And we found out that they were in need of proper food, so on Sunday and Monday, we delivered a lot of food to these homes," he said.
Though the flood waters have receded and a lot of affected victims have started cleaning out their homes, Kembara Kitchen will continue to cook up hot meals for those who need it until this Sunday.
The group is calling for more volunteers to lend a helping hand over the next few days so that they can get the food and basic household and grocery items out to those who need it.  THE MALAY MAIL ONLINE