Malaysia bans 22 books, including satirical publication on 1MDB
KUALA LUMPUR — Malaysia has banned 22 publications, including a satirical book on the saga surrounding state firm 1Malaysia Development Berhad (1MDB).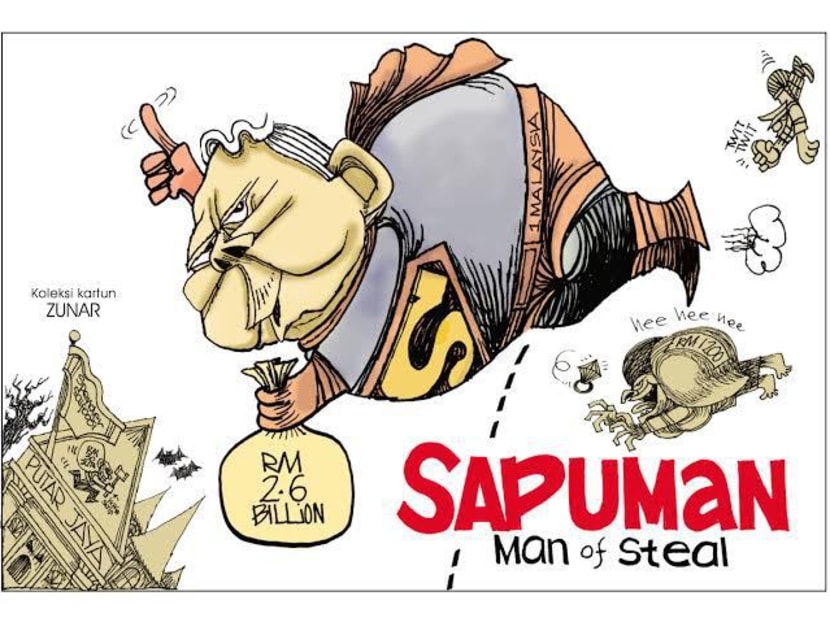 KUALA LUMPUR — Malaysia has banned 22 publications, including a satirical book on the saga surrounding state firm 1Malaysia Development Berhad (1MDB).
Defending the decision, Ministry of Home Affairs secretary-general Alwi Ibrahim said on Tuesday (Oct 10) that the books were prohibited because their contents may be detrimental to public order.
They could also cause alarm among the public, breach existing laws, damage public morals and harm public interest, he added.
Malaysia routinely bans books, movies and songs that may contain sensitive material regarding religion or sex, but critics say the government has been clamping down harder in recent times.
Referring to the book "Sapuman: Man of Steal" by satire cartoonist Zulkiflee Anwar Ulhaque, who goes by the moniker Zunar, Mr Alwi said the publication was banned because its caricatures "could damage national interest."
The book — published in 2015 — has illustrations of Prime Minister Najib Razak and allegations surrounding 1MDB.
1MDB, overseen by Mr Najib, is being investigated in at least six countries for money-laundering and misappropriation of funds.
The United States Justice Department has sought to seize about US$1.7 billion (S$2.31 billion) in assets allegedly bought with stolen 1MDB funds. Malaysia's attorney-general closed the 1MDB probe in January last year, and cleared Mr Najib of any wrongdoing.
Zulkiflee has said he will be filing a legal challenge against Putrajaya for banning his book.
"If the government does not like my cartoons (and) I do not expect that it will, I have no problem with it. But you cannot translate your interpretation into law by banning a book of my thoughts. This is against the Federal Constitution, which guarantees freedom of expression," news portal Malaysiakini quoted him as saying.
This is not the first time Zulkiflee's books have been banned by the government.
His other publications — "Gedung Kartun", "1 Funny Malaysia", "Isu Dalam Kartun" (volumes one, two and three), "Conspiracy to Imprison (former deputy premier) Anwar", "Perak Darul Kartun (on corruption and abuse of power)" and "Pirates of Carry-BN (Barisan Nasional)" were also banned while another one "Ros in Kangkongland" — on Mr Najib's wife Rosmah Mansor — is currently being investigated under the Sedition Act.
The cartoonist himself is also facing nine sedition charges over his tweets in 2015 criticising the judiciary, and faces possible jail time of 43 years. He has also been slapped with a travel ban.
Last month, Ms Karima Bennoune, a United Nations cultural rights expert, urged Putrajaya to drop the charges and lift the travel ban on Zulkiflee on grounds of freedom of artistic expression.
Mr Alwi on Tuesday also said his ministry has prohibited 10 translations of the Quran in Bahasa Melayu, English, Chinese, Arabic and Korean which did not include the original Arabic texts.
"Translation of the Quran into other languages must be done with the original verses in Arabic, failing which, the translation might not be accurate. The translation needs to be done, according to the Arabic method which has certain rules," he said.
Among the titles of the translations were "The Meaning of The Glorious Quran Korean Edition", "The Meaning of The Holy Quran (Chinese Translation Edition)", "The Quran Modern English Translation (640 pages)" and "Terjemahan al-Quran Bahasa Melayu (Quran Translation in the Malay language)".
Also banned is a book titled "Tantra: The Search for Ecstasy" because it contained explicit drawings and images of sexual positions that contradicted the values held by Malaysians, said the secretary-general.
Another book was banned because it contained elements that promoted Shia beliefs and liberalism, while the content of two other publications were found to include practices of mysticism.
"All these publications could harm or confuse readers, especially the younger generation, and are not suitable reading materials for the public," stated Mr Alwi.