Malaysian companies cool to Najib's proposal for 90 days of maternity leave
SINGAPORE — Malaysian employers have poured cold water on a move by the government to get the private sector to increase maternity leave to 90 days, saying such a change will drive business costs up.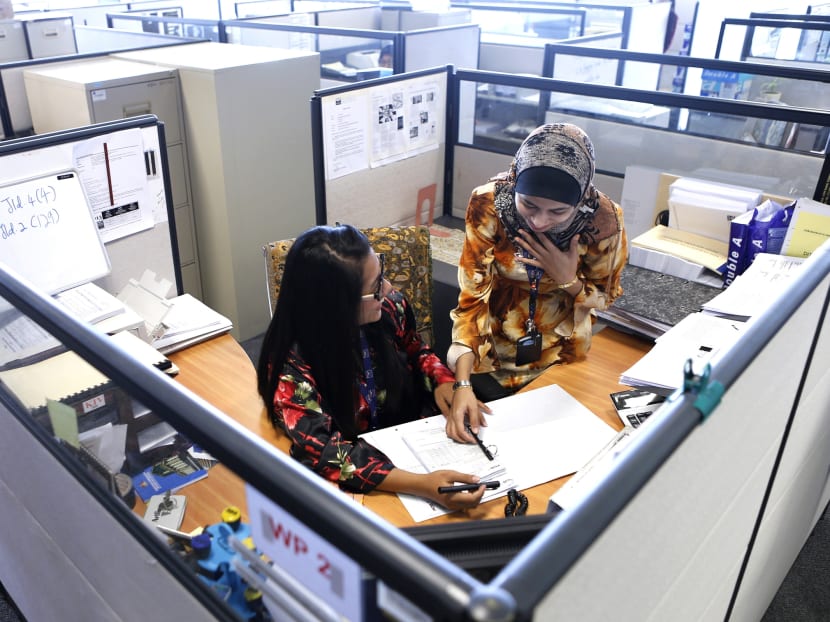 SINGAPORE — Malaysian employers have poured cold water on a move by the government to get the private sector to increase maternity leave to 90 days, saying such a change will drive business costs up.
In his 2018 Budget speech late last month, Prime Minister Najib Razak proposed that paid maternity leave for the private sector be increased from the current 60 days to 90 days to mirror the civil service, as part of Putrajaya's move to recognise the contribution of women in the workforce.
But the Malaysian Employers Federation (MEF) said if implemented, this could force companies to cut back on the hiring of female workers in order to save costs given the current challenging economic environment.
"We are not prepared for this, it was announced without any consultation with us. Employers were caught flat footed," MEF executive director Shamsudin Bardan told TODAY in a phone interview.
"While this is not mandatory, I won't be surprised if it is legislated in the near future and if it does, it will definitely have some bearing on the hiring of female workers."
MEF is the umbrella body that represents 5,300 companies and 22 trade bodies and associations. Collectively, they employ 2.5 million workers.
Mr Najib is looking to drive Malaysia to be a high-income country in the next three years, a feat that would require increasing its per capita income to US$12,476 (S$16,958.44) — which is the level the World Bank uses to define a high-income nation — from about US$10,000 now.
Getting more women into the workforce is one way Mr Najib could do that.
"Women play a very important role in the wellbeing of family and national development. Therefore, in recognising women's contribution, the Government is pleased to announce 2018 as the Women Empowerment Year," Mr Najib said in his budget speech.
Malaysia has the lowest ranking among the main South-east Asian nations when it comes to female participation in the workforce, at 49 per cent out of its total 6.8 million workers.
Men outnumber women in management roles at a ratio of more than two to one, official data shows. And they are paid better, at RM7,235 (S$2,347) on average a month, compared to RM6,345 for women.
MEF estimates that some 250,000 female employees go on maternity leave annually, and this costs companies RM40.5 billion in maternity leave pay and other expenses.
Mr Shamsudin said if companies adopt the 90-day proposal, they will have to bear an additional expenditure of RM20 billion — RM10 billion for post-paid maternity leave and RM10 billion for hiring temporary workers.
This, he said, will affect companies' bottom line.
Unlike other countries which have schemes where both government and the private sector bear the costs of maternity leave, companies in Malaysia currently foot the bill by themselves.
Mr Alex Tan, a director with a real estate firm in the Pahang state capital of Kuantan, said that while Mr Najib's proposal was laudable, he will need to consider it on a case-by-case basis if any of his five female staff wanted longer maternity leave.
"Seeing that our firm is pretty much a small one, it will be a bit hard to give longer break without affecting our current operations and manpower," he said.
While some employees may want to return to work after the mandatory 60 days' leave, there may be some who want to spend more time with their newborns, he said, and this would result in some "trade-off" such as salary adjustments.
"I think it's only fair as we may have to temporarily hire more people to do their work. This is additional costs to us."
Despite resistance from employers, the Malaysian Trades Union Congress (MTUC) — which represents some 500,000 unions and workers — maintained that it was high time for the private sector to mandate 90-days maternity leave.
It had proposed the matter to the government during a pre-budget consultation session as it felt maternity leave should be aligned in the private and public sectors.
Plus, mothers would need more time with their newborns before going back to the workforce, secretary-general J Solomon told TODAY, adding that it also proposed a seven-day paternity leave but the government did not take that up.
"The current 60 days maternity leave is not enough for mothers to bond with their babies," he said, adding that it was time Malaysia adopts 90 days of maternity leave given that many countries around the region already does that.
In Thailand, women employees are entitled to 90 days maternity leave, of which half is paid by the employer, while the balance is paid by the government-run Social Welfare Fund.
Singapore women get 16 weeks of paid maternity leave. For the first two births, the first eight of maternity leave are employer-paid while the last eight weeks are funded by the government. For the third and subsequent confinements, all 16 weeks of leave are funded by the government.
Employers' cool response to Mr Najib's proposal does not surprise opposition Democratic Action Party (DAP) Member of Parliament Teo Nie Ching, who felt companies will only warm up to the proposal if Putrajaya offers carrots such as tax breaks.
"Unless incentives are given, I dont think many companies will adopt this policy," she said.