Malaysian police's blunders, transgressions due to lack of reforms, say analysts
SINGAPORE — The Malaysian police have been under the spotlight recently for a series of blunders and disciplinary violations which analysts attribute to a lack of reforms in the force.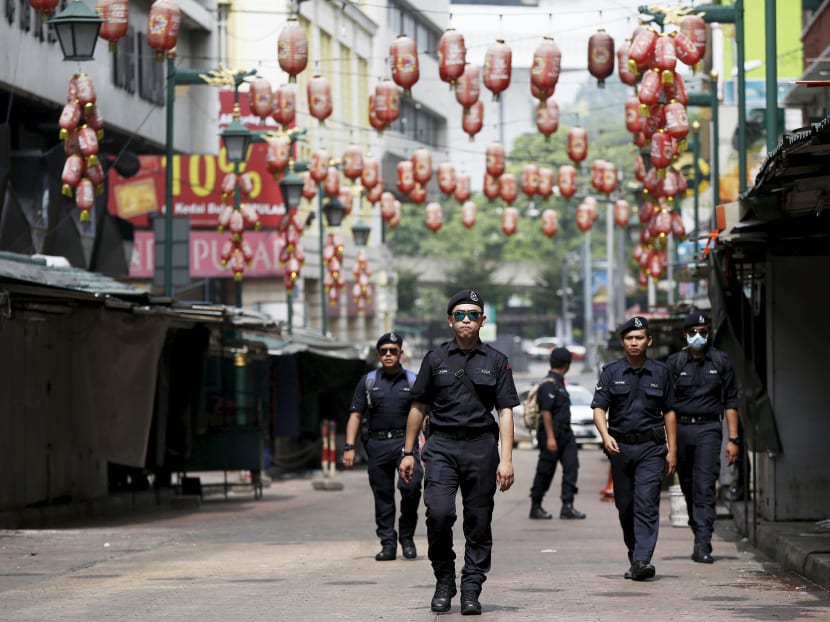 SINGAPORE — The Malaysian police have been under the spotlight recently for a series of blunders and disciplinary violations which analysts attribute to a lack of reforms in the force.
These incidents have battered the image and morale of the 120,000-strong organisation, especially in an age where Malaysians are demanding greater accountability and professionalism from the authorities.
"While service conditions in the force have been given attention, there has been little or no urgency given to priority reforms needed to make the force an open, clean and accountable agency," said Dr Lim Teck Ghee, the director of Centre for Policy Initiatives, a policy think tank.
Reforms could include the setting up of the long-delayed Independent Police Complaints and Misconduct Commission (IPCMC), an external oversight panel to ensure the force's accountability and compliance with rules and laws, said Dr Lim.
The IPCMC was among 125 recommendations cited in a 12-year-old report by a Royal Commission of Inquiry (RCI) on improving the management and operations of the police.
The RCI was set up by former Prime Minister Abdullah Badawi in what was seen as a positive response to public concerns over reports of human rights violations, abuse of power, corruption and ineffective or unresponsive work practices that have affected the image of the police.
Although some of the RCI's recommendations were adopted, such as improvements in police infrastructure facilities and resources, the IPCMC proposal was put on the backburner due to objections from the police.
Instead, the government established an Enforcement Agency Integrity Commission to independently monitor the activities of the police and 20 other enforcement agencies, leading critics to complain that the agency's wide scope dilutes its focus and effectiveness.
"The formation of an IPCMC could be a step forward in cleaning up the police force. But this is not going to happen with the present government. Any big clean up can only take place with a new government under Pakatan Harapan," said Dr Lim, referring to the opposition pact which have been supportive of IPCMC.
TODAY contacted deputy home minister Nur Jazlan Mohamed and national police chief Mohamad Fuzi Harun for their responses, but both did not reply to messages.
News of police misconduct and indiscipline which has made headlines from time to time has undermined public trust in the police.
Six out of 10 people felt that the police force was the most corrupt institution, according to a survey by the Transparency-International Malaysia this year.
Out of 1,009 Malaysians polled this year, 57 per cent felt this way. This is in contrast to about 42 per cent who expressed the same sentiment in a 2014 survey.
A series of transgressions this month are expected to further erode people's confidence in the force.
The first incident surfaced on Oct 8, when seven policemen from Muar, Johor, were caught partying with a gambling den "boss" at a karaoke lounge. The video of the event went viral and the seven have been transferred to the state police headquarters, pending a probe.
Two days later, another video showed a Johor police officer flirting and holding the hand of a sexily dressed woman — believed to be a prostitute — while sitting in a patrol car. The officer has since been removed from duty.
Also in Johor, two policemen in the Segamat district were arrested after they let the wrong detainee leave a police station lock-up. The southern state police chief Mohd Khalil Kader Mohd admitted there was an element of carelessness as the lock-up and remand standard operating procedure was not adhered to closely.
In the capital city of Kuala Lumpur, five policemen were caught conducting an unauthorised search on foreigners.
In a separate incident, an inspector was caught red-handed by his colleagues after he broke into his neighbour's house in Selangor.
"It is rather unfortunate that all the good work done by the Malaysian police is becoming undone by a few," said Mr Asrul Hadi Abdullah, a director with political risk consultancy BowerGroupAsia.
"I think it is only fair to renew the call to set up the IPCMC as it will not only address the trust deficit but ultimately to protect its public image."
Mr Oh Ei Sun, adjunct senior fellow at the S Rajaratnam School of International Studies said there is a mismatch between people's expectations and the police's level of professionalism.
"What is happening to the police is similar to what happened in many other developing countries' law enforcement agencies, whereby the process of professionalisation is long and slow while other people's expectations have accelerated," he said.
"This led to heightened expectations of the police to be very professional, an expectation which is nevertheless wanting at this stage."
However, Dr Mustafa Izzuddin, a fellow at the Iseas Yusof-Ishak Institute, believes the spate of occurrences which put the police in a bad light, were "isolated incidents".
"(They) should not be viewed as a reflection of the entire Malaysian police force which do a good enough decent job of maintaining law and order in Malaysia," he said.
Still, he said the morale of the force is likely to be affected.
As such, police chief Mohamad Fuzi — who was appointed to the top post last month — is likely to run a tight ship by moving personnel around, enforce stricter discipline by rooting out corruption and deter scandals, as well as taking steps to boost the morale of his men.
"Carrying out a major clean up after conducting an in depth internal review may actually be a good thing as it would help restore if not boost public confidence," said Dr Mustafa.