In the market for pre-school diversity
In a Lien Foundation report released last year, Singapore was ranked 29th out of 45 countries for its early childhood sector. The study considered factors ranging from availability and affordability to quality of programmes. Several places in Asia, including Hong Kong and Japan, were placed ahead of Singapore.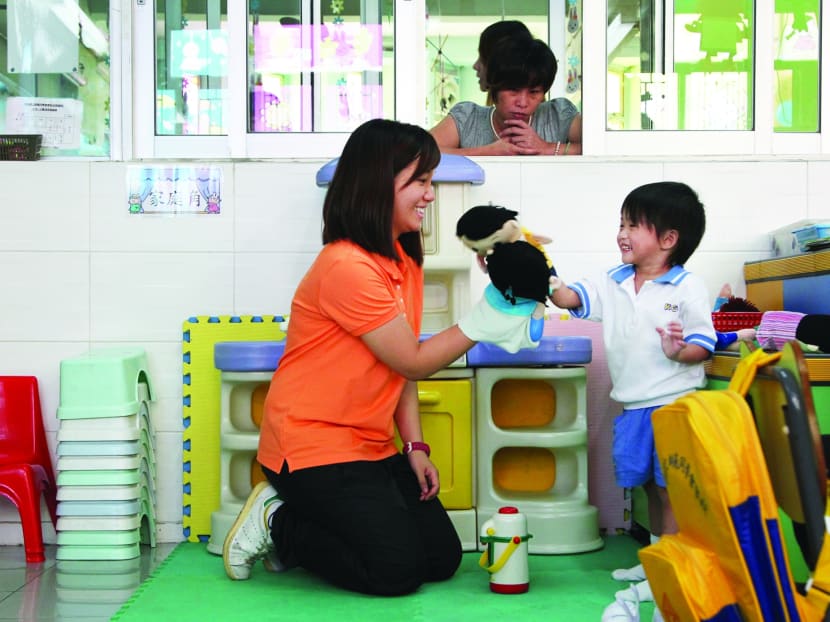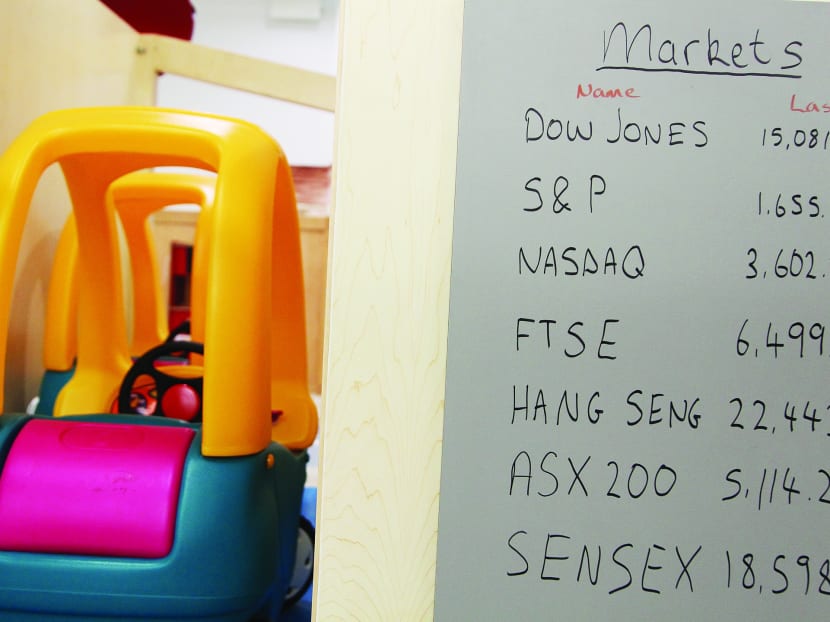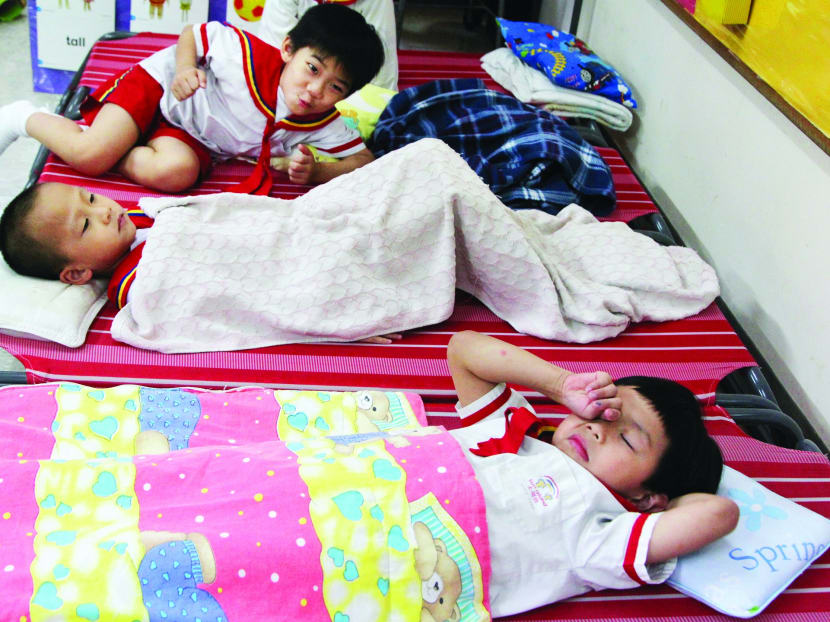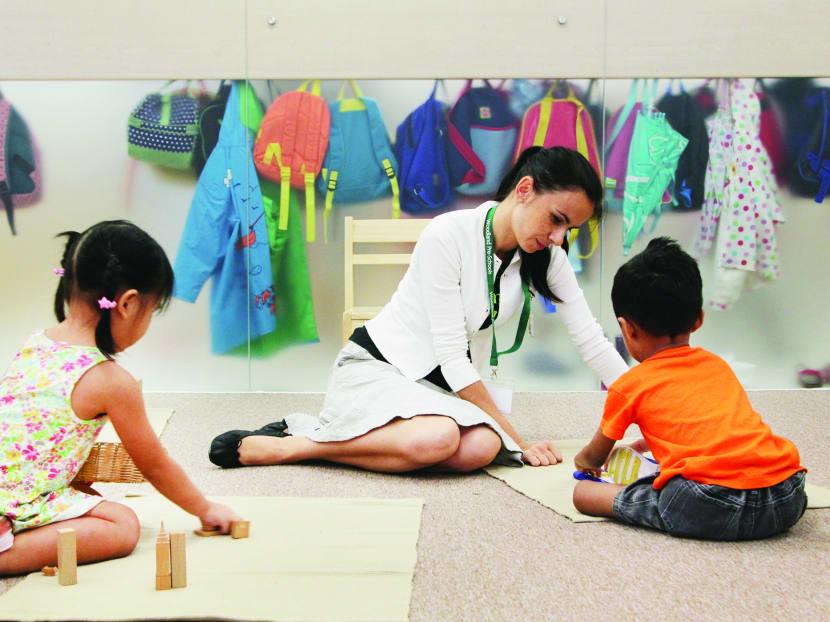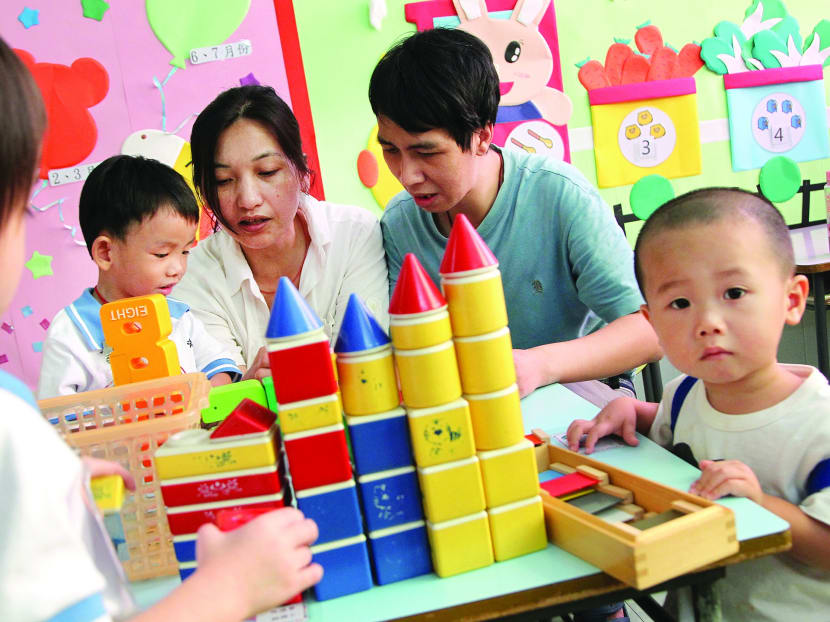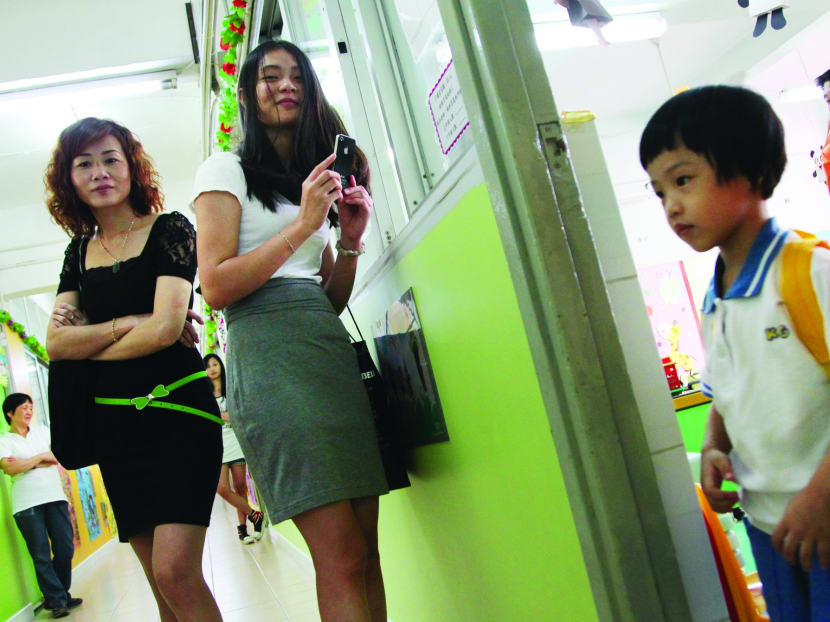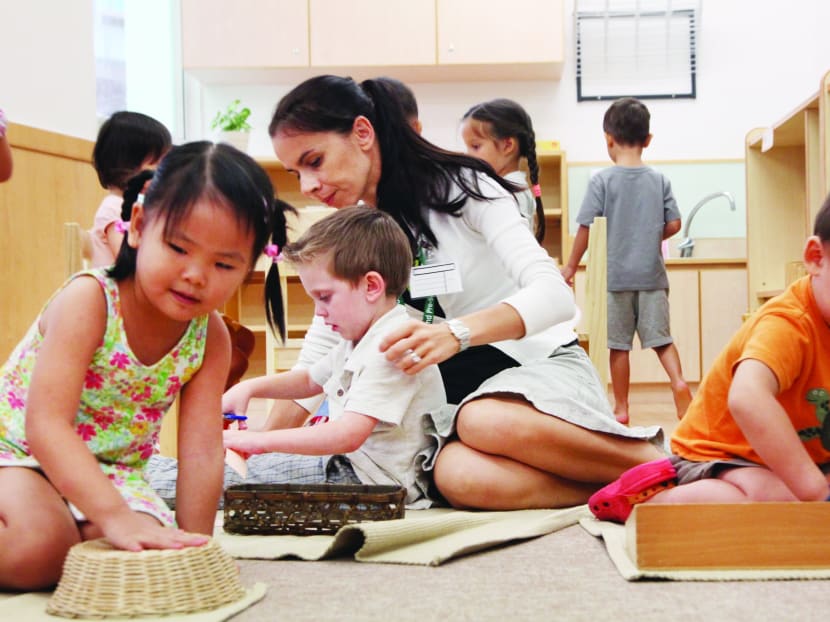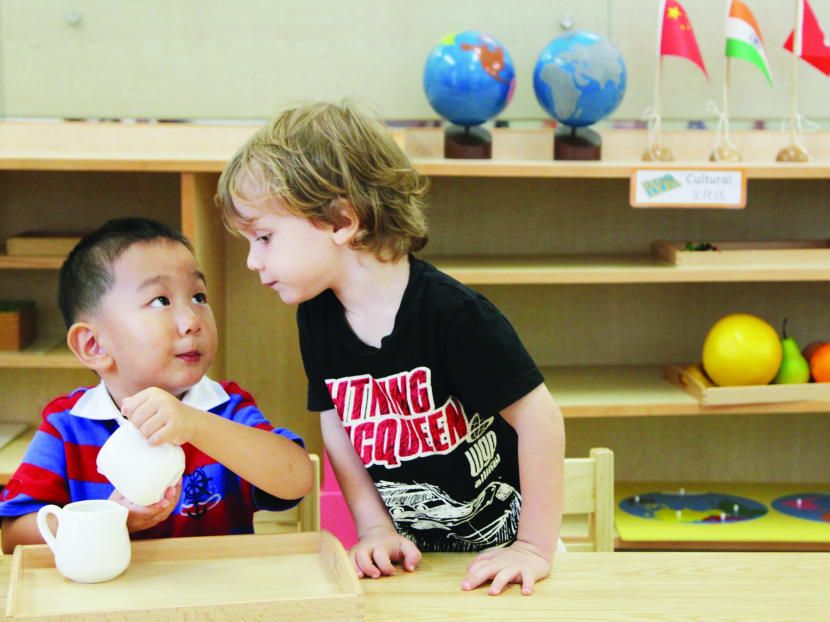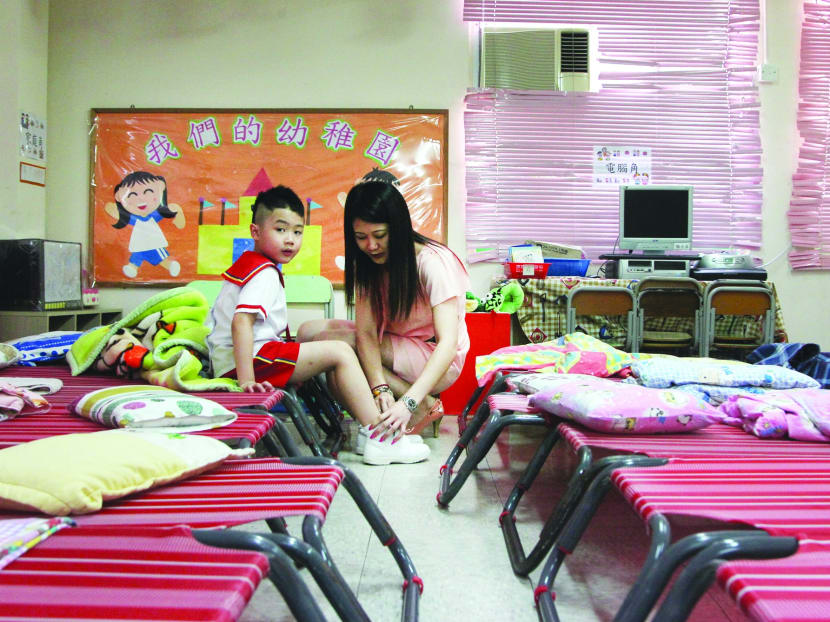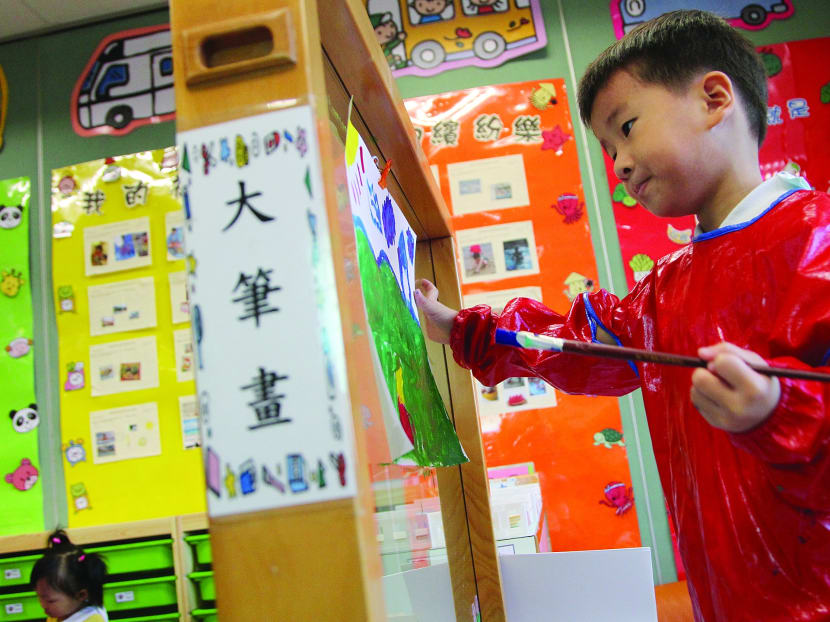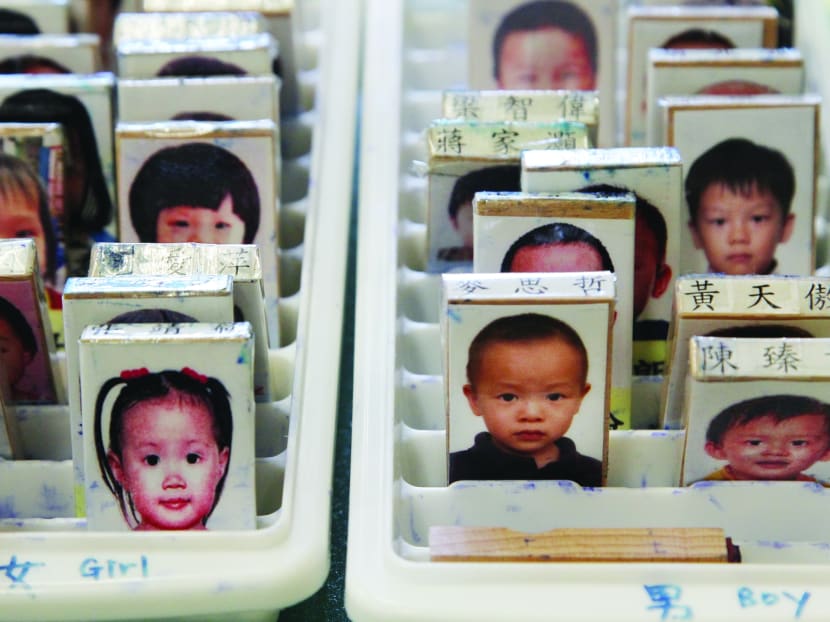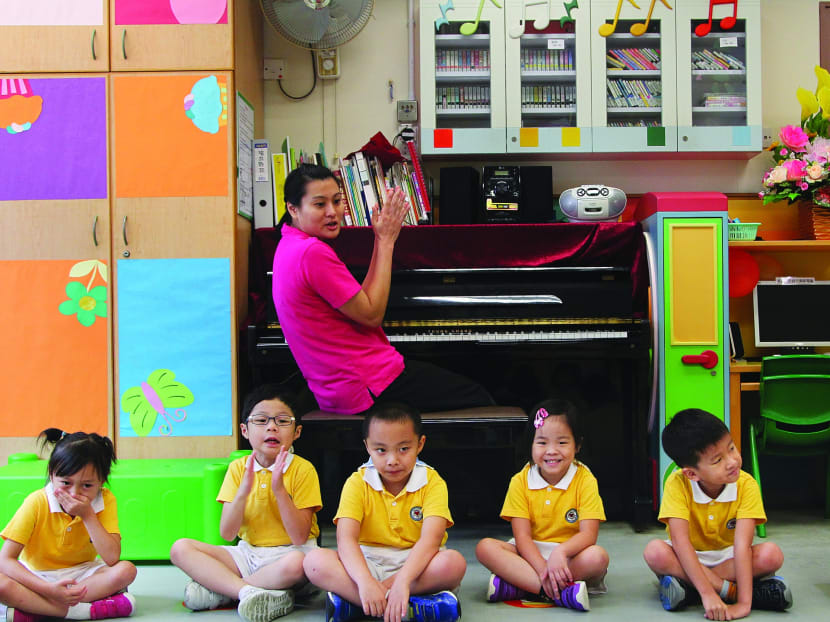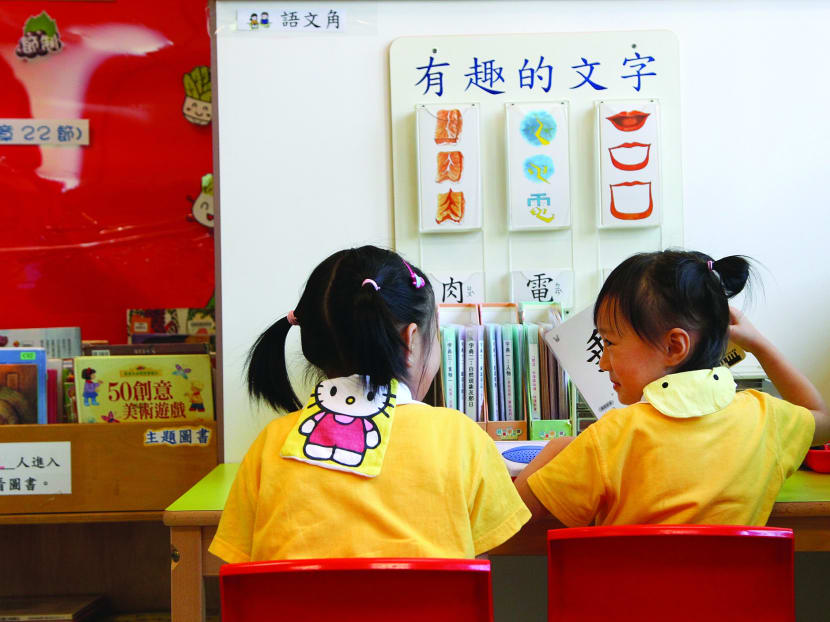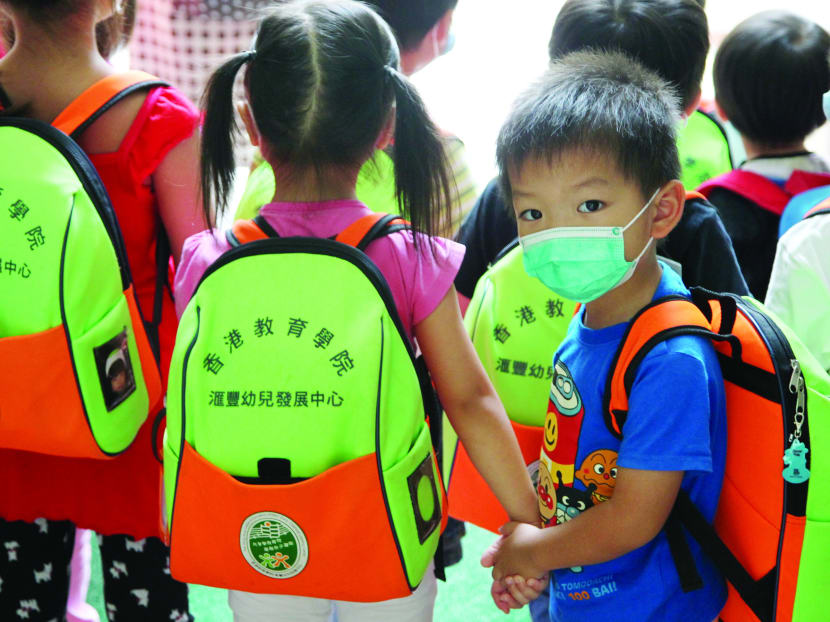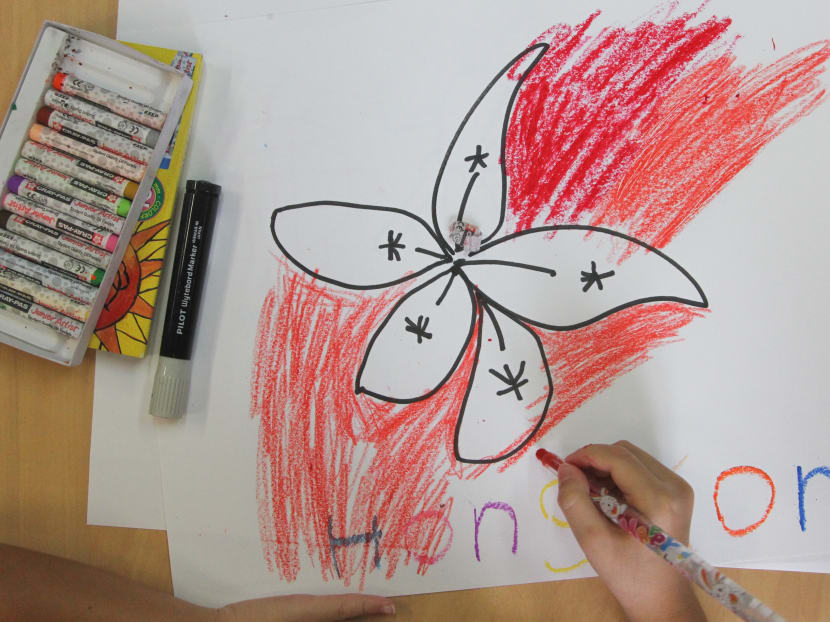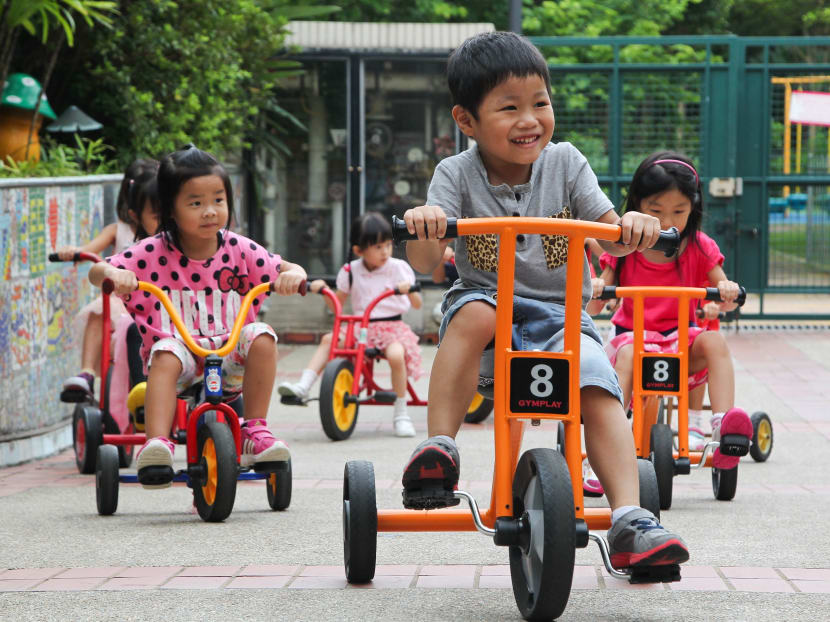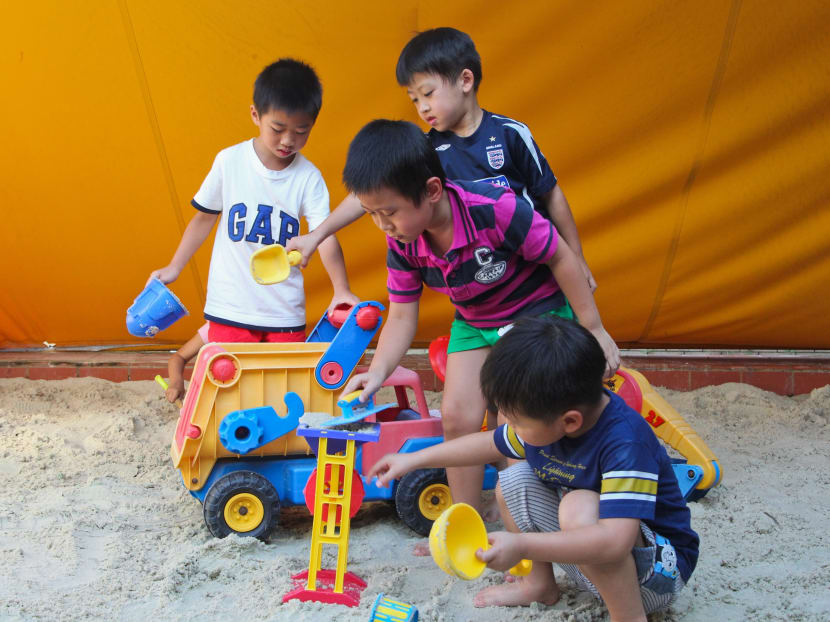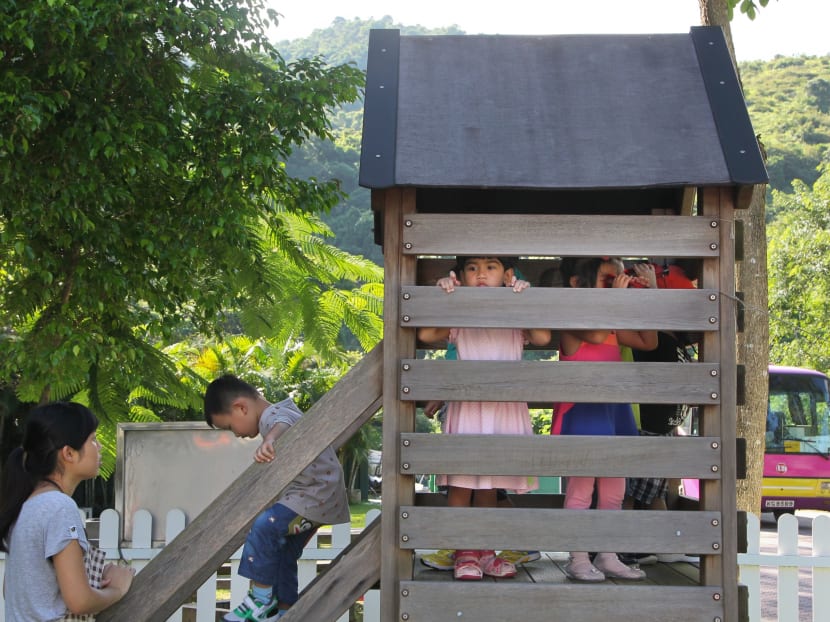 In a Lien Foundation report released last year, Singapore was ranked 29th out of 45 countries for its early childhood sector. The study considered factors ranging from availability and affordability to quality of programmes. Several places in Asia, including Hong Kong and Japan, were placed ahead of Singapore.
Efforts are under way here to improve the standards and accessibility of pre-school education, including the setting up of an agency to coordinate childcare and kindergarten services.
In the first of five special reports on the pre-school system in Asian cities, TODAY looks at how Hong Kong's overtly market-driven approach has led to a diversity of programmes in a competitive industry. However, observers said the chase for cash has also led to an increasing emphasis on academics in pre-school — in order to satisfy parents' demands.
HONG KONG — At one pre-school housed on the third floor of a community centre, children played catching around a playground while other kids cycled along the corridor. At another pre-school which was sited on a teacher training campus, some pre-schoolers indulged in outdoor water activities. Others sang and danced in music rooms. In shophouses, it was also common to see pre-school teachers leading their charges in indoor physical activities while others doodled and drew away.
Despite having to work around space constraints, the Hong Kong early childhood sector prides itself on having a diversity of programmes.
Some observers have attributed the diversity to the fact that the industry — comprising more than 900 pre-schools — is entirely driven by the private and non-profit sectors.
And even as the territory explores free kindergarten education — which will make schooling free for 15 years in Hong Kong — the man behind the ongoing review of the pre-school sector said the market-driven approach remains key to the system.
"Market-driven policies would best serve pre-school education … it preserves diversity to meet parents' needs", said Dr Moses Cheng, a lawyer by training. "It also has the benefit of getting the market to monitor the performance of operators".
In 2000, the Hong Kong authorities accepted education reform proposals for kindergartens. Following which, childcare centres and kindergartens were consolidated under the Education Bureau. Seven years later, the pre-primary education voucher scheme — costing HK$8.5 billion (S$1.37 billion) over a five-year period — was launched.
Under the scheme, all parents receive direct subsidy (HK$17,510 or approximately S$2,800 per student per annum this year) in the form of vouchers which they can use to pay for the fees at more than 700 non-profit kindergartens. The kindergartens which are part of the scheme have to comply with several regulations such as a 1:15 teacher-student ratio, a tuition fee ceiling and minimum qualifications of educators. They also need to conduct regular self-evaluations and publish online operational details such as their teachers' qualifications.
Since the scheme was implemented, some privately-run kindergartens have converted to non-profit operations in order to stay in the business. The scheme has resulted in yearly fees falling by almost five times and now, about nine in 10 pre-school teachers are trained in at least a certificate in early childhood education.
On the flip side, however, early childhood professionals felt that the core values of pre-school education are being threatened. To chase the dollar and satisfy parents' demands, kindergartens are becoming academic-oriented, they noted. The fee cap has also resulted in stagnant salaries for teachers despite rising qualifications.
Hong Kong Institute of Education academic Gail Yuen argued that a market-driven approach is not sustainable for the sector. "Money should be given directly to schools for teachers to have a more stable working environment and for them to develop programmes professionally," she said.
A MIX OF PLAY AND TEACH
From May to about July each year, some kindergartens in Hong Kong rearrange chairs and tables to resemble primary school settings. For the graduating class of six-year-olds, their timetable will also be modified to include different subjects and recess time.
At the Early Childhood Learning Centre, sited within the Hong Kong Institute of Education, children even get to write letters to primary school leaders to ask questions and share their thoughts on entering primary school. Principal Mountain Kwan said: "This is to let pre-schoolers get used to the idea of going on to primary school and easing them into the upcoming change".
Educators interviewed said that standards of pre-schools have indeed risen over the years, due to better awareness and more qualified teachers. There are also strict quality assurance processes to ensure standards are on par. The 1:15 teacher-student ratio imposed on kindergartens under the voucher scheme is lower than the ratio in Singapore, where the class size is 20 kids to one teacher for Kindergarten 1 and 25 kids to one teacher for Kindergarten 2.
Hong Kong school leaders added that the Education Bureau's curriculum guidelines, implemented since 2007, also helped to align schools' programmes with child development goals. However, educators are feeling the strain of trying to balance between what is good for the child and what parents want.
Although the Primary 1 admissions policy was tweaked to allocate a majority of places randomly, parents are anxious for their kids to enter prestigious schools. Many are also afraid that their children will not be able to catch up in the more results-driven primary school environment.
In all four local pre-schools which TODAY visited, principals said that they give a mixture of written homework and shared assignments for the children to do with their parents.
At Amazing Grace Nursery School, for instance, class activities ranged from reading and writing to drawing and painting. For the graduating class, teachers give out worksheets and teach from textbooks to emulate primary school teaching. Principal Lo Lai Fong said that kindergartens are obliged to make sure the children are ready for Primary 1, in order to keep parents assured. Nevertheless, teachers will exercise their professional judgement to draw the line.
Principals noted the importance of educating parents through regular meetings and parent-school activities. Also, before admitting each new intake, they will meet up with families individually. Said Ms Kwan: "To guard against having to accommodate to parents' demands for more academics, we will make sure they share our education philosophy first."
Still, there are parents who switch schools just to find a more academics-driven environment, said Mr Tony Chiu, Chief Executive of Sun Island Education Foundation, which owns 11 pre-schools. Under the voucher scheme, parents have more choices and pre-schools face the pressure of attracting students, he added.
Parent Cecilia Shih, 34, said that she welcomes homework given by her son's kindergarten. "Even if the school doesn't, I have plenty of activity books for him to do — he enjoys it," she said.
CHALLENGES IN THE MANPOWER SECTOR
Pre-school teacher Leung Sau Ting, 25, is currently juggling between part-time degree studies and teaching in the day. Working in a non-profit kindergarten for the past four years, Miss Leung enjoys having autonomy in the classroom. The image of pre-school teachers has also "slightly improved" due to higher entrance requirements and public recognition.
Nonetheless, the workload is increasingly heavy due to extra administrative tasks imposed by quality assurance regulations, she said.
While money was not the main motivation for many teachers, Miss Leung said that they would welcome any moves to raise their salaries and reduce their administrative burden.
Under the voucher scheme, a portion of the amount received by kindergartens is to be set aside for upgrading qualifications of their educators.
All principals of kindergartens that are part of the scheme are required to obtain at least a degree in early education and teachers must have a certificate in early education.
As of last year, about 85 per cent of teachers and three-quarters of principals met the requirements under the scheme. Another three in 10 of teachers went on to pursue a degree in early childhood. In Singapore, the entrance requirements for teachers include 5 O-Level passes. But as of now, 76 per cent of teachers are being trained or have attained a diploma in early childhood.
The Hong Kong educators noted that higher qualifications have translated to better attitudes and teaching capabilities in the classroom. Dr Maria Lee, a pioneer in early childhood training, said: "With everyone having a common level of qualifications, the quality is raised across the sector".
To smoothen the training process, authorities streamlined the childcare and kindergarten sectors for a common learning path. An early education teacher framework was developed and more courses were added to higher learning institutes. Early childhood professionals can now choose between six providers for self-financed or subsidised programmes, in areas such as leadership and special needs.
At the Hong Kong Baptist University — which has an on-site kindergarten for trainees — self–financed entrance level courses for pre-school educators saw a five-fold jump in enrolment.
The Hong Kong Institute of Vocational Education (Sha Tin), which provides subsidised programmes, also saw 3,000 applications for 500 places this year. According to official statistics, there will be 1,600 new Certificate in Education holders next year. Kindergarten owners reiterated that teachers are not in short supply.
However, they pointed out that it is difficult to retain teachers and proposed a salary scale as well as more professional upgrading opportunities, among others. Between 2010 and 2011, there was an average staff turnover rate of 22 per cent for kindergartens that are part of the voucher scheme.
According to the Education Bureau, average salaries for kindergarten teachers rose from HK$15,800 (S$2,540) in 2008 to HK$18,400 (S$2,960) last year. (The median monthly income in Hong Kong is HK$12,000 or S$1,900).
The Singapore Preschool Teachers Network estimates that salaries for pre-school educators in the Republic are between S$1,800 and S$2,500.
Under Hong Kong's voucher scheme, the previous salary scale was abolished to encourage market flexibility. Kindergartens, however, cannot raise fees beyond the stipulated cap on tuition fee. Further, schools have to conduct self-evaluation and publish operational details which add to teachers' workload.
Ms Law Wai-mei, a pre-school representative from the Hong Kong Professional Teachers' Union, said that while quality assurances requirements helped to improve standards, there is an urgent need to streamline the administrative work.
She added: "As teachers pursue higher qualifications, there must be higher remuneration to encourage and entice them to stay on in this job".
THE PRICE TO PAY FOR AFFORDABILITY
The voucher scheme gives Hong Kong authorities "certain power to intervene", even as market forces are used to spur the early childhood sector, said academic Cheung Kwok Wah, Dean of the Open University of Hong Kong School of Education and Languages.
Non-profit kindergartens within the scheme cannot charge beyond fee thresholds (HK$26,260 or S$4,200 per student per annum for a half-day place and HK$52,520 or S$8,400 correspondingly for a whole-day place).
In an audit released in June, Hong Kong officials noted that the voucher scheme has a "first phase success in alleviating parents' financial pressure". Average tuition fee per student per year for half-day classes was HK$3,500 (S$562), compared to over HK$15,000 (S$2,400), when the scheme was launched.
Some 68 kindergartens also charge below the subsidy limit, effectively providing free education. Comparatively, kindergarten programmes in Singapore can cost between over S$700 and more than S$10,000 per annum.
Last year, about 80 per cent of Hong Kong pre-schoolers used the vouchers and almost all local non-profit kindergartens - numbering more than 700 - participated in the scheme.
Nevertheless, over time, cracks are emerging. Parents started to opt for schools outside the scheme, and those interviewed said that education quality is inferior in the kindergartens under the scheme. These kindergartens, however, argued that they have limited resources.
From this year, 14 schools dropped out of the voucher scheme as they were not able to balance their books. Some of the kindergartens also reported net deficits and charged parents miscellaneous fees that were as high as 44 per cent of school fees.
Similarly, the authorities had to begin revising the school fee ceiling and voucher subsidy year on year, in tandem with inflation. Sun Island's Mr Chiu said that operators are caught between a rock and a hard place. More effort and time have to be invested in managing paper work for quality assurance, while rental as well as teacher salaries persistently drive up costs.
In land-scarce Hong Kong where most kindergartens are housed in commercial buildings, Mr Chiu cited instances of rental going up by 30 per cent with every renewal.
"The landlord has more bargaining power and it is difficult for us to find space … teachers demand more pay with better qualifications but yet there is a tuition fee cap and rising operation demands," he said.
Singapore's pre-schools have similarly cited rental issues, with rents making up more than 50 per cent of their budget. The Singapore government has started awarding heartland sites to operators with greater consideration on quality indicators and is looking to do the same for commercial spaces.
Among the more than 900 kindergartens in Hong Kong, about 10 per cent are classified as non-local pre-schools. These kindergartens could use English as their main language of instruction and serve expatriate families as well as handful of locals.
WHAT'S AHEAD
Over the next two years, deliberations over whether the Hong Kong government should offer free kindergarten education will take centre stage in the sector. The committee appointed in April will review the voucher scheme, and discuss teacher remuneration and governance framework, among other issues.
Dr Cheng, who is heading the committee, cited the challenge of providing for special needs children and ethnic minorities. Parent education is also essential so that the curriculum stays free of academic influences, he added.
Reiterating that the voucher scheme has helped to raise the quality of the Hong Kong pre-primary sector, he said: "(But) any scheme in operation for some years will need to be reviewed to look into changing circumstances." He added: "We cannot recommend the sky, we need to be practical (and) identify the scope government is recommended to pay."
Shedding light on the shape and form of the committee's proposals, Dr Cheng said that it could recommend the number of free kindergarten hours, and that the government funds the sector through parents and the operators. Dr Cheng, who visited Singapore in July with Education Secretary Eddie Ng, commended the Republic's anchor operator scheme for providing ffordable pre-school options.
Educators and parents interviewed had some concerns about the latest review. In particular, they were worried that the diversity could be affected and stricter regulations could be imposed.
Dr Hui Li, from the faculty of education at the Hong Kong University, also cautioned that if the government subsidises the operators directly, the rising rentals would mean that citizens will have to pay more taxes. Parent Irene Tai, 39, said that while any financial assistance would help parents but "if quality gaps are not addressed, it doesn't make any difference".
President of Hong Kong Kindergarten Association Mary Tong argues that diversity and quality of pre-school programmes will be sustained . Parental choice will stimulate the market and those which cannot attract enough children will close down, she said.
Dr Sanly Kam felt that free kindergarten education would signal greater recognition of pre-school education.
"With operation costs taken care of, the sector can develop holistically and professional autonomy will not be affected by parental choice," added the chair of council for non-governmental early childhood organisations.
The study trip to Hong Kong was made possible by Lien Foundation.