Najib lashes out at Dr M, says former premier wants son to be PM
KUALA LUMPUR – Dr Mahathir Mohamad will not stop his political attacks on the government until his son becomes leader of the country, said Prime Minister Najib Razak in his sharpest criticism of his former mentor to date.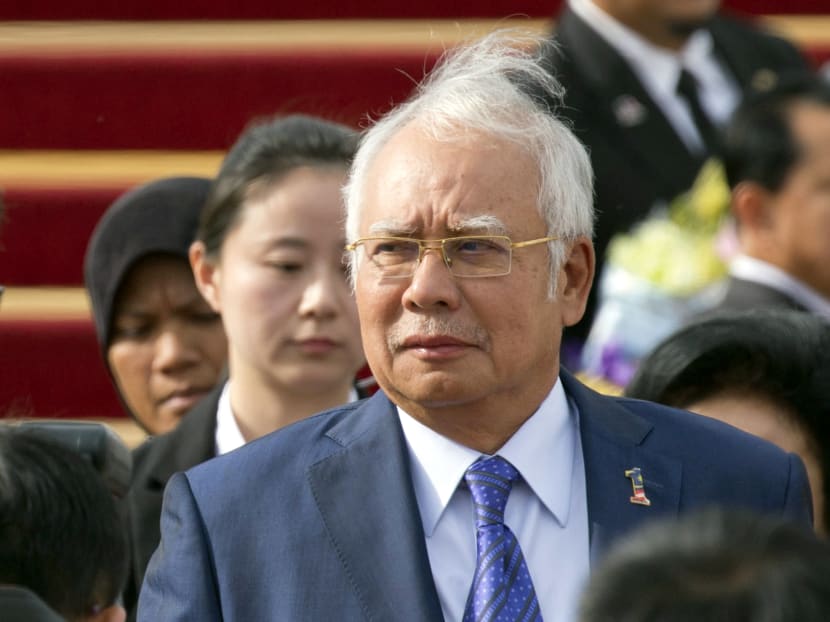 KUALA LUMPUR – Dr Mahathir Mohamad will not stop his political attacks on the government until his son becomes leader of the country, said Prime Minister Najib Razak in his sharpest criticism of his former mentor to date.
"Mahathir's crusade is motivated not by the national interest, but by selfish personal interest. He is obsessed by saving his family legacy and making his son Mukhriz Mahathir prime minister," Mr Najib said in a statement on Friday night.
"He has no principles and will do anything ― including allying with those he jailed, calling for foreign intervention in our sovereign democratic nation, sabotaging our economy, and making 100 U-turns if so required to manipulate people's minds ― just as a means to achieve his desired ends."
Mr Najib added that Dr Mahathir's bid to snuggle closer to his former political arch-enemy Anwar Ibrahim shows the elder statesman's deep fears at being taken to court for the RM30 billion foreign exchange losses during his term as prime minister.
Responding directly to the retired government leader-turned-critic's remarks for the first time, Mr Najib said Dr Mahathir was only acting out of self interest in backing the jailed Anwar as Pakatan Harapan's prime ministerial candidate now, after 20 years of vilifying the Pakatan Kedilan Rakyat de facto chief.
"In reality, Mahathir's new appeasement of Anwar is driven by his deep concern about the Cabinet's decision to form a Royal Commission of Inquiry (RCI) to investigate the truth behind the Bank Negara RM30 billion forex losses during his Premiership, as detailed in the Special Task Force report," said Mr Najib.
"Mahathir knows that the RCI findings could lead to criminal prosecution, so he cannot afford to have individuals highly relevant to the case such as Anwar testifying against him."
Dr Mahathir was prime minister for 22 years, from 1981 to October 2003. Mr Mukhriz is deputy president of the fledgling Parti Pribumi Bersatu Malaysia (PPBM) set up by his father to challenge Mr Najib.
Mr Najib was responding to Dr Mahathir's recent interview with The Guardian that was also picked up by many Malaysian news outlets in which the latter said he would not object to Anwar becoming prime minister if the Pakatan Harapan Opposition pact won the next general elections and won a royal pardon that would free him to become prime minister.
Mr Najib said too that Dr Mahathir was fully aware that Anwar could not legally contest in elections while behind bars, and noted the irony in the 91-year-old former prime minister now relying on the man he had sacked and jailed for sodomy in the late 1990s and another political nemesis he had jailed in the past, Lim Kit Siang.
Mr Najib noted that Mr Lim "controls the Opposition" as the Democratic Action Party holds the most number of parliamentary seats at 38, while Dr Mahathir's PPBM currently holds only one.
The prime minister added that while Anwar may be duped by Dr Mahathir's remarks of support, Malaysians would not because the chairman of a party with one parliamentary seat has no power nor influence to decide the next prime minister.
"Mahathir demanded Tun Abdullah Badawi resign as prime minister, now demands my resignation, and will demand my successor resigns until his son becomes Prime Minister ― whatever the cost to Malaysia," said Mr Najib.
"This time we will not let him succeed, because democratic process must prevail, and the interests of the country must come before Mahathir's family."
He added that his administration will always put the needs and interests of the country and its people first and will deliver on its promises focused on economic welfare, social wellbeing and security.
Weighing in on the issue on Saturday, Communications and Multimedia Minister Salleh Said Keruak dismissed Dr Mahathir's claim that Anwar was "fixed up" by a corrupt judiciary.
"Tun Dr Mahathir Mohamad's statement that Anwar Ibrahim was unjustly convicted for sodomy and that the decision of the court was influenced by the government was both shocking and comical at the same time," Mr Salleh wrote on his blog.
"It is pointless to allege that Anwar was convicted for a crime he never committed and yet not make amends for it by at least saying sorry [to Anwar]."
Mr Salleh said Dr Mahathir should at least apologise to his former deputy, whom he accused of sodomy and corruption before sacking him in 1998, if he believed in his own remarks.
Dr Mahathir has hitherto refused to apologise to Anwar, whom he had vilified up to their reunion last year, even dismissing a demand by Anwar's daughter that he apologise to her father.
Mr Salleh also echoed Nr Najib's point that Dr Mahathir's newfound sympathy for Anwar was driven by a desire to prevent the latter from implicating him in the RCI into the Bank Negara Malaysia's forex scandal.
Anwar was made finance minister in the wake of the scandal in the 90s, taking over the position from Tun Daim Zainuddin, a long-time confidante to Dr Mahathir.
"Mahathir's main concern is that Anwar will testify against him and that the truth behind the RM30 billion losses would be revealed," wrote Mr Salleh.
"This, therefore, is merely a move by [Dr] Mahathir to appease Anwar and was not made sincerely."
In the interview, Dr Mahathir had also said that he would not object for Anwar to become the next prime minister if the latter was able to secure a royal pardon.
Dr Mahathir had, up to the interview, refused to endorse Anwar for the position, and instead dropped hints that he would be prepared to return to the position he had held for 22 years if "friends" in the Opposition pact saw fit to ask.