Nepal building code author says disaster was waiting to happen
NEW YORK — The author of Nepal's little-heeded building code says the earthquake that killed more than 4,300 people and caused at least US$2 billion (S$2.65 billion) in economic losses could have been less destructive with better oversight.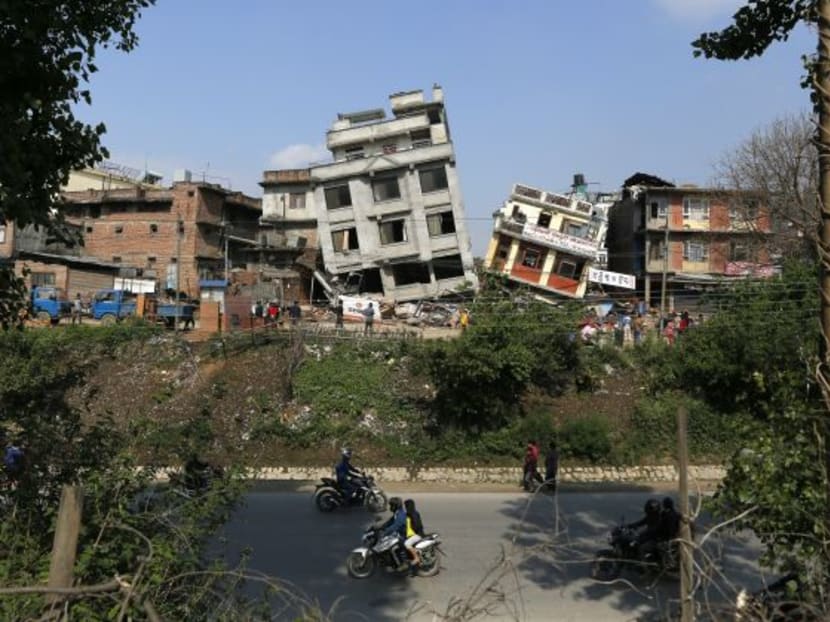 NEW YORK — The author of Nepal's little-heeded building code says the earthquake that killed more than 4,300 people and caused at least US$2 billion (S$2.65 billion) in economic losses could have been less destructive with better oversight.
"They didn't need this, but it was inevitable, absolutely inevitable," said Mr Richard Sharpe, a New Zealand earthquake engineer who led a team that formulated Nepal's only set of building standards 20 years ago. Mr Sharpe lived in the capital, Kathmandu, from 1993 to 1994, with his young family.
The text, about 5 centimetres thick, took two years to compile and included information designed to prevent buildings crumbling in Nepal, which shares New Zealand's high seismic risk and mountainous topography. Authorities didn't systematically implement its rules and guidelines, from basic building design to electrical wiring specifications, he said.
"The hard thing is to get implementation of it," Mr Sharpe said over the telephone from Wellington, where he is technical director of earthquake engineering with Auckland-based consultancy firm Beca. "All the turmoil in the country has been such that there hasn't been the political will at the municipal level to get the building consents and so on."
The crisis is the latest setback for a nation that suffered a decade-long Maoist guerrilla war and then years of political wrangling following the removal of a 240-year-old monarchy in 2008.
STANDARDS UNVERIFIED
In Nepal, municipalities are the responsible agencies to issue building permits, but only three out of 58 municipalities have tried to incorporate the national building code into their permit process, Mr Naresh Giri said in a 2013 report for PreventionWeb, an information portal for the disaster reduction community. Even these attempts have been "too limited and lack the necessary verification to ensure compliance", Mr Giri wrote.
Land-use plans and building code requirements aren't applied in the countryside and they're not enforced in slums and other informal urban settlements, said Ms Charlotte Benson, a senior disaster risk management specialist with the Asian Development Bank in Manila.
"This isn't just a problem in Nepal," she said. "Across the developing world, we see the same situation repeated."
In recent years, Kathmandu's urban sprawl has expanded to an old lake bed south of the city, where the earth is especially unstable and susceptible to liquefaction, Ms Sharpe said. Buildings aren't engineered to cope with that.
Rapid, unplanned urban expansion in the Kathmandu valley, the most-populous part of the country and location of the capital, led to crowding and congestion that meant there were no open expanses of land where people could seek refuge following the magnitude 7.8 earthquake Saturday and aftershocks, said Mr Ram Pandit, a Nepal-born assistant professor of agricultural and resource economics at the University of Western Australia in Perth.
LAND STABILISATION
Redevelopment plans need to allow for this, as well as the natural geological risks in the environment, he said. Known fault lines, former lake beds and other risky areas either need to be avoided as future building sites or undergo some form of land stabilisation.
"These natural disasters, you cannot predict them, but you can develop to a certain safety net to avoid this type of thing," said Asst Prof Pandit, who lived in Nepal for 32 years and visits annually.
New construction in Nepal, especially of critical buildings such as hospitals, needs to utilise technologies developed in quake-prone countries such as New Zealand and Japan, Mr Sharpe said.
LESSON FROM JAPAN
Japan's building code, one of the strictest in the world, has been tightened three times since its adoption in 1950, each time within three years of a major quake. The country has an average of two temblors with magnitude of 6.8 or larger a year.
"It took more than 70 years for Japan to get to where it is now," said Mr Kenji Sawada, executive director of the Japan Society of Seismic Isolation in Tokyo. "It requires time and investment. You have to take one step at a time."
So-called base isolation systems that separate a building from the ground with flexible bearings or pads that buffer structures from the earthquake's motion, are particularly important, Mr Sharpe said.
BASE ISOLATION
The technique, pioneered in New Zealand more than 30 years ago, uses blocks of layers of rubber with lead inserts to act as a cushioning base. It typically adds an extra 3-5 per cent to the structural cost of a building, Mr Sharpe said.
That kind of technology could be adopted by the government, some international donors and aid agencies, but isn't likely to gain widespread use, University of Western Australia's Mr Pandit said.
"Given the physiography and the location of where people live, that sort of technology may not be applicable everywhere because of cost," he said. "Everything has to be relatively cheap for people to afford."
At the very least, it should be used to safeguard hospitals and the country's monuments and other national treasures, Mr Sharpe said.
"Hopefully, this earthquake will incentivise the reluctant people in Nepal to take the necessary steps, particularly donors, who will often give buildings and then not require that they be seismically designed," he said. "That's the amazing thing. Twenty years ago, we came across that. Donors were as bad as anybody else." BLOOMBERG