Cambodia blocks Asean consensus for second time
VIENTIANE (Laos) — Southeast Asia's main grouping apparently failed to reach a consensus on how to deal with China's territorial expansion in the South China Sea, intensifying a diplomatic stalemate despite three rounds of formal and informal talks Sunday.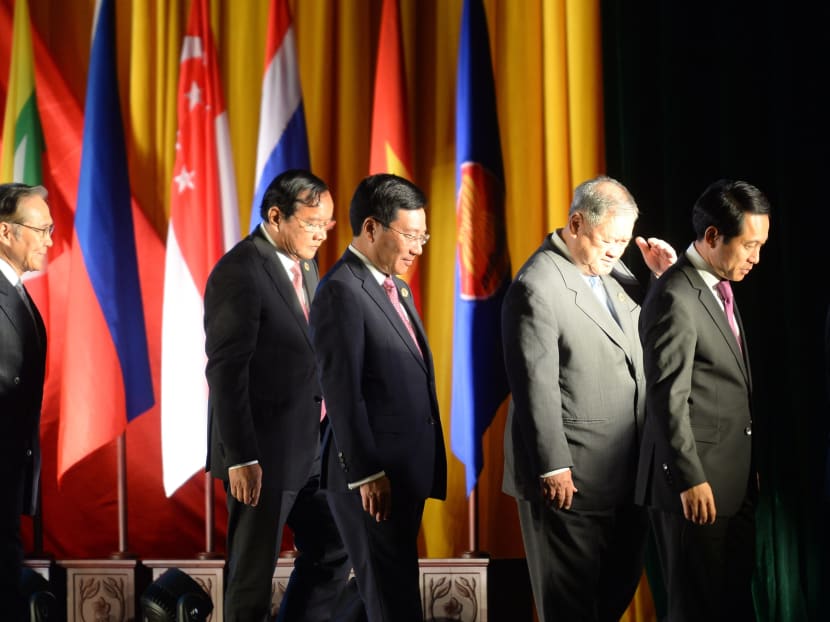 VIENTIANE — South-east Asian nations failed to find common ground on maritime disputes in the South China Sea yesterday despite three rounds of formal and informal talks, after Cambodia stuck to its demand that the group make no reference in a statement to an international court ruling against Beijing's expansive claim in the disputed waterway, diplomats said.
At a meeting of foreign ministers from the 10-member Association of South-east Asian Nations (Asean),  the Philippines and Vietnam both wanted the grouping's joint communique to refer to the United Nations-backed Permanent Court of Arbitration's ruling, which earlier this month  handed an emphatic legal victory to Manila in the maritime dispute. 
The Philippines and Vietnam also wanted the communique to address the need to respect international law, Asean diplomats said. 
Both countries' foreign ministers discussed the ruling in the closed-door meeting with Asean counterparts in Laos on Sunday (July 24), sources said.
But in the run-up to the meeting, China's closest Asean ally, Cambodia, put up opposition to mentioning the ruling, throwing the group into disarray. Cambodia supports China's opposition to an Asean stand on the South China Sea, and Beijing's preference for dealing with the disputed claims on a bilateral basis.
"It's really a loyalist of the big country C," a diplomat who attended closed-door meetings told The Associated Press, referring to China.
Cambodia's foreign minister Prak Sokhon declined to comment on his country's position on Sunday.
"Certainly, Cambodia's paralysis of Asean ... hurts Asean's unity, cohesion, relevance and reputation," said Mr Malcolm Cook, an analyst at the Iseas-Yusof Ishak Institute. "It makes ASEAN peripheral, not central, on this issue."
Laos, which also is a China ally, has been careful not to take sides because of its position as the host and Asean chair. But it supports Cambodia's veto. 
"For Laos and Cambodia, they clearly see relations with China as more important than their membership in Asean and are willing to damage Asean to aid their relations with China," Mr Cook added.
Despite a late night meeting of foreign ministers called to thrash out the issue late on Saturday, the region's top diplomats were unable to find a compromise.
Asean is now facing the prospect of being unable to issue a statement after a meeting for only the second time in its 49-year history. The first time, in 2012, was also due to Cambodia's resistance to language around the South China Sea.
"We have been here before and I hope they can solve it," said one official from the Asean secretariat in Indonesia. "It is the same story again, a repeat of the meeting in 2012."
The group has given itself until Tuesday to come to an agreement and issue a statement, said one Asean diplomat. 
Diplomats also said the draft communique to be issued by the ministers left blank spaces under the heading "South China Sea" until a consensus can be reached.
Thai Foreign Ministry spokesman Sek Wannamethee Sek said the "joint communique is still being drafted."
Over the next two days, Asean members will meet with China's Foreign Minister Wang Yi and United States Secretary of State John Kerry.
The international tribunal ruling earlier this month denied China's sweeping claims in the strategic seaway, through which more than US$5 trillion (S$) in global trade passes each year. China claims most of the sea, but Asean members the Philippines, Vietnam, Malaysia and Brunei all have rival claims. Beijing had said the ruling has no bearing on its rights in the sea, and described the case as a farce.
The US, allied to the Philippines and cultivating closer relations with Vietnam, has called on China to respect the court's ruling.
It has criticised China's building of artificial islands and facilities in the South China Sea and has sailed warships close to the disputed territory to assert freedom of navigation rights.
But Mr Kerry will urge Asean nations to explore diplomatic ways to ease tension over Asia's biggest potential military flashpoint, a senior US official said ahead of his trip.
Chinese state media called for "damage control" at the meetings. A commentary published by the official Xinhua news agency yesterday (SUN) said the court ruling was a "blow to peace and stability in the region.... and only serves to increase the likelihood of confrontation and turbulence."
The commentary also urged East Asian nations to be vigilant against US "interference" in the region and to foster closer ties with China "a market no country can afford to lose." AGENCIES