No stopping racial politics in Malaysia as election nears
Since independence from the British in 1957, Malaysia's ruling coalition — first known as the Alliance and now as Barisan Nasional (BN) — has won every election based on a multiracial platform, despite being led and dominated by the United Malays National Organisation (Umno).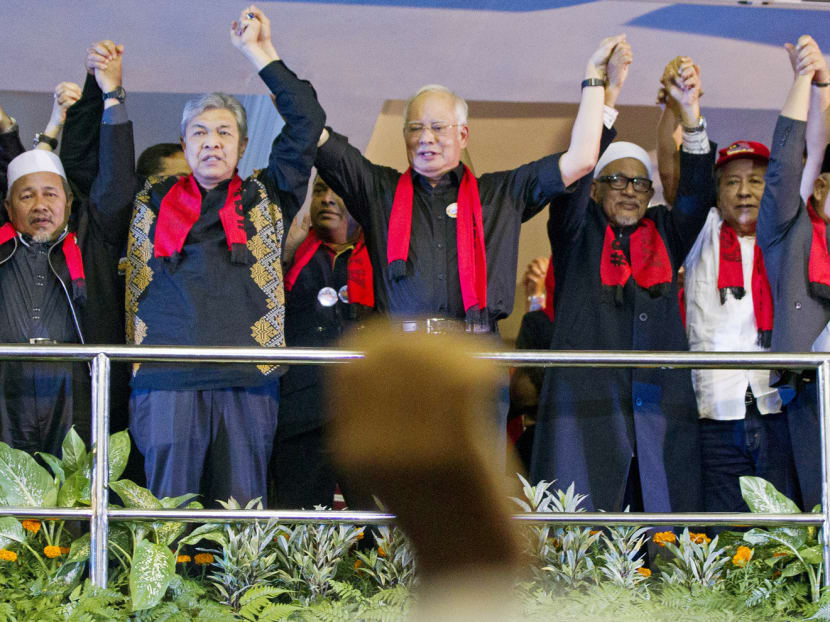 Since independence from the British in 1957, Malaysia's ruling coalition — first known as the Alliance and now as Barisan Nasional (BN) — has won every election based on a multiracial platform, despite being led and dominated by the United Malays National Organisation (Umno).
That claim may come to an end at the next election, not due until 2018 but widely expected in 2017.
Despite Umno's rhetoric that it is colour-blind and cares for the well-being of all Malaysians, analysts interviewed by TODAY noted that the party has signalled it will bank on using the race card more than ever.
Weakened by the multi-billion-dollar 1Malaysia Development Berhad (1MDB) scandal linked to party president and Malaysian Prime Minister Najib Razak, and having lost the support of the majority of urban as well as ethnic Chinese voters, Umno will need to rely on votes from the Malays and Bumiputras, especially those from the rural heartlands.
The pendulum has swung this way in the past, said Dr Oh Ei Sun, a former political aide to Mr Najib.
"It would in the short run be divisive for the country, but Malaysia has seen this sort of racial card being played many times before and usually 'recovered' from them after a while," said Dr Oh, a Senior Fellow at the S Rajaratnam School of International Studies (RSIS) in Singapore.
He added that he expects BN to win again, maybe with a few more seats than in the last election, but probably not with the two-thirds' majority in parliament it enjoyed for many decades until 2008.
In the past year, Mr Najib has succeeded in cementing his leadership within the party, despite a widening scandal around 1MDB. The troubled state investment fund is under investigation by, among others, the United States Justice Department and Singapore authorities.
Mr Najib, who denies wrongdoing, sacked his former deputy, Mr Muhyiddin Yassin, as well as another federal minister, Mr Mohd Shafie Apdal, for raising questions on 1MDB. Mr Najib's former mentor and fiercest critic, Dr Mahathir Mohamad, also resigned from Umno and started a new Malay-based party.
With detractors banished, the recently-concluded Umno annual general assembly was marked by high spirits and chest-thumping. Mr Najib, indicating that an election was close, warned delegates that the special position and rights of the Malays in the country would be eroded if the opposition Democratic Action Party — whose membership is majority Chinese — came to power. He called on the Malays to understand the grave consequences, and said they will have to decide whether to maintain a government led by Umno or DAP in the next election.
Right after the general assembly, Mr Najib appeared alongside the president of the opposition Parti Islam Se-Malaysia (PAS) at a large rally to protest against Myanmar's treatment of its minority Rohingyas, who are Muslim. Umno has also voiced support for PAS' Bill to strengthen the Syariah Courts (Criminal Jurisdiction) Act 1965, straining ties with other BN component parties including the Malaysian Chinese Association (MCA), Malaysian Indian Congress (MIC) and Gerakan.
RACIAL POLARISATION
Malaysia is already polarised ethnically after four decades of the New Economic Policy (NEP), which gives preference to Malays and other indigenous people for everything from university spots and scholarships to housing, government contracts and initial public offerings on the stock market.
Dr Norshahril Saat, a fellow at the Iseas-Yusof Ishak Institute, noted that in the long run, racial politics will not be good for Malaysian society.
"Race-based politics have coloured the political scene since independence. When Prime Minister Najib got into power in 2009, he introduced the concept 1Malaysia. It would upset the minorities if the government reverts to racial politics after so much promise to move away from it," he said.
The race card being played once again may marginalise the non-Malay voters, added Iseas-Yusof Ishak Institute deputy director Ooi Kee Beng.
"Race and religion being election issues will be disheartening for the minorities, of course, and perhaps lead to more emigration in the medium term," he said.
Malays and other indigenous groups make up 61.9 per cent of Malaysia's 30-million population, ethnic Chinese 22.6 per cent, ethnic Indians 6.7 per cent, with other groups making up the rest. In the 2013 election, BN won 133 parliamentary seats — Umno secured 88 seats, while MCA and MIC won only seven and four seats, respectively.
The opposition won 89 seats and obtained 50.8 per cent of the popular vote, because of its domination of urban seats with a higher number of voters.
The question for other BN component parties such as MCA, MIC and Gerakan is: Where do they feature in the election battle plan?
Dr Ooi of Iseas-Yusof Ishak Institute said playing the race card will put Umno's BN allies in a difficult position. "This will mean that Umno will be demanding more seats, leading to intra-BN tensions. These allies will continue to lose ground, making BN a Bumiputra coalition."
Mr Najib has felt let down by the lack of Chinese support in the 2013 election, calling their massive "defection" to the opposition a "Chinese tsunami". He had said that if MCA wants a bigger say in the federal government, it would have to win back the support of the Chinese community.
Professor James Chin, director of the Asia Institute, University of Tasmania, said the reality is that Mr Najib does not care about MCA, MIC or Gerakan as they are unable to get the support from their ethnic groups. "So, there is no need to make concessions to them. They (component parties) cannot do anything as they have been powerless since the 1970s."
Mr Jamawi Jaafar, Umno Youth Information Chief, said the youth wing will be executing more programmes at the grassroots level, such as community-based activities, to help boost the support for the party.
"We will be giving our full support to him (Mr Najib). The structure for Umno is now strong and we are ready to move forward."
Umno youth delegate Nada Razmi Zaidin told TODAY that the departure of disgruntled members to join Dr Mahathir's party has made Umno stronger. "Members need to heed the clarion call and be prepared. Remember the concept of wala (loyalty to the leader)."
That culture of loyalty to the current leader of Umno could stand Mr Najib in good stead. Although Dr Mahathir, who was in power for 22 years, has formed a new party, Parti Pribumi Bersatu Malaysia (PPBM), to challenge BN and Umno in the next election, splinter parties have not tended to do well.
"Never has an Umno splinter party managed to challenge Umno or BN," said Mr Asrul Hadi, an analyst with Bower Asia Group. "I will be surprised if it survives after the election, as the party does not have charismatic young leaders to lead it."
Mr Asrul said Dr Mahathir's resignation from Umno has only served to make Mr Najib stronger, as it forced others who were disenfranchised to leave too. "Umno members were forced to either accept him (Mr Najib) or leave."
UMNO-PAS COOPERATION
Mr Najib is keen to secure a convincing Umno victory, one reason he has lent his support to PAS' Bill to allow the Syariah courts to mete out heavier punishments.
Mr Hishammuddin Hussein, the party's vice-president, claims the "common understanding" Umno has with PAS shows the ruling party has "political maturity". It does not necessarily mean that this will translate into more votes for Umno, he added.
"There are no reasons we cannot find 'bridges', or universal values that we share as Muslims in the country. This is an example — we are a multiethnic country, we are fighting against the negative perception of Islam, but we are also taking care of the other races," said Mr Hishammuddin, who is also the Defence Minister.
Mr Rashaad Ali, a research analyst at RSIS, said Umno and PAS need each other. Like Umno, PAS recently suffered a split, with a splinter party of its more progressive members leaving to start a new party, Parti Amanah Negara (Amanah).
"You are not likely to ever find another scenario where Umno lends its support for a PAS initiative. PAS, on the other hand, will use Umno to bolster itself (bearing in mind that the party now consists of mostly the conservative members after the split) but at the same time, they need Umno," he told TODAY.
Umno and PAS working together could dent DAP's advantage of having Dr Mahathir's PPBM on its side, said Prof Chin. He added that PAS president Abdul Hadi Awang "wants to destroy DAP in the next general election".
"For Najib, he needs Hadi and PAS to stay in power. It will give him more support and benefit both Umno and PAS in the rural areas."
PAS and DAP worked together in the past two elections, but Mr Hadi's push for hudud, or the Islamic penal code, to be implemented in Kelantan has prompted a hostile response from DAP, because it insists that hudud was not part of a common policy framework adopted by the opposition parties.
OPPOSITION IN DISARRAY
The opposition coalition formerly known as Pakatan Rakyat (PR) — which made history in the 2008 election by denying BN its customary two-thirds majority — was dissolved in 2015 after component parties PAS and DAP fell out over the former's push to implement hudud in Kelantan.
The coalition also lost a key figure holding it together — Anwar Ibrahim — after he was sent to jail in early 2015 for five years for sodomy, a case he maintains was politically motivated.
A new alliance, Pakatan Harapan, has since been formed between Parti Keadilan Rakyat (PKR), DAP and Amanah. Pakatan Harapan has also signed a separate electoral pact with PPBM to cooperate in the next election.
Mr Rashaad, the RSIS analyst, said the opposition must present itself as a cohesive bloc. "They have lost a lot of momentum this past year, and appear disorganised and disoriented."
Ms Fui K Soong, director of Centre for Strategic Engagement, said PKR stands to lose the most in the 14th general election as the Umno-PAS pact is bound to erode some of PKR's young but conservative votes. "PKR has a tougher role now, not a bigger role. Outside of Selangor, PKR has no grassroots machinery. Not even in Permatang Pauh," she said, referring to the constituency that is PKR's stronghold.
She said the pact between Umno and PAS means they will have a "friendly fight" in the polls as both parties will refrain from encroaching on each other's stronghold seats. Amanah president Mohamad Sabu is nonetheless confident of its chances.
"We are ready to face BN and PAS. Amanah is making the right moves to win the trust of voters and I feel we have the chance to wrest Kelantan (from PAS)," he said.