Obama seeks to boost trade ties, reassure allies during Asian trip
SINGAPORE — Security issues will top the agenda for United States President Barack Obama's (picture) visit to Asia next week, but trade will not be far from his mind as Washington seeks to underline its commitment to the region amid rising tensions between China and its neighbours over territorial disputes.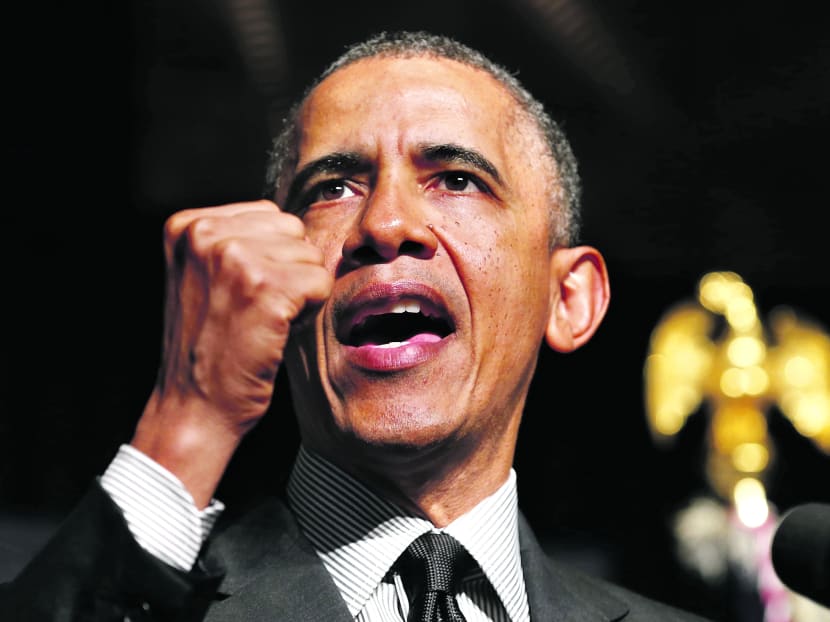 SINGAPORE — Security issues will top the agenda for United States President Barack Obama's (picture) visit to Asia next week, but trade will not be far from his mind as Washington seeks to underline its commitment to the region amid rising tensions between China and its neighbours over territorial disputes.
A key objective of Mr Obama's four-nation trip — which will take him to Japan, South Korea, Malaysia and the Philippines from next Wednesday — is reassuring US treaty allies and partners in the region of its support in countering an increasingly assertive China, even while Washington aims to tamp down the tensions, analysts said.
"The administration has consciously avoided making China a part of his visit, so it appears to be a signal to its allies and strategic partners that the US is here and it continues to be a player in Asia," said Assistant Professor Evan Resnick, coordinator of the United States Programme at the S Rajaratnam School of International Studies.
Mr Obama can be expected to appeal directly to Asian leaders to have faith in America's resolve to keep China in check and discourage any notion that Beijing could emulate Russia's takeover of Crimea by seizing contested islands and shoals from its neighbours, although the US will seek to avoid being directly involved in the disputes.
There is suspicion among some Asian allies that if they come under threat from China, the US — despite treaty obligations to come to their aid — might craft a response aimed more at controlling damage to its own vital relationship with China, the world's second-biggest economic power.
For Mr Obama, the tricky part of the trip will be deciding how to set limits on China in a way that soothes US allies in Asia but avoids stoking tensions with Beijing.
On the economic front, he will also aim to boost support for the Trans-Pacific Partnership (TPP), a trade pact linking the economies of 12 Pacific nations that has been a centrepiece of his administration's push to ramp up its presence in Asia. There has been little progress on the negotiations, particularly among the US and Japan, the two biggest economies in the TPP.
STRENGTHENING ALLIANCE WITH JAPAN, KOREA
In Japan — Mr Obama's first stop — he will meet Prime Minister Shinzo Abe and Emperor Akihito. The President will aim to build on Defence Secretary Chuck Hagel's visit earlier this month in trying to de-escalate the bitter row between Tokyo and Beijing over uninhabited islands in the East China Sea. Beijing last November irked neighbours South Korea and Japan by establishing a controversial new air defence zone in the area.
That looks to be a tough job, given that ties between Beijing and Tokyo have been further strained by Mr Abe's previous remarks that he wants to free its military from the constraints of its pacifist Constitution.
"The most recent trajectory in the Obama administration's relationship with Tokyo is to thread the needle between, on the one hand, reassuring Japan and, on the other, quelling some of the more aggressive, nationalistic rhetoric and behaviour on the part of the Abe government, which has also played a major role in inflaming tensions in the region," Asst Prof Resnick said.
During his visit to South Korea, a key topic besides China will be an increasingly unpredictable and hostile North Korea. A statement by South Korean President Park Geun-hye's office this week said the threat posed by the North's nuclear arms programme will be on the agenda during Mr Obama's two-day visit to Seoul, which starts next Friday.
South Korea has a separate dispute with Tokyo over islets controlled by Seoul known as Dokdo in Korea and Takeshima in Japan.
"Mr Obama will be trying hard to strengthen the trilateral alliance in response to threats from North Korea and China," said Mr Richard Javad Heydarian, an international affairs lecturer at Ateneo De Manila University and foreign policy adviser of the Philippine Congress.
MAKING UP FOR LOST TIME IN KL, MANILA
The tail-end of Mr Obama's trip will see him making stops in Malaysia and the Philippines, in what is seen as Washington making up for lost time after cancelling visits to those countries last October due to the US government shutdown. That had raised questions over the administration's pivot policy — a strategic shift to the region following years of engagement in the Middle East — that Mr Obama announced in 2011.
The visit to Malaysia from April 26 to 28 will be a historic one, the first for a US President since Lyndon Johnson's visit in 1966. The US is keen to build bridges with the emerging economy and founding member of the Association of South-east Asian Nations.
"This is the first time an American President has visited Malaysia in nearly 50 years, and President Obama is likely to highlight Malaysia's role as a diverse democracy and vibrant economy," said Dr Ely Ratner, deputy director of the Asia-Pacific Security Program at the Center for a New American Security in Washington.
Tensions over Beijing's sprawling claims in the South China Sea, which have set it directly against US allies Vietnam and the Philippines, could also dominate the agenda. Brunei, Malaysia and Taiwan also claim parts of the oil-rich sea. Last month, Manila launched an arbitration case against China's claims at a United Nations tribunal, angering China.
But while Philippine President Benigno Aquino may be seeking more forceful words from Mr Obama towards China during his visit on April 28 to 29, analysts say Washington will likely only emphasise its commitment to freedom of navigation in the South China Sea and press China to respect the outcome of the tribunal.
"There will be high-stakes exchanges over Washington's commitment to defend the Philippines in the event of military conflict with China in the South China Sea. But I'm not sure if Obama will explicitly warn China of retaliation in an event of conflict in the South China Sea with the Philippines," said Mr Heydarian.
Discussions on a new security deal allowing the US greater access to military bases in the Philippines could also be expected, he added.
Manila's acceptance of a beefed-up US military presence, a politically sensitive issue in the independent-minded archipelago nation, would reveal the scale of its anxiety over China.
PUSHING FOR TRADE
Trade issues will feature significantly in Mr Obama's visits to Japan and Malaysia, two countries involved in the TPP negotiations that the US wants to conclude by year-end.
But analysts said he was unlikely to make much headway in both countries. Washington and Tokyo disagree over key points in the pact, including agricultural products and automobile tariffs while, in Malaysia's case, the contentious issues involve intellectual property and state enterprises.
The TPP would go some way to reinforcing Washington's rebalancing strategy in the region. "The administration is trying to take some of the military emphasis off the rebalance and cast it more as an attempt to reintegrate or expand US economic involvement in the region, and the TPP is the pillar of that non-military aspect of the pivot," Asst Prof Resnick said. WITH AGENCIES