Prehistoric human skeleton found at Penang neolithic site
GEORGE TOWN — A 5,000-year-old human skeleton was recently uncovered during the construction of a gallery for the Guar Kepah neolithic site in Penang.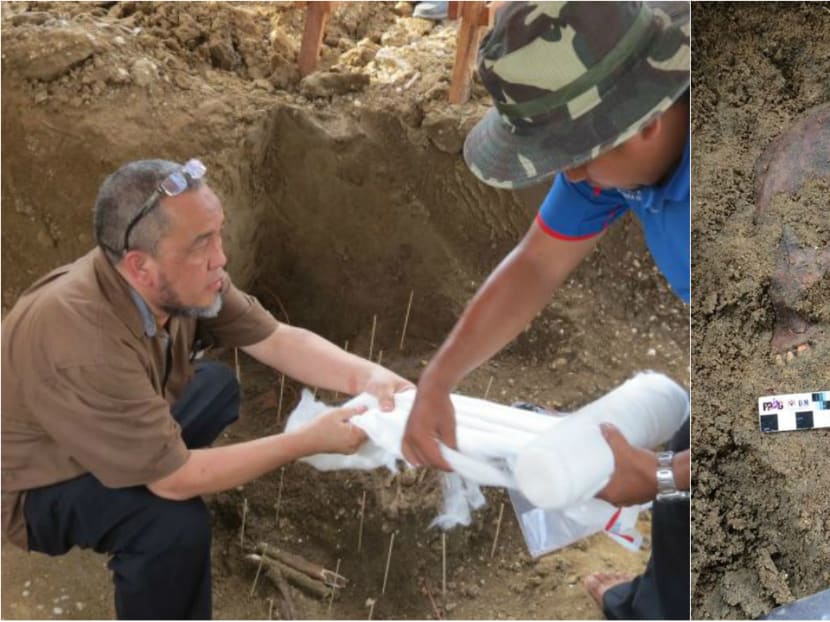 GEORGE TOWN — A 5,000-year-old human skeleton was recently uncovered during the construction of a gallery for the Guar Kepah neolithic site in Penang.
Archaeologist Prof Datuk Dr Mokhtar Saidin said he has long suspected that there must be something preserved underneath an old house on the site that has been torn down to make way for the gallery and true enough, a skeleton was found underneath it.
"We have yet to do carbon dating because we just discovered it, but it is estimated to be around 5,000 years old. So the construction work has been stopped and we will start excavation works today," he told a press conference at Penang Chief Minister Lim Guan Eng's office on Wednesday (April 19).
A backhoe was digging up the site on Monday when it uncovered parts of a human bone, believed to be the femur, at only 70cm under the surface.
"With the discovery, we immediately stopped the digging works and took over to conduct the excavation and so far, we have uncovered parts of a skull and rib cage with pottery fragments," he said.
Dr Mokhtar believed that they could possibly find three skeletons in the site, but this remains to be seen as it would take them at least two weeks to excavate the current findings.
The Universiti Sains Malaysia's Centre for Global Archaeological Research had conducted excavation works and research on the site back in 2010 where prehistoric shells, pottery remnants, tool remnants and food remnants from the Neolithic period were found, documented and dated.
"This discovery is important because our research is now complete. We have the shells, the food, the hunting tools and now we have the skeleton so the Guar Kepah Archaeology Gallery will be complete with all these on display," he said.
The skeleton, once fully excavated, will be brought back to USM for carbon dating and it will be placed back at the spot it was found after the gallery is constructed.
Based on previous excavation works done on the site since the 1860s, Dr Mokhtar believed that this skeleton was buried at least 18m underneath a shell mound.
Guar Kepah was the first archaeological excavation site in Malaysia conducted by Sir G.W. Earl back in 1860.
Three shell mounds were found at the site when 37 skeletons were dug up then and these skeletons were taken to Leiden, Holland.
"All the shell mounds were excavated back then so when we started our excavation works in 2010, there were no more mounds, just what was left over by the archaeologists then," Dr Mokhtar said.
Even then, a house was already built on the site, so Dr Mokhtar and his team were not able to excavate the ground underneath the house until now.
The house was torn down to make way for the construction of the gallery.
Mr Lim said all construction works have been ordered to stop to allow Mokhtar and his team to excavate the site.
"We have allocated an additional RM20,000 (S$6,353) for the excavation works," he said.
He also said the state is in the process of contacting those in Leiden to bring back the earlier findings from the site. MALAY MAIL ONLINE