S China Sea 'an existential issue to legitimise CCP rule'
SINGAPORE — The South China Sea issue has become one where the parameters of United States-China competition and their interests are most clearly defined and from which South-east Asia nations will draw conclusions about American resolve and Chinese intentions in the region, said veteran Singapore diplomat Bilahari Kausikan yesterday.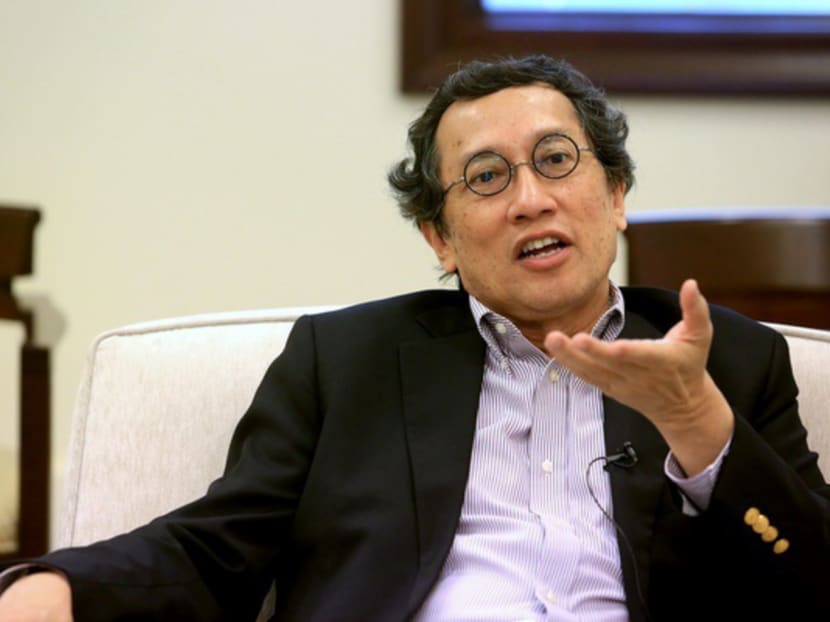 SINGAPORE — The South China Sea issue has become one where the parameters of United States-China competition and their interests are most clearly defined and from which South-east Asia nations will draw conclusions about American resolve and Chinese intentions in the region, said veteran Singapore diplomat Bilahari Kausikan (picture) yesterday.
Speaking in the third of five lectures as the Institute of Policy Studies' second S R Nathan fellow, Mr Kausikan noted that the South China Sea is more important to China than to the US as the Chinese Communist Party (CCP) uses it to justify its legitimacy based on history.
"If I am correct that the South China Sea issue is ultimately connected to the legitimacy of CCP rule, it is an existential issue for China," he said, noting that China has become more aggressive in enforcing what it considers its domestic rights in the disputed waters in recent years, including an ambitious programme of land reclamation, deployment of military assets and high-pressure tactics by its diplomats when dealing with South-east Asian countries.
Washington, on the other hand, defines its interests in terms of upholding international law and freedom of navigation but this is not something "the US must defend at all costs". Given that the US is not party to the United Nations Convention on the Law of the Sea, it is possible that the US upholds freedom of navigation based on a particular calculation of American national interests and not an obligation it must honour, he added.
"While the artificial islands (built by the Chinese in the South China Sea, or SCS) are inconsequential in military terms, they are a potent reminder to ASEAN that China is a geographic fact whereas the US presence in the SCS is the consequence of a geopolitical calculation. This is an idea that China never tires of seeding in ways subtle or direct," said Mr Kausikan, referring to the 10-member Association of South-east Asian Nations.
He noted that China routinely tries to pressure ASEAN members not to raise the South China Sea issue in forums or not to support other countries who do so. There has also been "glacial" progress in discussions on a Code of Conduct between China and ASEAN for the disputed waters, because Chinese diplomats often hold the talks hostage to ASEAN refraining from taking positions that displease Beijing.
ASEAN countries have begun to push back against China's assertiveness and Beijing is also aware that its actions have led to an inadequate level of trust, he noted.
Yet whatever costs in relations with ASEAN that China may have to pay for its assertiveness in the South China Sea may not be considered unbearably high by Beijing as compared to the interests at stake, which is related to China's use of history to legitimise CCP rule and justify sovereignty claims.
"For the past century, the legitimacy of any Chinese government has depended on its ability to defend China's sovereignty and preserve its borders."
He noted that China is also in the process of turning itself into a maritime power and "it is probably inevitable that a more equal naval equation" between China and the US will eventually develop. "When this occurs we should not assume, given the fundamental asymmetry of US and Chinese interests in the South China Sea, that the modus vivendi they may then reach in South-east Asia must necessarily be in ASEAN's interests," he said.
He explained that while dealing with US-China competition is difficult, it leaves open the possibility of manoeuvres for smaller countries.
"Dealing with US-China agreement may be even more uncomfortable. There will be less room to move, and when major powers strike a deal they generally try to make lesser beings pay the price."
The possibility of US-China collusion is not a fantasy, he added, citing how at the International Conference on what was then called Kampuchea (now Cambodia) held at the United Nations in 1981, the US took China's side against ASEAN on whether or not the Khmer Rouge should return to power when the Vietnamese withdrew.
"ASEAN wanted elections but the US supported the return of a genocidal regime. Did any of you imagine that the US once had in effect supported genocide?" he said, adding that the US at that time saw ties with China as the paramount American interest and even threatened Singapore that there would be "blood on the floor" if the Republic did not change its position.
"I hope the US understands that such concerns lurk not very far beneath the surface in East Asia where memories are long," he said.
Turning to ASEAN, Mr Kausikan noted that it has provided a mechanism for regional countries to manage external pressures and ensure a sense of cohesion among member states. Yet the diversity in South-east Asia makes regional cooperation both necessary and difficult to achieve.
"The key diversities of South-east Asia are visceral differences of race, language and religion which define core identities and shape the domestic politics of ASEAN member states. They inevitably colour their calculations of national interest and inter-state relations. It not easy to imagine such primordial factors ever being erased."
ASEAN therefore must work by consensus, he said, as any other mode of decision-making "risks rupture with unpredictable consequences".
One downside of working by consensus, however, "is an unfortunate tendency to privilege form over substance which all too often morphs into self-delusion and wishful thinking," he said, adding that nowhere is this clearer than in ASEAN's approach towards regional security.
For instance, since 1971, ASEAN has been formally committed to establishing a Zone of Peace, Freedom and Neutrality (ZOPFAN) in South-east Asia. "ZOPFAN was based on the superficially attractive but entirely delusionary notion that regional security could best be secured by excluding the major powers from the affairs of South-east Asia," he said.
Another example was the 1995 treaty establishing a South-east Asian Nuclear Weapon Free Zone (SEANWFZ), which provides only a false sense of security because when the use of nuclear weapons becomes probable, any treaty will be just a piece of paper, he added.
He has emphasised these hard truths about ASEAN "because 49 years after its formation, they are still not sufficiently understood".
"The small countries of South-east Asia have lived in the midst of competition by larger powers for many centuries. To promiscuously and simultaneously balance, hedge and band-wagon is embedded in our foreign policy DNA," he said.
"But this instinct is today at some risk of being dulled in at least some members of ASEAN in whom the struthious delusions of ZOPFAN and SEANWFZ seem alive and well."
In conclusion, he said countries in the region must recognise that the South China Sea is today the principal arena where complex mind-games to condition mental frameworks in ASEAN members are under way.
"To take positions necessarily entails some risk. But to merely lie low and keep silent or only use words that are intended to be devoid of meaning on an issue as important as the South China Sea compromises autonomy, surrenders options and hence only invites greater risks."