Sarawak elections: Curious case of the Chinese community
Sarawak's state elections over the weekend represent a moment of ambiguity in Malaysian politics. Barisan Nasional (BN)'s easy win, led by Parti Pesaka Bumiputera Bersatu (PBB)'s 100 per cent victory in all 40 seats the party contested, on the way to claiming two-thirds majority of the available seats, is unlikely to signify a watershed moment for the country.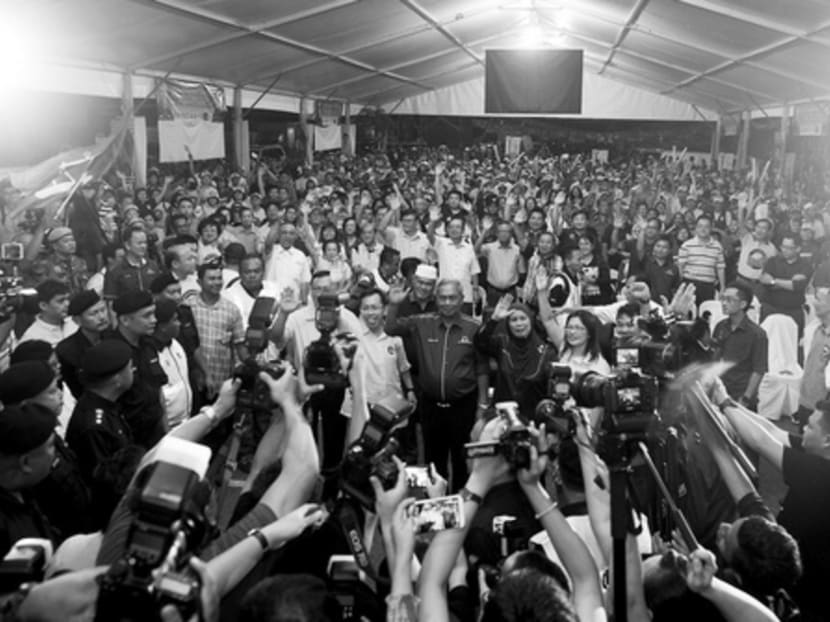 Sarawak's state elections over the weekend represent a moment of ambiguity in Malaysian politics. Barisan Nasional (BN)'s easy win, led by Parti Pesaka Bumiputera Bersatu (PBB)'s 100 per cent victory in all 40 seats the party contested, on the way to claiming two-thirds majority of the available seats, is unlikely to signify a watershed moment for the country.
On the other hand, voting patterns in the Sarawak elections may point at nuances that could foreshadow events for the general elections in two years' time. Additionally, it may provide a useful barometer for the current government's popularity.
However, just as Sarawak and the rest of east Malaysia are distinctly different from their Peninsular counterpart, so too are Sarawak's politics.
There are many factors that support a strong BN showing, not least of them the popularity of Chief Minister Adenan Satem of PBB. The feel-good factor surrounding the new man after he succeeded the disfavoured Taib Mahmud in 2013 was followed by a string of popular moves that centred on the theme of "Sarawak for Sarawakians". This included stating that BN's dominant party UMNO will not be represented in Sarawak, reinstating English as the official state language, backing religious freedom, and freezing timber licences for 10 years, among others.
More recently, Mr Adenan has lent his support to Roneey Rebit in his bid to revert back to Christianity from Islam. Mr Rebit is a Sarawakian who was converted to Islam from Christianity by his parents at the age of eight. As an adult, he applied to the National Registration Department to remove Islam from his MyKad, but was instructed to receive an order from a Syariah Court instead. A High Court judicial review ruled in favour of Mr Rebit. Mr Adenan has lent his personal support in resolving the matter.
In Christian-majority Sarawak, this is a move that is certain to go down well especially as ethnic and religious troubles in Peninsular Malaysia continue to brew.
ETHNIC POLITICS IN SARAWAK
Sarawak's demographics are distinctly unique compared to their Peninsular counterpart, with more than 40 sub-ethnic groups. The largest of these are Iban, Chinese, Malay and Bidayuh, with smaller percentages of many other ethnic groups making up the rest of the numbers. This differs strongly from Peninsular Malaysia, especially in the way ethnic politics are represented in the state.
Malay-bumiputra politics find little room in Sarawak, a fact not lost on Mr Adenan or BN in the build-up to the elections, and subsequently reflected in his campaign strategy.
Mr Adenan has had no qualms distancing himself from the troubles of the ruling United Malays National Organisation (UMNO) and the Najib administration, while concurrently calling for greater autonomy for Sarawak.
His push for the original 18-point agreement for Sarawakian autonomy from the federal state speaks of his desire to put Sarawak first, and the leverage he has with the federal government. Sarawak has always been seen as a "fixed deposit" by UMNO-BN an d they are unlikely to antagonise this relationship by pushing back on Mr Adenan.
The chief minister currently enjoys 90, 85 and 71 per cent approval ratings among the Muslim bumiputra, non-Muslim bumiputra, and Chinese groups respectively. UMNO would do well to leave Mr Adenan's approach to governance alone as his high approval ratings are more than likely to translate into much-needed Parliament seats, especially with Mr Najib's own approval at an all-time low.
The Sarawak election results come at a good time for Mr Najib and represent an opportunity for him to repair his administration's tainted image both in East and Peninsular Malaysia, and to display a united and formidable BN at the next general election. Riding on the coattails of Mr Adenan's popularity, Mr Najib and UMNO have received a timely boost, if only for the short term.
THE CHINESE VOTE
Most election projections had forecast a steady support among the Chinese population for the opposition Democratic Action Party despite high approval ratings for Mr Adenan. Indeed, some have projected DAP winning as many as 15 seats.
The reality turned out to be quite different, with the DAP losing five of 12 previously held seats, winning just seven from 31 contested. This is significant as the DAP had been perceived to be invincible in Chinese-majority constituencies. Among the opposition, besides the DAP, only Parti Keadilan Rakyat was successful in retaining its three seats while candidates from Parti Islam Se-Malaysia or Parti Amanah Negara failed to make any headway.
This is indicative of a few things. It is likely that for the first time since Abdullah Badawi's reign as prime minister, Sarawakian Malaysians are voting in support of Adenan Satem as opposed to along party lines. This is indicated in large part by the direction of the Chinese vote moving towards BN, which still amounts to a rejection of UMNO.
Chinese voters who align themselves with Mr Adenan and PBB have indicated their desire for good governance above all other party politics. This is a trend unlikely to be witnessed in Peninsular Malaysia, where the polarisation of party politics will most likely lead voters to vote almost exclusively along party lines at the expense of potentially good candidates.
Although the opposition retained some of the Chinese vote, the reduced number speaks volumes of a Sarawak under Mr Adenan who has set out a clear agenda to work for the entire community. A "Sarawak for Sarawakians" theme has strong appeal, contrasted against UMNO's Malay-exclusive approach post-2013 general elections.
The repercussions of the Sarawak state elections on the country as a whole are nuanced but limited, at best. A BN-led Sarawak under Mr Adenan benefits UMNO as far as it gives the coalition additional seats in Parliament, but would not be reflective of UMNO's own popularity due to the strong appeal of the Chief Minister and the lack of an organised opposition in the state.
The old problems that plague the Najib administration and his party will continue to persist, despite the confidence UMNO and Mr Najib have projected after the announcement of the election results. Sarawak may be able to expect greater autonomy and leeway from the federal government, to the continued enjoyment of Sarawakians and Mr Adenan.
However, the politics of East Malaysia differ greatly from West Malaysia, and both sides of the political divide would do well to recognise that fact. It would be a mistake for Mr Najib to consider the East within a West paradigm as these elections show that Sarawakians, especially in contemporary times, put Sarawak first.
ABOUT THE AUTHOR:
Rashaad Ali is a research analyst at the S Rajaratnam School of International Studies, Nanyang Technological University.