Ski lifts in a tropical city?A solution to gridlock
BANDUNG — Gridlocked and cash-strapped cities in tropical Indonesia may find a solution in ski resorts.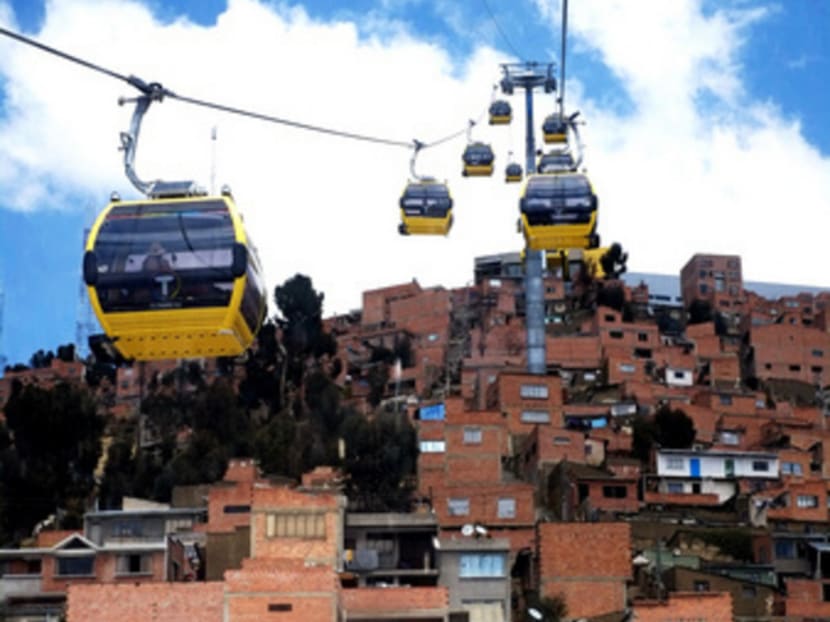 BANDUNG — Gridlocked and cash-strapped cities in tropical Indonesia may find a solution in ski resorts.
In the former Dutch hill station of Bandung, city planners have approved Indonesia's first urban aerial gondola system, which could move as many as 4,800 people an hour between two shopping areas. It would cut a trip through the busy city centre to four minutes from half an hour by car. The firms building it are hoping that cities such as Jakarta and Bogor will follow.
"We just need to begin," said Mr Sandjaya Susilo, president director of Aditya Dharmaputra Persada, the Indonesian firm developing the project in the country's third-biggest city.
"Once people see it, they will say why don't we use it all over Indonesia?"
Cable-suspended vehicles, used since the late 19th century to ferry people up mountains and hills, have emerged as an urban transport option and offer particular attractions for Indonesia's bursting cities. They are cheaper and faster to build than ground-based mass rail systems and take up a smaller footprint, reducing the potential for land disputes that often hold up infrastructure work in the world's fourth-most populous nation.
"The technology is different now, the cabins are big," said Mr Ridwan Kamil, the Mayor of Bandung, a city of 2.5 million people. "Just take a look at South America, they are now relying on the cable car."
Such systems, traditionally used for ski slopes, mines and tourist spots, could provide a partial fix for the chronic infrastructure shortcomings of Indonesian cities. They also offer President Joko Widodo the chance for small wins as he seeks to end years of underinvestment in roads, railways and ports.
Such solutions are already being used in cities such as Bolivia's La Paz, London, and Portland in Oregon.
"They are literally like flying buses," said Mr Markus Hagspiel, a business development executive at Doppelmayr, which is working with Aditya in Bandung.
The city will be the first in Indonesia to adopt the method for transportation, the Austrian company said.
Doppelmayr has already pitched its product to Bogor, a traffic-clogged city south of Jakarta, said its Mayor.
Aditya's website has mock-up photographs of what aerial gondolas in Jakarta could look like.
But it is not a complete solution.
While aerial trams can overcome geographical obstacles and boast low operating costs, running them during windy weather could be a concern, said Mr Laurent Dauby, director of rail transport at the International Association of Public Transport, headquartered in Brussels.
They also cannot handle the same volumes as larger transport systems such as rail, said Doppelmayr. The Bandung project, due to start construction in mid-July, will have cabins that hold eight people each.
"My advice for Bandung is don't waste your money on something that has not been tested, like a cable car," said Mr Yoga Adiwinarto, Indonesia director of the Institute for Transportation and Development Policy.
He supports bus rapid transport systems, which he said are affordable.
On Indonesia's most-populous island of Java, home to 140 million people, gridlock is commonplace. More than 1.2 million new cars were sold in the country last year, and Jakarta commuters spend more than two hours on the bus on average a day.
Bandung, once known as The Paris of Java for its restaurants, cafes and boutiques, is packed with tourists from Jakarta each weekend.
The initial 875m aerial ropeway in the city will have parking for 500 cars in a stackable system, with an investment of as much as ¤10 million (S$15 million), said Mr Susilo from Aditya. Tickets will cover operational costs, and the return on investment will come from malls at the two stations, he said.
Bandung Mayor Kamil envisages a network that will eventually run 10km, making it one of the more extensive in the world. Future lines will need state funding because there will be less space for malls at stations, Mr Susilo said.
Speedy construction and the relatively limited land needed for aerial cable cars are the main attractions, said Mr Bima Arya Sugiarto, the Mayor of Bogor who was pitched the technology by Doppelmayr. The city is also considering other options such as ground trams or light railways, he said. "We are really interested, but the challenge is for us to get the funding sorted out," he said. BLOOMBERG