South-east Asians positive about Asean but want to see faster pace of regional integration
SINGAPORE — Nearly three-quarters of South-east Asian citizens would like to see a faster pace of regional development in the future, according to a major public survey on regional perceptions conducted throughout the region.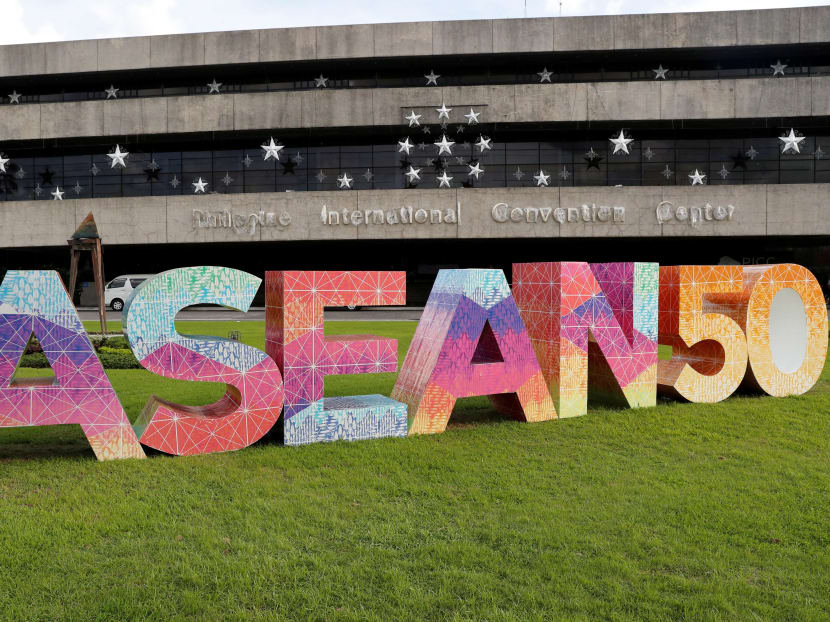 SINGAPORE — Nearly three-quarters of South-east Asian citizens would like to see a faster pace of regional development in the future, according to a public survey on regional perceptions conducted throughout the region.
This is despite almost 80 per cent of them having a positive view of the Association of South-east Asian Nations' (Asean) current image and 88 per cent of them expressing optimism about the grouping's future.
An inaugural survey of Asean citizens by Singapore-based independent research consultancy Blackbox Research found that 74 per cent of 3,040 respondents believe that the grouping's future development should proceed at a faster pace.
Fifty three per cent of those surveyed said Asean should move "a little faster today"' while 21 per cent said it should move "much faster than today".
Only 26 per cent of the respondents believe that Asean should continue with its current pace of development.
The survey was conducted across all ten member states in October to coincide with the grouping's 50th anniversary this year.
Preliminary highlights of the study has been shared with TODAY. Full findings of the survey will be published next month.
"The findings show that South-east Asians are firmly behind Asean and if anything, want to see more ambition from it," noted Blackbox owner and managing director David Black.
He added: "the results show that even after 50 years, Asean is still viewed more in terms of its potential and what it promises rather than on any specific achievements."
Dr Tang Siew Mun, head of the Asean Studies Centre at the Iseas-Yusof Ishak Institute, however noted that Asean is a "work-in-progress" and will always play catch up to increasing expectations of its stakeholders.
"The fact that South-east Asians hold high expectations and see Asean as highly potential bodes well for the regional organisation. It is up to Asean to rise up to these high expectations and to transform these hopes into reality," he said.
Asean has grown steadily as a regional grouping since its establishment on Aug 8, 1967, with founding members Indonesia, Malaysia, Philippines, Singapore and Thailand. Brunei, Vietnam, Laos, Myanmar and Cambodia subsequently joined Asean between 1984 and 1999, making up the ten member states.
Today, the regional grouping has a combined gross domestic product of US$2.6 trillion (S$3.53 trillion), making it the world's seventh-largest economy.
It is forecasted to be the fourth-largest economy globally by as early as 2030.
And with 622 million people, Asean has the third largest labour force in the world, behind China and India, with its working age population expected to expand in the next decade.
With such potential, it is not surprising that 88 per cent of the survey's respondents support European Union-style full economic integration between the member states, with 68 per cent supportive of a single currency in the future.
In addition, slightly over half of the respondents (54 per cent) view Asean primarily as an economic association while 20 per cent view it solely as a political association.
Looking ahead, six out of ten of those surveyed believe that Asean is essential to the future of the region.
Seventy two per cent of respondents want Asean to focus on economic growth in the next five years, followed by defence/security (48 per cent), free trade/lowered trade barriers (36 per cent) and free trade agreements (20 per cent).
More than 90 per cent of the respondents are also supportive of common standards or regulations, stronger military cooperation and as well as free trade in the region.
"The findings show that Asean's focus on building the economic community is on the right track. The top three priorities of economic growth, security and lowering trade barriers also blends well with Singapore's Asean 2018 chairmanship priority of creating a 'resilient and innovative' Asean," noted Dr Tang of the Iseas-Yusof Ishak Institute.
The study by Blackbox also looked at Asean's external relations, especially with China and the United States.
Although those surveyed are overall positive about both countries and their influence in the region, they are more likely to see strong ties with Beijing (17 per cent) as a key Asean priority, as compared to Washington (four per cent).
Over 60 per cent of the respondents see China's rise as a global player as presenting more of an opportunity than a threat, while 31 per cent see it as a mixture of opportunity and threat.
Only a mere 8 per cent see China's burgeoning presence in the region as a threat.