Emergency declared as Indonesia air quality plummets
JAKARTA — Indonesia declared a state of emergency in Sumatra's Riau province today (Sept 14) after forest fires put its air quality at a dangerous level.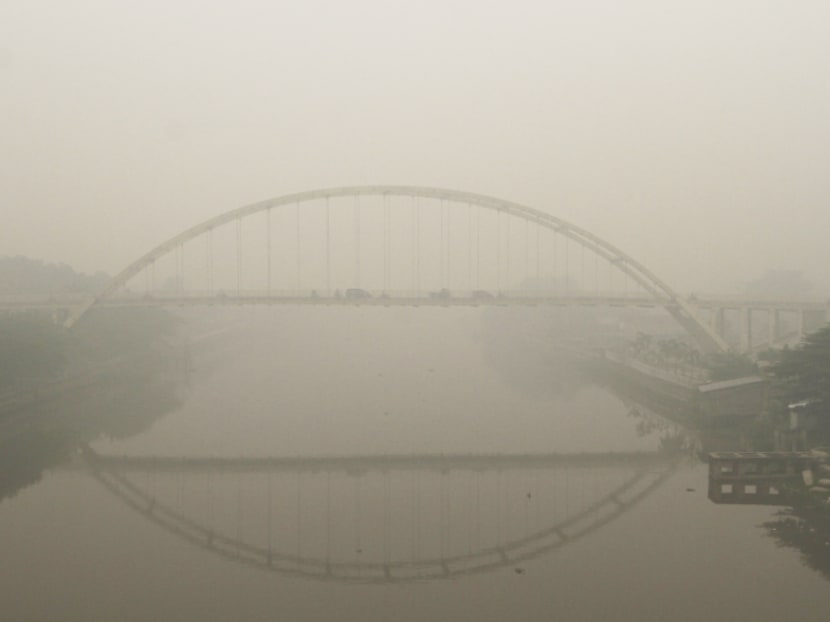 JAKARTA — Indonesia declared a state of emergency in Sumatra's Riau province today (Sept 14) after forest fires put its air quality at a dangerous level.
The worsening situation in Sumatra, west of Java, prompted the Indonesian military to step up efforts to extinguish the fires and assist residents facing health issues caused by the smoke.
An assessment is being made to determine if more troops should be deployed, Indonesian Environment and Forestry Minister Siti Nurbaya Bakar told Channel NewsAsia.
The government is serious about putting out the fires in Sumatra and Kalimantan, but that would take up to three weeks, she added.
According to Ms Nurbaya, her Singaporean counterpart has been in touch to find out if any Singaporean companies were affected by the fires.
The ministry is still studying the data, but revealed some Malaysian companies were involved in the
Kalimantan fires.
The Riau Acting Governor Arsyadjuliandi Rachman told local media today that following the declaration of a state of emergency, he would further increase the number of health posts, and ask all community health centres in Riau to open for 24 hours, with at least one doctor available in each.
In addition, Riau would also ask the central government to take immediate action to help it tackle the problem, since the majority of the hot spots originate in other provinces.
Earlier today, Indonesia's National Disaster Mitigation Agency (BNPB) said that more than 1,000
Indonesian troops were sent to the provinces of South Sumatra and Jambi, two of the main hot spots.
"We have mobilised national resources to put out the fires," newly appointed BNPB chief Willem Rampangilei said in a press release earlier today, adding that the agency would also send in additional helicopters to help water-bomb fires if necessary.
Today, it was reported that hot spots in Sumatra rose to 982 — the highest in two months — with satellite imagery showing most of the hot spots in the provinces of South Sumatra, Jambi and Riau.
Air quality in the three provinces has reached hazardous levels, which means the Pollutants Standard Index (PSI) is above 301.
The very high levels of pollutants has forced schools and airports to close.
The seriousness of the situation has also prompted health experts to urge authorities to evacuate residents from affected areas.
South Sumatra, one of the main centres of the fires, has alone reported 22,585 cases of acute respiratory tract infections since Friday.
Meanwhile, in Malaysia today, 30 of the country's 52 air-quality monitoring stations tipped into the
"unhealthy" range, with the town of Banting in Selangor recording the highest Air Pollution Index (API) reading of 171, while the administrative capital of Putrajaya recorded an API of 161.
Singapore experienced its worst haze in two years last Friday, with the three-hour PSI breaching the 200-mark, hitting 207 at 11pm and reaching a high of 248 at 3am early Saturday morning.
The haze is at its worst since 2013, when the PSI soared to a choking 401 in June that year.
The smog blanketing the region put pressure on Indonesia to take action, but progress has been slow in enacting measures such as a regional haze monitoring system.
Singapore last year enacted the Transboundary Haze Pollution Act, which allows entities causing or contributing to unhealthy levels of haze here to be fined up to S$2 million.  AGENCIES