Thai plan to offload record rice stockpiles may spark price war
BANGKOK — Consumers can expect cheaper rice in the coming months as Thailand — a major producer of the grain — prepares to clear record stockpiles.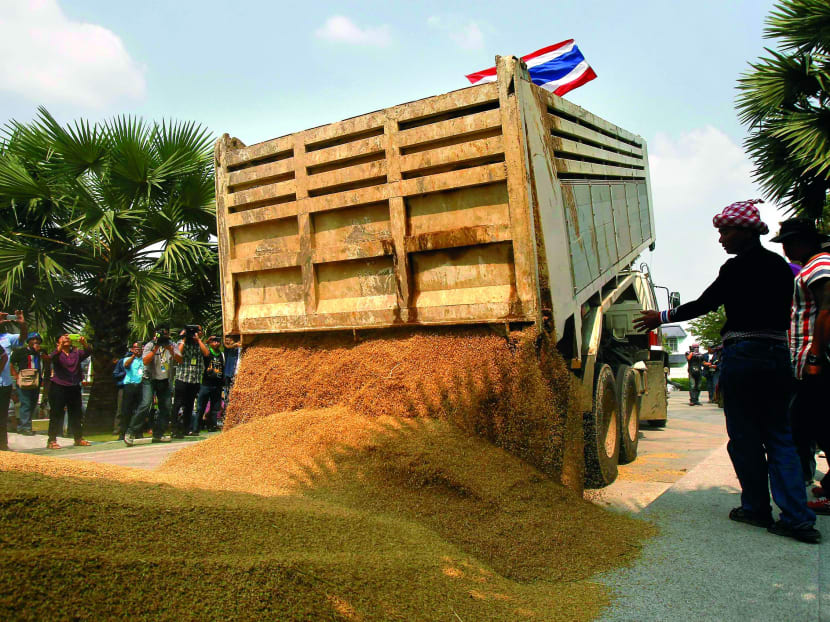 BANGKOK — Consumers can expect cheaper rice in the coming months as Thailand — a major producer of the grain — prepares to clear record stockpiles.
The move will see the rate of rice slumping further from almost a six-year low and may spark off a price war with Vietnam and India. The three countries accounted for 62 per cent of the rice trade last year.
The Thai government plans to sell about one million tonnes a month, compared with average monthly exports of 558,000 tonnes last year.
Thailand accumulated rice reserves under a state-buying programme that ended this year amid a political crisis in South-east Asia's second-largest economy.
Its stockpiles reached 12.8 million tonnes, or about a third of the global export market, last year.
Mr Vu Huy Hoang, Vietnam's Minister of Industry and Trade, said this week Thailand was willing to sell the grain at any price. Vietnam's shipments dropped about 20 per cent to 1.2 million tonnes in the first quarter.
"We could see a price war, with Vietnam cutting prices, selling lower than Thai rates," Mr Chookiat Ophaswongse, Honorary President of the Thai Rice Exporters Association, told Bloomberg.
Thai grain is currently quoted at about US$365 (S$461) to US$370 a tonne, lower than US$385 in Vietnam and US$420 in India, he added.
Cheaper rice may contribute to lower food costs, helping to dampen inflation across Asia, where billions depend on the staple.
"Now that Thailand is selling from government stockpiles at cheaper rates, trade inquiries have stopped," said Mr B V Krishna Rao, Managing Director of Pattabhi Agro Foods, India's largest exporter of non-basmati rice, in Kakinada in Andhra Pradesh state. "India's export price needs to be dropped by US$20 a tonne to be competitive against Thailand."
Thailand is short of funds to pay farmers under the now-ended programme, which is the target of an anti-corruption probe.
The country's reserves more than doubled from 5.6 million tonnes in 2011, when the scheme started, to 14.7 million tonnes this year. The programme, which paid farmers above-market rates for their crops, was designed to lift rural incomes.
"We will see heightened competition in the market because Thailand is quite eager to release the stockpiles," said Mr Darren Cooper, Senior Economist at the London-based International Grains Council.
"Thai prices have been falling steadily for the past year. We have seen some acceleration in the past few weeks, when it became clearer that Thailand needs to offload stocks to generate funds."
Thailand's National Anti-Corruption Commission is investigating allegations that Prime Minister Yingluck Shinawatra was negligent in failing to stem losses from the programme. Ms Yingluck has defended the policy and is contesting the allegations.
Thailand will have spent 880 billion baht (S$34.2 billion) on rice under the programme from October 2011 to February this year. The government has recouped about 200 billion baht through stockpile sales.
"If the government continues selling at low rates like this, that will help the country regain its position as the top exporter," said Mr Chookiat.
"At this low price, those who buy from India and Vietnam will switch to Thailand." AGENCIES