A threat to rainforests in Indonesia: Big banks
WEST KALIMANTAN — In early 2015, scientists monitoring satellite images at Global Forest Watch raised the alarm about the destruction of rain forests in Indonesia.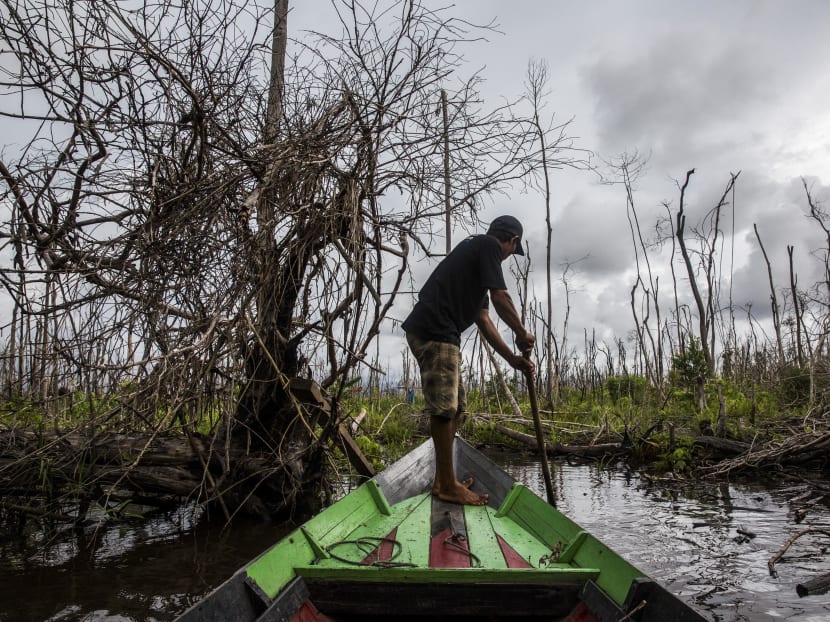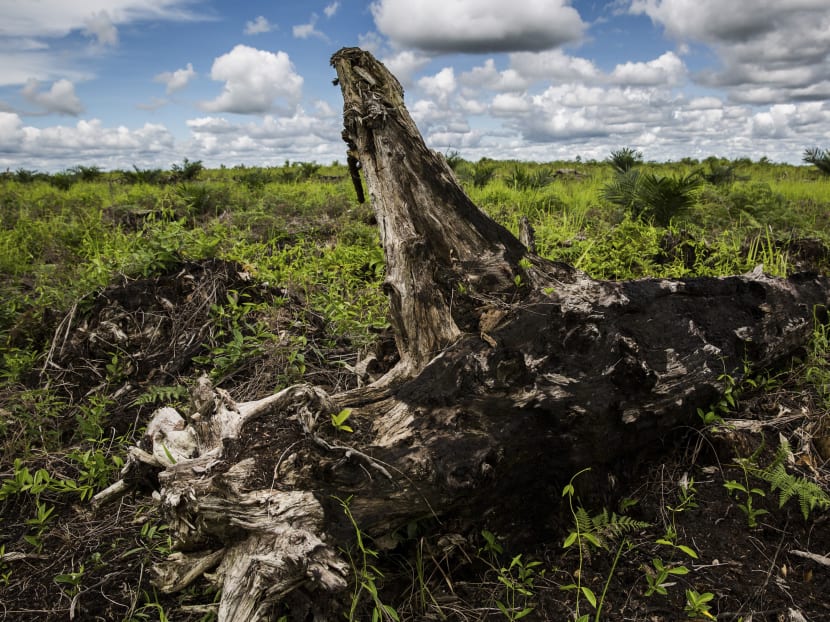 WEST KALIMANTAN — In early 2015, scientists monitoring satellite images at Global Forest Watch raised the alarm about the destruction of rain forests in Indonesia.
Environmental groups raced to the scene in West Kalimantan province, on the island of Borneo, to find a charred wasteland: Smouldering fires, orangutans driven from their nests, and signs of an extensive release of carbon dioxide into the atmosphere.
"There was pretty much no forest left," said Dr Karmele Llano Sanchez, director of the non-profit International Animal Rescue's orangutan rescue group, which set out to save the endangered primates. "All the forest had burned."
Fingers pointed to the Rajawali Group, a sprawling local conglomerate known for its ties to powerful politicians like Malaysia's scandal-plagued prime minister. But lesser known is how some of the world's largest banks have helped Rajawali — and other global agricultural powerhouses — expand their plantation empires.
The year before the clearing of trees in West Kalimantan, Rajawali's plantation arm secured US$235 million (S$333 million) in loans — funds the Indonesian company used to buy out a partner and bolster its landholdings — from banks including Credit Suisse and Bank of America, according to an examination of lending data by The New York Times.
The deal forms part of at least US$43 billion in loans and underwriting to companies linked to deforestation and forest burning in South-east Asia alone, according to a tally compiled by the California-based Rainforest Action Network, the Dutch consultancy Profundo and the Indonesian non-governmental organisation TuK Indonesia. More than a third of that sum comes from US, European and Japanese banks, many of which have sustainability pledges that specifically mention deforestation.
That figure is almost certainly incomplete because not all financing is made public. It also excludes loans made by the same banks to forestry projects outside South-east Asia, or financing provided to other, more global players. And it contrasts with efforts by companies like Nestle and Procter & Gamble to distance themselves from suppliers linked to deforestation.
And while there has been a growing movement among endowments and pension funds to divest from the fossil-fuel industry — and banks have started to back away from financing coal projects — any move away from deforestation has been slower to catch on, experts say. The role of banks has come under the spotlight in recent weeks after environmentalists called out banks like Bank of America and Goldman Sachs for financing the contentious Dakota Access oil pipeline project.
The money is aiding a process that scientists say destroys ecosystems, displaces indigenous communities and covers the region each year in a thick, suffocating smog that stretches from Jakarta to Hong Kong.
Deforestation — and the fires that frequently accompany it — also generates one-tenth of total global warming emissions, making forestry loss one of the biggest single contributors to global warming, according to the Union of Concerned Scientists.
"Destroying the world's forests makes fighting climate change almost impossible," said Mr Andrew W Mitchell, executive director of the Global Canopy Programme, a forestry think tank. "The finance sector is really lagging behind in realising that."
THE PALM OIL BOOM
In funding Rajawali's palm oil plantations, the banks appear to have violated their own sustainability policies. In its forestry and agribusiness policy, adopted in 2008, Credit Suisse says it will not finance or advise companies with operations in "primary tropical moist forests" like those of West Kalimantan. Bank of America says in a banking policy, adopted in 2004, that it will not finance commercial projects that result in the clearing of primary tropical moist forests.
The 2014 deal financed Rajawali's expansion into palm oil by helping the conglomerate buy out a former partner, invest in new palm oil mills and increase its landholdings. Demand for palm oil is surging worldwide, driven by rising incomes in markets like China and India and a switch away from trans fats by Americans and Europeans.
Rajawali's plantations have been accused by environmental and labour groups of deforestation and illegal burning. Indonesia is one of the world's biggest palm oil producers, and forestry loss there and elsewhere ranks as one of the biggest single contributors to global warming.
Mr Sebastian Sharp, a spokesman for Rajawali's plantation arm, acknowledged that the burning and clearing on its West Kalimantan forest sites might be illegal but said local communities encroaching on its properties and starting the fires were to blame. He said the company did not engage in illegal burning or clearing.
Credit Suisse declined to comment on its Rajawali deal or to say whether the deal violated its sustainability policies. A Bank of America spokesman, Mr Bill Halldin, said the most serious accusations against Rajawali came after the 2014 loan, in which the bank played "a very small role".
"Today, we would certainly consider more information before making any decision on any client," he said.
Ms Brigitte Seegers, a spokeswoman for ABN Amro, declined to comment.
A DEADLY HAZE
Climate concerns have been brought into sharp relief by the impending presidency of Mr Donald Trump, who has called climate change a hoax. Mr Trump has said he will pull the United States out of the Paris accord, a commitment by 95 countries to take concrete measures to reduce planet-warming carbon emissions.
Daily emissions from Indonesia's forest fires last year at times exceeded emissions produced by all economic activity in the United States. A recent Harvard and Columbia study estimated that the fires caused at least 100,000 premature deaths across South-east Asia. The World Bank estimates that the fires cost Indonesia's economy US$16 billion.
Although deforestation has slowed in many parts of the world, notably in the Brazilian Amazon, forest clearing is on the rise in South-east Asia. Indonesia, in particular, suffers the world's highest rates of forest loss, an average of almost 2.1 million acres a year, a study published in 2014 found.
About 15 per cent of the world's historical forest cover remains intact, according to the World Resources Institute. The rest has been cleared or degraded or is in fragments.
Rajawali originally operated its palm plantation business, Green Eagle Holdings, as a joint venture with the French conglomerate Louis Dreyfus. But starting in 2014, Rajawali took the first step to consolidate the palm oil business under its control, and invest in new infrastructure.
Its loans from Western banks were crucial. In January 2014, Green Eagle attracted a US$120 million loan from a group of lenders led by ABN Amro. In July of that year, it scored an even bigger loan of US$235 million from a syndicate led by Credit Suisse. Bank of America also took part in that loan.
The financing allowed Green Eagle to buy out Louis Dreyfus to invest in new palm oil mills and increase its landholdings. In Nov 2014, Green Eagle merged with another plantation operator, BW Plantation; Rajawali is majority shareholder of the resulting company, Eagle High Plantations.
The banks issued those loans as Rajawali was being accused of extensive forest and peatland destruction, illegal burning, use of child labour and the use of force against workers at plantations under its control.
Land-cover mapping by the Indonesian Ministry of Environment and Forestry, and satellite imagery from Global Forest Watch, show forest loss at two sites in West Kalimantan from 2011 to 2013 and again in 2015, with much of the forest gone by the end of the year. Those sites included around 11,000 hectares of peat, which, when set alight, can smoulder for months underground.
Mr Zamzami, who goes by one name, a Greenpeace staff member in Indonesia who visited a Rajawali plantation in West Kalimantan in September 2015, said the burning continued. "It was difficult to breathe because of the smoke," he said in field notes. "Far away, on the horizon, I could see the forest wall."
CONFRONTING CHILD LABOUR
Eagle High is now one of Indonesia's largest palm oil plantation operators, with more than one million acres in land rights under its control, according to an investors' presentation dated Sept 2014.
Human rights organisations have reported that children as young as six work to support their parents in another Rajawali-controlled plantation in the Papua province. That plantation has promised to support the abolition of child labour by ensuring that there are no children on plantation sites.
Last Dec, a 22-year-old worker was shot dead at the plantation by state security forces. It was unclear why state forces were on private property.
Mr Sharp, the Eagle High spokesman, blamed local villagers for the forest clearing and burning on its sites. "It's being done by local communities, and we have no control over that," he said. Environmental groups argue that plantation companies are responsible for protecting their sites.
Mr Sharp said there were instances in which workers brought their children to plantations but the company was "trying to brainstorm ways in which we can stop them from doing that".
He also questioned the wisdom of Indonesian labour law. "Why can't we hire children at 15? Families need income," he said. Under the country's law, the minimum age for hazardous work, including jobs on plantations, is 18.
The worker who was killed, Mr Marvel Doga, was "drunk and violent, poured petrol everywhere and threatened to set fire, and he had with him a bow and arrow" when nearby state security forces tried to incapacitate him, leading to his death, Mr Sharp said. He said Eagle High paid "thousands of dollars" to his family in compensation.
Credit Suisse and ABN Amro declined to discuss specific deals. Bank of America declined to comment on the accusations.
In a February 2015 research note, Credit Suisse deemed Rajawali's palm oil push a success. Eagle High's increased landholdings and land rights signalled "significant headroom for expansion" of palm oil production, Ms Priscilla Tjitra, an equity analyst for the bank, said in a report to clients.
"The allocation of finance is so influential in our economy and to our environment," said Mr Tom Picken of the Rainforest Action Network. "But there's little way we can hold financial sectors to account."
RUNNING OUT OF REFUGES
The orangutan rescues continue. The world has lost 60 per cent of its population of Bornean orangutans since 1950, according to the International Union for Conservation of Nature. In July, the Bornean orangutan was listed as critically endangered.
International Animal Rescue, which runs a temporary shelter for about 100 orangutans in West Kalimantan, said its staff had rescued roughly 50 of the primates during the 2015 burning season, twice the number the organisation rescues in an average year.
"They were all starving, all skinny," said Dr Sanchez, the orangutan rescue group's director. So far this year, about 25 orangutans have been rehabilitated.
"The problem is that every time an area is destroyed and orangutans are under real threat, we have to look for areas to release them, and that's challenging," she said. "We're running out of places where we can release these orangutans."
In September, Rajawali's plantation arm secured a US$192 million loan from Bank Negara Indonesia, a state bank, to refinance the debt held by its plantation subsidiaries and to double the capacity of palm oil refineries in Papua and West Kalimantan.
Bank Negara Indonesia's sustainability policies say its clients must adopt "minimum environmental, social and governance standards." The bank did not respond to requests for comment. THE NEW YORK TIMES