Why some make it, while others fail in Malaysia's public housing projects
KUALA LUMPUR — A decade ago, Ms Mageswari and Ms Khatijah were two single mothers living in squalid public housing schemes in the heart of Kuala Lumpur and barely earning enough for their children.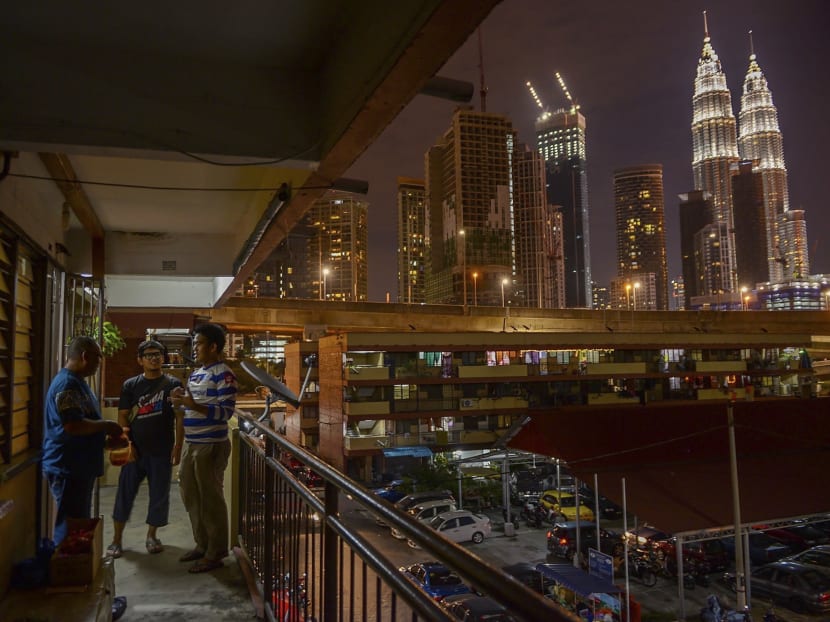 KUALA LUMPUR — A decade ago, Ms Mageswari and Ms Khatijah were two single mothers living in squalid public housing schemes in the heart of Kuala Lumpur and barely earning enough for their children.
Today, their children have university degrees and well-paying jobs, helping to move the entire family out of the dingy flats, thanks to a well-run community support programme.
Successful community programmes, such as that which helped Ms Mageswari and Ms Khatijah, were a long-term investment in energy, time and money, and required dedicated individuals free of bias, said veteran community worker Jasmine Adaickalam.
Public housing projects, or known by their Bahasa Malaysia acronym "PPR", are one the government's tools to help the bottom 40 per cent of Malaysians (B40 group) move up the social ladder.
There are more than 102,000 PPR units in 169 projects throughout the country, and the government plans to build another 606,000 units by 2020.
Ms Adaickalam said that these programmes, or "social interventions", were necessary to ensure that PPRs met their aims.
She said these elements were sometimes forgotten or ignored by politicians and corporations, the main sources of funding for the programmes.
When that happens, PPR projects are left without the programmes that are necessary to achieve their aims of social mobility.
This was since PPRs contained hidden pitfalls, said Ms Adaickalam, who has worked in numerous schemes throughout the country for 32 years, for the government and civil society organisations.
"Public housing projects are often artificial communities."
They comprise families with different backgrounds, ethnicities and faiths, who are forced to live together without forming the communal ties necessary for poor and low-income folk to survive and thrive.
Squatter colonies sometimes had families who knew and relied on each other for emergency funds, or who kept an eye out for each other's children, said Ms Adaickalam.
"When they are moved to public housing flats, these communal networks do not exist. So, the children are unable to adapt. It stunts their growth, and they are unable to become better than their parents. "
AFTER-SCHOOL HELP
One such case was that of Mr Rajen, a scrawny man that the 1.5m-tall Ms Adaickalam said was even smaller than her.
She met Rajen in a Selangor prison, where he was doing time for robbery, kidnapping and murder.
He was not even 25 years old.
Mr Rajen's family moved into a two-bedroom flat in a Kuala Lumpur public housing project some time in the 1990s.
"He spent his time at a nearby cemetery because it was so cramped in the flat," said Mr Adaickalam.
"That was where he met the gang that he would eventually join. That was how his life of crime started."
Mr Rajen could have been one of the sons of Ms Mageswari, the single mother who made it out.
"Mageswari was 26 years old when her husband died, and she had four kids to take care of. Someone brought her case to the organisation that I was working with at the time," said Ms Adaickalam.
The organisation gave Ms Mageswari the means to continue her husband's old trade of selling groceries to other flat residents.
While Ms Mageswari earned a living, her four children spent the time after school at a study centre ran by the organisation.
The same happened with Ms Khatijah's children, said Ms Adaickalam.
"Khatijah was a cobbler who set up shop over a drain. After school, her kids would play near her so that she could keep an eye on them," said Ms Adaickalam, relating how the organisation discovered the family.
Ms Khatijah's children were also put into an after-school centre.
Due to the guidance they received, the children of both single mothers got good grades and secured places in universities.
"They all graduated, and when they got good jobs, they took their mothers out of the flats to live with them," said Ms Adaickalam.
POLITICAL, CORPORATE MATURITY
What the public and potential funders do not see in these success stories is that programmes, like that which helped Ms Mageswari and Ms Khatijah, take years to bear fruit.
"Just to win their trust takes two years," said Ms Adaickalam.
Only then can they be persuaded to make changes in their lives and trust the organisation with their children.
Often, when an organisation looks for corporate sponsors, the latter wants to give money for only a year.
"But to see real change, it takes seven to 10 years," said Ms Adaickalam.
"For example, two organisations are seeking corporate sponsors. The first one proposes a programme that takes two years and involves mentoring a small group of children.
"The second one has a big, one-shot programme with media coverage. Odds are, companies will choose the second organisation."
Although the government provides much-needed funds and support for community projects, those in charge of implementing these initiatives let political partisanship get in the way.
There were cases where, in one housing project, the Rukun Tetangga (federal-funded residents' group) was controlled by ruling party members, and the other residents' association was controlled by the opposition, said Adaickalam.
In one PPR scheme in the opposition-ruled Selangor, the Rukun Tetangga had a list of aid recipients who were allegedly classified as "Barisan Nasional supporters", she said.
The rival association had another list of residents that were supposedly "opposition supporters".
"I had to tell them all to stop the practice. When there is political polarisation, the community gets divided even more, and help is not distributed equally," said Ms Adaickalam.
She added that successful programmes were run by politically mature and dedicated individuals who were able to assess what poor families actually needed to get a leg up the social ladder.
In the cases of Ms Mageswari and Ms Khatijah, no handouts were given because they had a source of income, said Ms Adaickalam.
But, the organisation intervened and looked after their children because that was what they actually needed.
And, they all had a sponsor that was willing to invest over a long period of time, said Ms Adaickalam.
"Without constructive intervention, you cannot do justice to the B40 group." THE MALAYSIAN INSIGHT