Yingluck's position gets shakier by the day
Anti-government protests in Bangkok have lasted for more than three months and, yet, continue to confuse.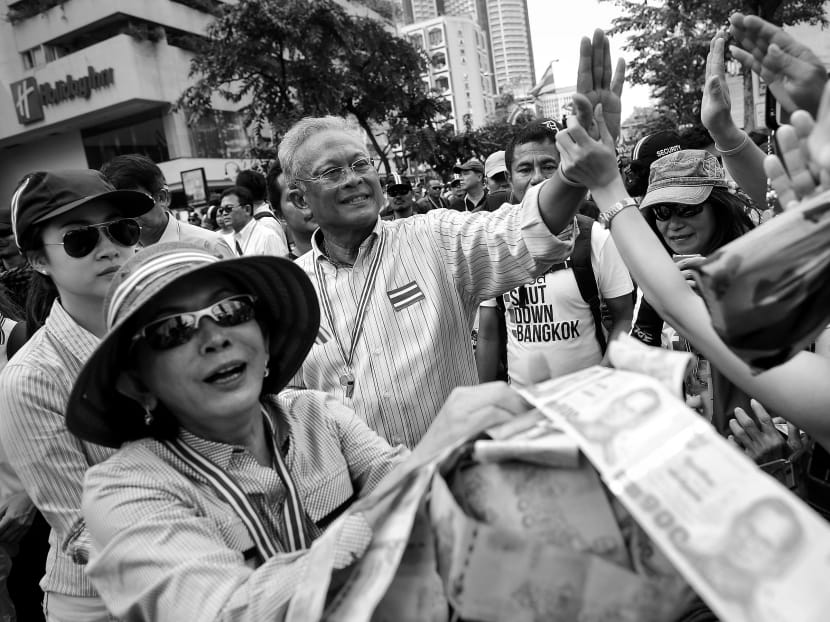 Anti-government protests in Bangkok have lasted for more than three months and, yet, continue to confuse.
Much of the international media asserts the sanctity of the vote above all else. Most over-rely on distinctions that the Reds represent the poor and the Yellows are the elite — as if simple colour-coding could explain complexities.
Rather than trying to understand, many have prejudged events. Developments over the past week will further confound them, as a new stage in the situation seems to be emerging.
Much relates to the vote that went ahead on Feb 2 despite disruptions at some polling stations. The opposition Democrats had sought a delay and the independent Elections Commission agreed a postponement was allowed.
Nevertheless, the government exercised its prerogative to push ahead.
Today, although full results are yet to be confirmed, what is emerging may not vindicate Premier Yingluck Shinawatra's snap-poll gamble.
The South — where the Democrats are strongest — did not complete voting and, without these provinces, a new Parliament cannot convene.
In other provinces where voting went ahead, unofficial reports say fewer than half of the eligible voters bothered to do so.
Furthermore, early sampling by the well-respected Thailand Development Research Institute suggests support for the ruling Pheu Thai party may show signs of erosion.
Questions are being asked about the caretaker government's effectiveness and legitimacy.
New pressure is emerging in the streets. Rice farmers are now protesting alongside the long-encamped Yellow Shirts rallied by former Democrat Deputy Premier Suthep Thaugsuban.
While not large in number, their presence in Bangkok is a visible setback for pro-Shinawatra supporters.
The pledge by the Pheu Thai at the last elections to subsidise rice farmers attracted strong support from rural areas, but was always a controversial economic policy.
The subsidies have cost billions in taxpayer money and made rice exports uncompetitive — the country has slipped from the top spot to No 3.
Complaints by farmers have cast further doubt on the social benefits of the scheme. In addition, investigations for corruption have started, causing the Chinese government to back away from an earlier pledge to buy rice.
Contrary to Premier Yingluck's hopes, her administration looks shakier after the election than it did before. However, this does not mean protesters led by Suthep will have their way.
These elements have called for a military coup, a non-elected committee to run the country and the Shinawatra family to be banned from politics.
Such measures would be unacceptable not only to the international community, but also to many moderate Thais.
While it has not ruled out a coup, the military is clearly reluctant to seize power as it did in 2006.
Instead, calls are emerging for a new caretaker government that is neutral — featuring neither Suthep nor the opposition Democrat party. This would be only an interim arrangement to review Constitutional and other rules, so a free and fair election can be held.
MORE VIOLENCE AND ECONOMIC CRISIS?
If this or some other compromise cannot be reached, two prospects arise. Neither are any good.
The first is of violence, beyond what has been seen so far. There is increasing impatience on both sides and violence can spike — especially if the Red Shirts and others who still support the Yingluck administration go out into the streets.
The second is of an economic crisis. At present, stronger companies and the industrial sector remain confident while smaller businesses and the tourism sector are feeling the impact. However, a protracted stalemate and paralysis of the Yingluck administration will worsen matters.
In the wake of the US Fed tapering, emerging economies with deteriorating macro-economic figures or visible political instability are being punished by skittish markets. Thailand is drifting towards both of these tendencies.
As anti-government protests gear up and pro-Shinawatra supporters dig in their heels, it is hard to discern what compromise might be acceptable. The majority of Thais, however, realise that, despite elections, no one is winning.
ABOUT THE AUTHOR:
Simon Tay is Chairman of the Singapore Institute of International Affairs, an independent think-tank that was recently ranked by a global survey as No 1 in Asia and the Pacific.