Asia's success comes at a cost for its workers
LONDON — Economists have long marvelled at the Asian economic miracle, but such productivity is coming at a much higher cost than they might realise, a survey across four nations in the region shows.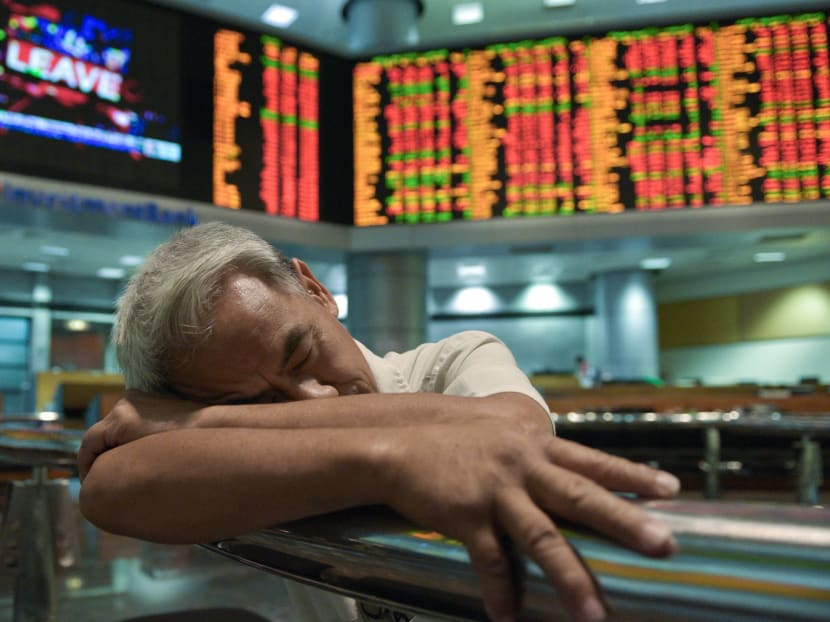 LONDON — Economists have long marvelled at the Asian economic miracle, but such productivity is coming at a much higher cost than they might realise, a survey across four nations in the region shows.
The AIA Vitality Healthiest Workplace research found that in Hong Kong, the average amount of time lost per employee per year because of absence and presenteeism (when employees turn up to work but are unproductive) amounted to nearly 71 days — two to three months' worth of lost time. Employees in Malaysia and Singapore lost an average of 66 and 54 days, respectively. This compares with 45 days in Australia but only 30 days in the United Kingdom.
"The most striking factor was the high level of mental health issues and the stigma associated with them," says Mr Christian van Stolk, home affairs and social policy research head at Rand Europe, the research consultancy that analysed the data collected in Asia and compared them with data from the Britain's Healthiest Workplace survey. "The other trend was the very high number of days lost to productivity: people are working very hard but to no effect, while doing harm to themselves."
In Hong Kong and Malaysia, about 12 per cent of respondents reported symptoms of depression — around double the proportion in Australia, Singapore and the UK. Meanwhile, rates of bullying in the workplace in Hong Kong, Malaysia and Singapore were almost three times the UK's level of 6.6 per cent.
Yet Mr van Stolk says there is little sign employers or governments in the region are tackling mental health problems. He adds that there are also relatively few support services, such as counsellors and psychiatrists, for those who do want to seek help.
Psychology professor Winnie Mak says that "Asians were taught to be reticent and reserved in expressing any emotions, so they keep their feelings to themselves".
"Plus, mental health resources and services are not as readily available as in western countries," added Prof Mak, who is with the Chinese University of Hong Kong.
The AIA Vitality Healthiest Workplace survey polled more than 100 employers and 10,000 employees from Hong Kong, Malaysia, Singapore and Australia. The data were compared with the Britain's Healthiest Workplace research, a much larger survey of nearly 32,000 employees and more than 165 organisations that is now in its fifth year.
The large amount of time lost in Asian countries should be balanced against the longer hours those employees spend at work. While staff were contracted to work from 28 hours a week in Malaysia to 36.5 in Hong Kong, they worked far longer in practice: from nearly 44 hours in Malaysia to more than 48 in Hong Kong. This compares with an average contracted working week of just over 35 hours in the UK and an actual total of about 39.
That focus on work may help explain why about half of employees reported problems with sleep in Hong Kong, Singapore and especially Malaysia, where 56 per cent said they slept less than seven hours on average a night. In contrast, this was the case for only 26 per cent of Australians and 30 per cent of workers in the UK who replied. Asian respondents also produced some signs of superior health metrics. Hong Kong employees on average were the leanest, with only 3 per cent reporting a body mass index of 30 or above — a standard measure of obesity. This compares with 7 per cent in Singapore, 13 per cent in Malaysia, 15 per cent in Australia, and 18 per cent in the UK.
Respondents across the region drank less alcohol than in the UK, especially in Hong Kong, Malaysia and Singapore, but those countries also had a far higher proportion of employees who did not eat at least five portions of fruit and vegetables per day. They were also less physically active, with fewer than 40 per cent reporting at least 150 minutes a week of exercise. In Australia, as in the UK, about 65 per cent of employees took that much exercise.
The Asian results need to be viewed in their context. Basic safety concerns remain significant factors in many Asian workplaces, with particular concerns around poor prevention and physical safety risks for accidents on construction sites.
Certain companies in the survey performed very well, however, including Announcer, an Australian financial services business. Ms Anna Smallfield, digital marketing manager says the company offers programmes such as flexible working and gives staff the option of working one day a week from home. This allows them to cut down on the stress of long commutes and spend one day in a more relaxed and less disruptive environment. The company also promotes physical exercise by allowing staff to take two hours out of the office each day to participate in a fitness activity of their choice.
"We have low sick leave rates," she says. "We measure the results of our health and wellness programme on how happy staff are — and the results are outstanding. A lot of our team have been with Announcer for 10 or more years, and that is a testament to the culture that has been created."
For the future, the company is exploring stronger forms of mental health support. "Working in financial services and so closely with our clients means we are close to their lives and can be a support pillar for any issues that may arise. That is why we want to further our support of our staff," she says.
Ms Yi Mien Koh, medical director at insurer AIA in Hong Kong which funded the research, says: "Organisational culture and practices have a significant impact on employee job satisfaction and morale. Clear and transparent workplace policies that are implemented fairly contribute to mental wellbeing at work." She says employees in different countries favour different interventions that companies could make to improve employee wellbeing: in Australia respondents said they would like fitness trackers; access to fresh fruit and vegetables was valued in Hong Kong; healthy canteen options in Malaysia; and participation in volunteering or charity work in Singapore.
Mr Van Stolk argues that in Asia, with its rapidly ageing population, employers and policymakers will need to pay increasing attention to well-being in the workplace. He also highlights one area for optimism: the receptiveness in the region to digital health interventions, such as the use of apps to track health initiatives.
Embracing new technologies could help more enlightened companies leapfrog those in the UK and elsewhere in the developed world. FINANCIAL TIMES