With Beijing a direct target, has Hong Kong reached a 'new normal' as violent protests escalate?
HONG KONG — After tense clashes between protesters and police on Sunday night (July 21) that left streets blanketed in tear gas and buildings defaced by expletives heaped at the central government, political watchers saw no endgame in sight, with one warning Hong Kong was entering a "new normal" on how it viewed law and order.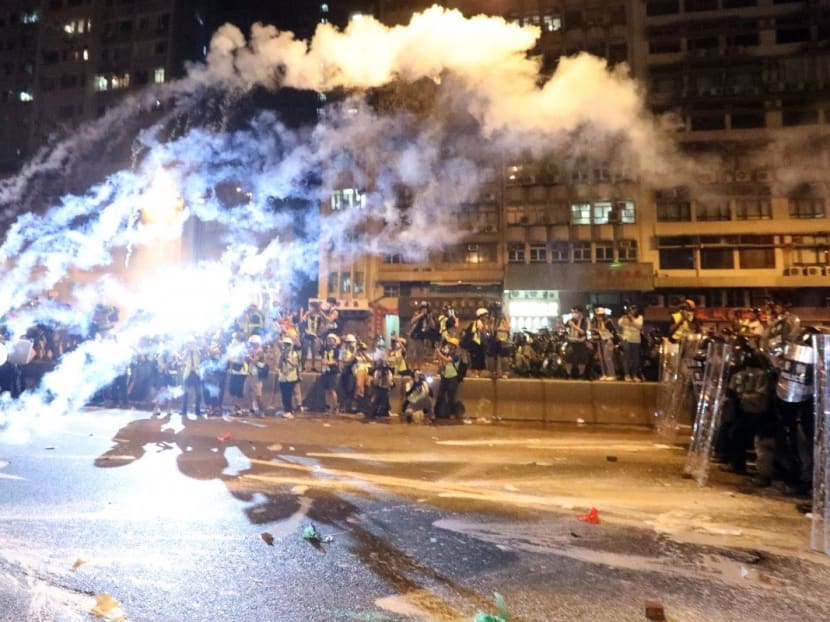 HONG KONG — After tense clashes between protesters and police on Sunday night (July 21) that left streets blanketed in tear gas and buildings defaced by expletives heaped at the central government, political watchers saw no endgame in sight, with one warning Hong Kong was entering a "new normal" on how it viewed law and order.
An academic also revealed a survey conducted on the marchers who took part in the Sunday protest found that 80 per cent of 1,000 people polled said they understood why protesters would resort to violence. They were left with little choice given the government inaction, those surveyed said.
The protests over the now-suspended extradition bill have become a weekly affair, but on Sunday night the demonstrations descended to an unprecedented level of mayhem as protesters trained their sights on the central government.
Just before nightfall, protesters who had begun their march at Victoria Park in Causeway Bay splintered into different directions to occupy main roads in Central while others advanced towards the liaison office in Western district to pelt the building with eggs, deface the national emblem and spray paint the walls with expletives against Beijing.
The procession was earlier ordered by the police to end at Southorn Playground in Wan Chai but many demonstrators defied the order and marched westwards towards the city centre, targeting not just the liaison office but also the central and western police stations.
After hours of a stand-off with defiant protesters, groups of whom brandished metal poles and bricks, the police fired several rounds of tear gas after repeated warnings.
Dr Edmund Cheng Wai, a Baptist University political scientist, noted the growing trend of the escalation of protesters' actions, usually at the end of peaceful marches over the past few weeks.
"Occupation of roads has become new normal of peaceful protests as protests went on, which is a sign of defiance of law and order," he said. "On Sunday, many protesters saw the police's demand that the march ended at Southorn Playground as an unreasonable restriction."
Echoing Dr Cheng's views, a government source said "now many people don't see the occupation of roads as a big problem". "It poses a huge challenge for the police," the source said.
Dr Cheng, who has been on the ground to observe the protesters since the protests erupted last month, said the boundary of what was lawful had become blurred among a growing number of people, including those who were not involved in the violence.
He noted a substantial proportion of marchers endorsed the escalation in light of the government's failure to respond to protesters' demands, even as they stayed away from committing any forceful acts themselves.
He and several academics from Chinese University and the Lingnan University have been conducting surveys among people who took part in the July 1 march, and the protest in Sha Tin on July 14. They conducted similar surveys with marchers who took to streets on Sunday.
"We found that more than 80 per cent who took part in Sunday's march agreed that it is understandable protesters take radical action if the government is bent on going its own way. The findings are similar to those in the previous marches," Dr Cheng said.
Sunday marked the third mass protest organised by the Civil Human Rights Front, following the marches of June 9 and 16 which it said had attracted 1 and 2 million protesters respectively.
While Sunday's march was much smaller, with an estimated 430,000 people taking to the streets, the intensity of the battles with police heightened as more remained on the streets after the march was supposed to end.
Sunday's mayhem followed violent clashes on June 12 when protesters surrounded the legislature and on July 1 when they stormed the building.
Protesters also clashed with police in suburban areas Sheung Shui and Sha Tin on previous weekends. At least 48 people were injured when violent conflict broke out in Hong Kong's northern town of Sha Tin on the night of July 14.
Dr Ma Ngok, a political scientist at Chinese University, said he saw no endgame in sight as he expected it to become a persistent campaign, such as the Yellow Vests movement in France.
"The anti-bill protests are spontaneous, unpredictable and would wear the police out," he said, adding such an approach would continue to give the government problems to restore law and order.
"Lam's administration has hinted it would not respond to the protesters' demands and has hoped to drag it out. It is proven that such tactics have not dampened the movement but instead provoke even more people."
Dr Ma said ordering an independent inquiry to look into the police's use of force – one of the protesters' demands – might not dissolve the crisis once and for all, but it could help reduce the tension.
"Some protesters might want to stop too but there's no reason for now to do so," he said.
But Dr Ma said the city was still far from a breakdown in law and order in light of the latest development, as he noted most of the protests were still peaceful.
"It is still far from what's happened in France," he said, referring to the "yellow vest" protesters who have been demonstrating for several months every weekend.
Dr Cheng said the protesters still stick to some boundaries, such as not storming private properties nor targeting retail outlets of luxury goods. "Up to now, protesters only target at the government and police," he said.
But he said it was worrying that protesters were now shifting their targets to the facilities of Beijing's liaison office in Hong Kong.
"The stakes and risks are becoming higher as Beijing sees such moves as a challenge to national sovereignty," he said, referring to their attack of the liaison office building.
Civic Party leader Alvin Yeung Ngok-kiu urged the government to respond to the protesters' calls as he admitted pro-democracy lawmakers' hands were tied.
"The pan-democrats acknowledge in this new era of movement, we are not the leaders and politicians cannot take up the role of leaders like they did in the old days," he said. "The political matter can only be resolved politically."
A source from the pro-democracy bloc, who asked not to be named, also questioned what he described as the police's "incomprehensible" strategy.
"If they have rigidly ordered the march to end in Wan Chai, then why would they allow the protesters to easily advance as if they are inviting people to breach the line?" he said.
"Do they want to prevent escalated protests, crush or make mass arrests? We have no idea what they are planning." SOUTH CHINA MORNING POST