Beijing turns screws on Pyongyang as patience wears thin
SINGAPORE — China's acceding to a Hong Kong port call request by an American aircraft carrier force could be a sign that Beijing is beginning to lose patience with North Korea and is now more amenable to working together with Washington to put pressure on Pyongyang, experts said.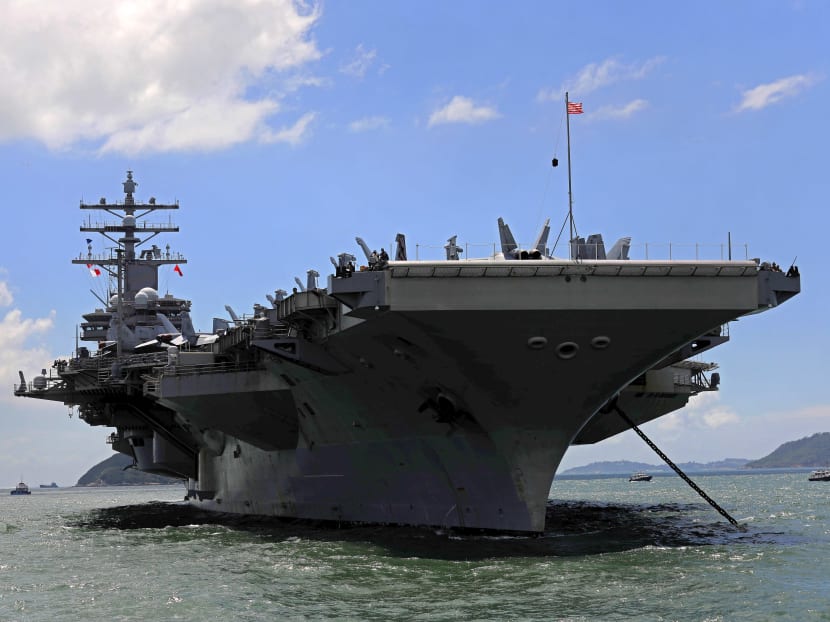 SINGAPORE — China's acceding to a Hong Kong port call request by an American aircraft carrier force could be a sign that Beijing is beginning to lose patience with North Korea and is now more amenable to working together with Washington to put pressure on Pyongyang, experts said.
The USS Ronald Reagan carrier strike group (CSG) arrived in Hong Kong on Monday (Oct 2) morning amid tensions over North Korea's missile and nuclear programmes. The Reagan CSG would then head for waters near the Korean peninsula for drills in mid-October.
The Chinese foreign ministry said on Monday that Beijing had approved the warship's port call. It also urged all parties to the Korean peninsula dispute to exercise restraint, and avoid provocation and escalating tensions.
The Reagan's visit came after Beijing turned down a similar request last year from another US carrier, and security analysts believe that the carrier's Hong Kong visit could be a sign of China's unhappiness over North Korea's actions.
"In general, a strong case can be made that China has already lost patience with North Korea ever since Kim Jong-un executed his uncle Jang Song-thaek, who was a major pro-Beijing figure in Pyongyang," North Korea expert Nah Liang Tuang told TODAY.
"North Korean leader Kim Jong-un's accelerated nuclear and missile aggrandisement has exacerbated matters. Hence, this granting of a port call could well be a signal to Pyongyang that Beijing is displeased," added Dr Nah, a research fellow at the S Rajaratnam School of International Studies (RSIS).
It has been speculated that Pyongyang might launch another missile on October 18, which marks the start of China's all-important Communist Party Congress.
While defence analyst Collin Koh, too, believes that China's apparent displeasure with North Korea could explain the granting of the Reagan's port call request, he told TODAY that the general shifts in political mood should also be taken in account.
"The recent cordiality between the US and China in the military sphere can be attributed to not just a common concern – and hence, a common desire to put pressure on – over the North Korean issue, but also ties in with Secretary of State Rex Tillerson's visit to China, and preparation for President Donald Trump's planned visit later this year," explained Dr Koh, a research fellow at RSIS.
However, he cautioned that Beijing still holds divergent views from the US over how to pressure North Korea.
"To be certain, the military recourse is not an option for Beijing, though it'll be willing to allow such naval port calls as a 'show of flag'. Still, Beijing will be cognisant about whether facilitating such visits would also mean appearing to endorse Trump and some of his administration officials' call to use force on Pyongyang."
The Reagan CSG port call also comes on the back of China's apparent lifting of a taboo on discussing regime change in Pyongyang.
Last month, Professor Jia Qingguo, dean of the School of International Studies of Peking University, wrote in an article for the East Asia Forum website that with the chances of war on the Korean peninsula increasing daily, it might be time for China to "prepare for the worst".
"The US and South Korea have long tried to persuade China to hold talks on contingency planning. So far Beijing has resisted the idea for fear of upsetting and alienating Pyongyang. But, given recent developments, Beijing may have no better choice than to start talking with Washington and Seoul," wrote Prof Jia, a respected advisor to Chinese leaders.
Beijing also appears increasingly willing to cut ties to North Korea's economy by adopting United Nations sanctions, after long accounting for some 90 per cent of its neighbour's foreign trade.
China says it will strictly and fully enforce UN resolutions against North Korea and its commerce ministry said last week that North Korean firms in China and joint ventures in China and overseas would be shut down by January, in line with the latest UN resolution.
But the latest sanctions need time before they begin to bite, the official China Daily cautioned in an editorial.
With tensions currently high on the Korean peninsula, there are concerns that the deployment of the Reagan CSG to neighbouring waters could exacerbate tensions. South Korea's Chosun Ilbo last week quoted a South Korean government official as saying America was mulling "a wide range of options" against North Korea, including – in an apparent reference to the Reagan and its escorts – "a US aircraft carrier group crossing over the Northern Limit Line" (NLL). Last month, two American B-1B bombers flew across the NLL, but the North Koreans did not respond.
The Northern Limit Line is a de-facto inter-Korean maritime boundary established in the Yellow Sea after the Korean War, and it is not recognised by Pyongyang.
Concerns over the Reagan task force crossing the NLL are, however, overstated, analysts said.
"Given the current tensions, threats will fly, but so will calls for peace and cooler heads," RSIS senior analyst Harry Sa told TODAY.
"It's important to understand that we have faced such a situation before. Last October, the United States and South Korea carried out joint naval exercises to practise precision strike capabilities specifically targeting Pyongyang to decapitate its leadership.
"This is just as provocative as any exercise we could see over the next few days."
Mr Sa, however, warned that while full-scale war is unlikely to break out over the possibility of the Reagan CSG crossing the NLL, North Korea is "unlikely to take such affronts lying down."
"They will probably respond with an exercise or weapons test of their own. It wouldn't surprise me in the least." WITH AGENCIES