Burned Southeast Asia looks for US commitment after trade rebuff
SINGAPORE — Donald Trump is more popular in Southeast Asia than almost anywhere else.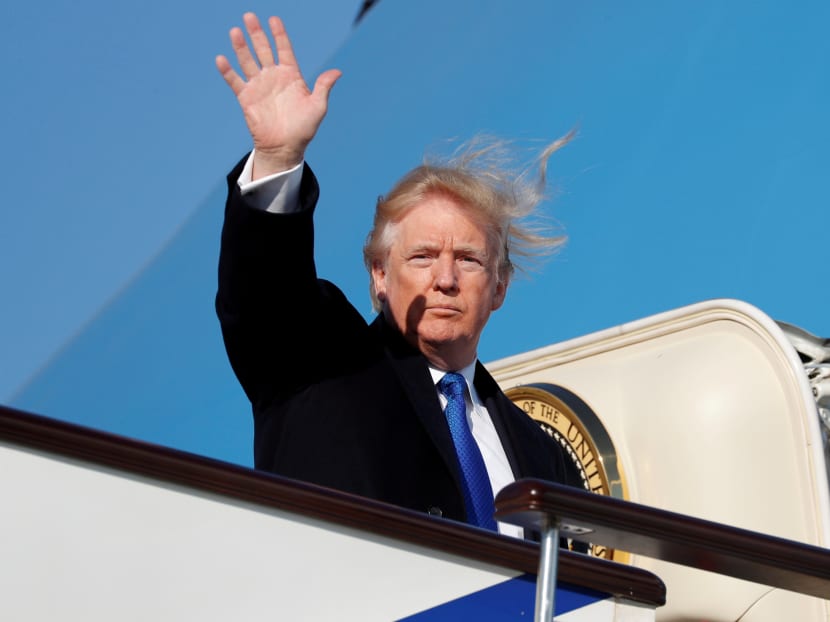 SINGAPORE — Donald Trump is more popular in Southeast Asia than almost anywhere else.
After years of being chided by Barack Obama over human rights, some of the region's states can rest a bit easier. Mr Trump has signalled he's less interested as US president in putting such matters on the table, and in tying them to trade and investment benefits.
But the welcome mat for Mr Trump as he visits Manila for a series of summits masks a deep concern in Southeast Asia as to whether the US under Trump will maintain its presence in the region. Far smaller than the world's two biggest economies, some Southeast Asian states have long leaned on Washington to provide a buffer against an expansionist China even while expanding economic ties with Beijing.
At the same time, leaders have expressed concern that Mr Trump may upend the delicate security balances that guide the region and, further north, bring calm on the Korean peninsula. With countries ranging from one-party states, Communist governments and democracies, Southeast Asia is held together by a common goal of stability to foster economic growth rates that have often exceeded five per cent.
"Political stability and security stability is very important in Asean," Indonesian President Joko Widodo said in a recent interview, referring to the 10-member Association of Southeast Asian Nations. "Because we need to increase our growth, and if there is no stability in our region, it's difficult to push our growth," he said.
'NOT THRILLED'
Burned by Mr Trump's decision to withdraw from the 12-nation Trans-Pacific Partnership, a trade pact that includes the likes of Vietnam, Singapore, Malaysia, and Brunei, leaders will be looking for concrete reassurance that Washington remains committed to a region that consumes over US$100 billion (S$136 billion) in US exports each year and where it conducts dozens of major military exercises on an annual and biennial basis.
"The region is not thrilled by the trade message," said Chan Heng Chee, a Singapore ambassador-at-large who was an envoy to the US from 1996 to 2012. "And 'America First', for the region, what does it mean?"
While Mr Trump has singled out South Korea, Japan and China in particular for what he calls unfair trade practices that lead to US trade deficits, there are several states in Southeast Asia that could end up in his cross-hairs on trade, particularly Malaysia and Indonesia.
Extolling the positives of countries throughout the region in a speech to APEC leaders in Vietnam on Friday (Nov 10), Mr Trump praised their rapid development, adding that the US wanted a new, mutually prosperous partnership.
But Mr Trump also warned that the US was seeking robust trade relationships rooted in principles of fairness.
"We will expect partners to faithfully follow the rules, just like we do," Mr Trump said. "We expect markets to be open on each side."
Mr Trump has refrained in recent months from some of the strong criticism levelled by the Obama administration at China for its land reclamation and military buildup in the disputed South China Sea. That's as Mr Trump seeks China's help to rein in North Korean leader Kim Jong Un and his nuclear ambitions.
'EXCITING TIME'
US Pacific Command chief Harry Harris said in Singapore last month the US still supported a rules-based international order.
"The United States has not pulled out of Asia," he said in a speech. "This is an exciting time for the United States and Asia."
Still, while the US has conducted four so-called freedom of navigation operations in the South China Sea during Trump's presidency to demonstrate its right to sail through what it considers international waters — compared to four under President Obama — there are nagging questions as to whether the US will stay engaged in the region.
"There is this sense that the US doesn't care about us,"said Tang Siew Mun, head of the Asean Studies Center at the Institute of Southeast Asian Studies in Singapore. "There is a greater sense that America is not dependable, that the trustworthiness of America has gone down."
Mr Tang cited Trump's withdrawal from the TPP and the Paris climate agreement, as well as a refusal by previous US administrations to join the International Criminal Court or ratify the United Nations Convention on the Law of the Sea — despite urging other nations to do so.
PHILIPPINES, VIETNAM
"If Trump continues to fall short, then we have to re-think as well," Mr Tang said. "I think they have a mountain to climb in the region."
Beyond the broad concerns, perceptions of the US under Mr Trump are generally better, especially in the Philippines and Vietnam. Both hosting visits from Trump on his Asia tour, they rank first and second among nations in terms of public confidence in the US president.
"Perceptions of Trump are probably higher in Southeast Asia than every other region," said Ian Storey, senior fellow at the Institute for Southeast Asian Studies. "I suspect most of the governments in this part of the world — authoritarian to one degree or another — are pretty happy that Trump is not talking about human rights and democracy promotion."
That may smooth the way at least for Mr Trump's meetings with Philippine President Rodrigo Duterte, who last year announced he wanted to "cut the cord" with the US and pivot toward China and Russia. Mr Duterte also de-escalated tensions with Beijing over the South China Sea claims, coaxing US$24 billion worth of Chinese loans and investment in the Philippines.
"China is playing the game very well," said Mr Tang from the Institute of Southeast Asian Studies.
Still, there's little sign trade and investment with the US has suffered in Southeast Asia despite Mr Trump's protectionist rhetoric, and while in South Korea he strongly backed his country's security alliance with Seoul.
"Southeast Asian countries always are seeking that reassurance — this isn't new to Trump," Mr Storey said. "America's interests in this part of the world are huge, and that also isn't going to change because of Trump." BLOOMBERG