Buy an entire island in Nova Scotia for the price of a flat in Hong Kong
Tired of news about Hong Kong's protests, Donald Trump's presidency or persistent worries about a recession in 2020?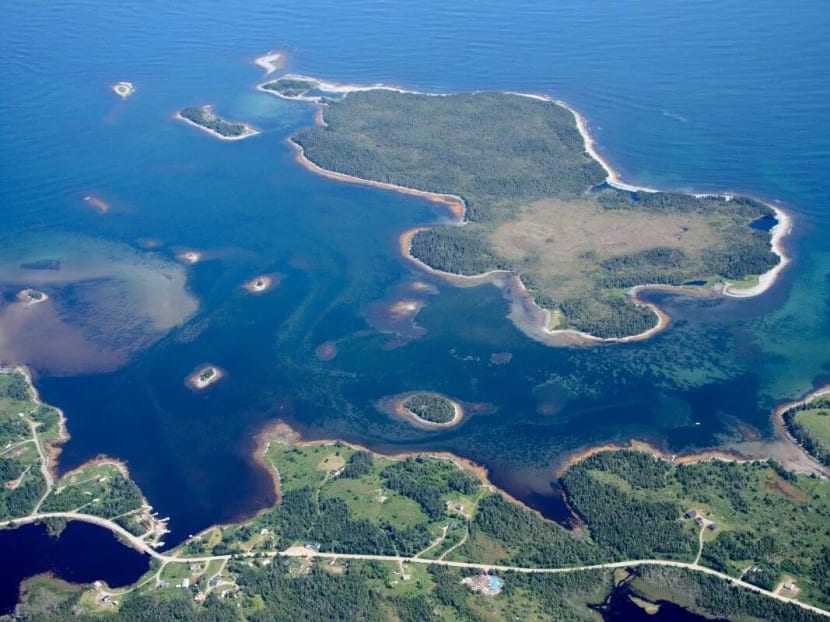 HONG KONG/NOVA SCOTIA — Tired of news about Hong Kong's protests, US President Donald Trump's presidency or persistent worries about a recession in 2020?
Consider an island property in the Canadian province of Nova Scotia, where property is still cheap, foreign interest is growing and taxes on real estate are still favourable to non-residents.
While most people may think an island property is for the billionaire set only, Nova Scotia offers private islands larger than Hong Kong's Victoria Park for less than the purchase price of a 450 square foot flat in Sai Ying Pun in the Asian city's western district.
Nova Scotia, one of four provinces that make up Canada's Atlantic coastline, has been an economic backwater for years, despite a long colonial history and old connections to Europe. That has changed in recently, said Mr Matthew Honsberger, president of Royal Le Page, Atlantic Canada, as immigration has increased and jobs and industry have returned.
Nova Scotia, though still sparsely populated with just under 1 million people living in 53,000 square kilometres, has also enjoyed its highest levels of immigration since 2000. After years of no growth, Nova Scotia's population grew 3.8 per cent between April 2015 and July 2019, from 936,271 to 971,395.
Property buyers from Germany and the US have bolstered the market for recreational properties in Nova Scotia, while wealthy Canadians from Toronto and Montreal have also come looking for quiet retirement or recreational properties.
"For the first time in my real estate career, we don't have enough inventory to meet demand," said Mr Honsberger, who noted that there are no discouraging restrictions on foreign or non-resident buyers.
Property agents specialising in Atlantic Canada say that only recently has interest from Asian buyers started.
But while prices for island properties may be cheap in Nova Scotia, often these islands are undeveloped, meaning a substantial investment to have water and power, plus costs associated with building a dream property.
But even developed islands offer eye-popping bargains. One listing with Private Islands is a 37.5-acre (15.2 hectare) island with 1,800 square foot (167 square metres) four-bedroom home for just HK$3.3 million (S$573,701).
Most private islands for sale in British Columbia start at US$1 million (S$1.36 million) for just a few undeveloped acres, while Nova Scotia's many islands offer a much lower starting price point.
"Nova Scotia is interesting because if you compare the island and real estate prices in Nova Scotia with British Columbia, you will find out that Nova Scotia, on average, is only one-fifth of the price," said Mr Farhad Vladi, founder of Vladi Private Islands. Mr Vladi has offices in Germany and Halifax, Nova Scotia.
Mr Vladi said that European buyers are attracted to Nova Scotia because of the relative closeness, as well as the provinces relatively mild climate. So far, Nova Scotia's islands have only been purchased for private use.
"Prices vary greatly, depending on the area of shoreline and proximity to Halifax," said Mr Robert Ogilvie, an island property specialist with RE/MAX estate agency. Mr Ogilvie cited that South Shore area, with prices ranging from C$500,000 (S$515,588) to C$10 million, whereas private islands along the southernmost reaches of Nova Scotia can be had for just C$10,000.
Other cost factors that buyers need to consider will be how easy it is for contractors to perform necessary repairs and work. Ogilvie said that an island property has to be a minimum of five acres before a municipality or town will grant a development permit.
The cost of developing an island can also vary widely. Mr Honsberger said that a 20-acre island, purchase for C$500,000, might cost about C$50,000 for hook up to services, depending on how close power and water service comes to the departure point for the island.
But for most buyers so far, the reason for buying an island is privacy.
Mr Honsberger said that some buyers will build a cottage on their island equipped with solar panels and water tanks to go "off grid". One client, a wealthy and high profile lawyer from Toronto, bought an island that was difficult to access. "It was like he wanted a wall around his island," Mr Honsberger said. SOUTH CHINA MORNING POST