China and the world: How Beijing spreads the message
BEIJING - A Financial Times investigation found that media outlets affiliated with the Chinese Communist Party were reprinting or broadcasting their content in at least 200 nominally independent Chinese-language publications around the world.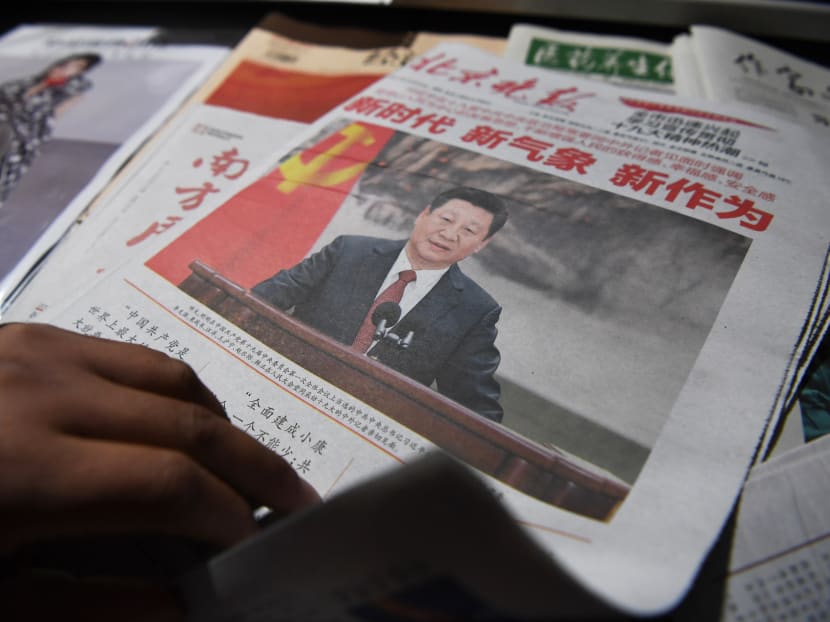 BEIJING - The latest issue of the UK-Chinese Times, one of the mainstays of Britain's nearly 400,000-strong Chinese-speaking community, splashed on the House of Fraser's plan to close more than half of its department stores in the United Kingdom.
The news organisation, with a print circulation of 40,000, has been providing news and information to its readers since 2003.
But the nature of that news has changed over time.
Since 2010, the UK-Chinese Times, which is based in the southern commuter town of Milton Keynes, has partnered with the People's Daily, the official mouthpiece of the ruling Chinese Communist party.
The result is that, as well as publishing an insert from the People's Daily, the UK-Chinese Times runs dozens of articles identical to those printed by official Chinese media.
After the Communist party decided last year to abolish presidential term limits, thus allowing Xi Jinping to remain as head of state for life, the UK-Chinese Times ran a series of stories justifying the constitutional revision.
"The adoption of constitutional amendments by the National People's Congress will surely bring happiness and wellbeing to the Chinese people in a new era," one netizen gushes in a People's Daily article republished in the publication.
The shift in content at the UK-Chinese Times is part of an aggressive push by Communist party-backed outlets in print, radio and television to establish co-operation agreements with overseas publications, which allow them to publish party-approved content under the masthead of other news outlets.
A Financial Times investigation found that party-affiliated outlets were reprinting or broadcasting their content in at least 200 nominally independent Chinese-language publications around the world.
Under such agreements, these publications now reach millions of readers outside China each year, rivalling the subscription pools for all of the world's largest newspapers.
"Chinese-language media and the Chinese people are one," Mr Lu Hao, the managing editor of the American newspaper Sino-US Times, told editors at a forum promoting China's Belt and Road infrastructure initiative last year.
When it comes to promoting the Communist party's geopolitical interests abroad, he added: "Chinese-language media have an incomparable advantage, due to a shared language, culture, and customs."
Using third-party outlets to mask party content has become such a common tactic that party officials have even given it a name — "borrowing boats to go to sea", meaning to use another's resources to fulfil one's goals.
As China has ramped up its soft power efforts over the past decade in an attempt to shift the international image of its authoritarian system, much of the attention has focused on its investment in English-language content in the US and Europe.
However, the authorities have also been conducting a co-ordinated effort to influence the media groups that cater to the approximately 60 million ethnically Chinese people who live overseas, especially communities in Australia, New Zealand and Canada.
Chinese officials worry that diaspora communities — many of which have longstanding ties to Taiwan— could help foment opposition to the Communist party.
"The CCP is trying to 'merge' or 'fuse', in their own words, overseas Chinese media content with its own or with some of the people that are in key roles with domestic media in China," says Ms Anne-Marie Brady, a China expert at the University of Canterbury in New Zealand.
"This is a really well established phenomenon. It is just that the outside world hasn't noticed."
In 2005, Chinese-Canadian publisher Jack Jia was invited to attend, expenses paid, a conference blandly called the World Media Forum that was to be held in the Chinese riverport city of Wuhan.
After being wined and dined by high-level Chinese editors, he was approached with a tempting offer: free content from China News Service, a wire service that primarily caters to Chinese audiences in Hong Kong and Taiwan.
But Mr Jia, the publisher and editor of Chinese News, a Chinese-language newspaper in Canada, felt something was off.
"When we took a look at their content, we saw it all read like Xinhua, the government mouthpiece," Mr Jia told the Financial Times, referring to the state news agency.
"We did not use the content at all."
China News Service is controlled by the Overseas Chinese Affairs Office, a key organisation behind the Communist party's influence operations abroad.
Once created to reach readers in Hong Kong and Taiwan, CNS has since focused its attention on ethnic Chinese communities living outside China.
Overseas Chinese newspapers and media outlets long maintained a connection almost exclusively with Hong Kong and Taiwanese media outlets, many of whom adopted an anti-party stance.
That changed in the early 2000s, say Chinese publishers, as Beijing's economic clout grew.
Publishers like Mr Jia were aggressively courted.
The outreach is part of a larger effort to draw those communities politically closer into the Communist party's orbit.
"China has money and force now, and so in our time its media penetration of western countries, especially (Britain), Germany, the US and Canada, has increased," says Mr Cao Changqing, a Chinese-American commenter who currently works for a Taiwanese broadcaster.
Around the same time, revenues in the global print industry nosedived as a result of the distribution of news on internet.
That gave Chinese party media an opening: it would offer its content completely for free, keeping struggling publishers afloat while widening its own readership.
Outlets such as the party-run People's Daily and China News Service supply free content that is then published under the masthead of the overseas news organisation.
The articles are usually published with a small dateline identifying its source but can easily be mistaken for being native to the overseas publication.
Sometimes these agreements also oblige the publishers to run the overseas edition of the People's Daily as a separate insert.
Since 2003, China News Service has hosted annual conferences in China to which hundreds of editors from overseas media organisations in print, television and radio are invited.
The People's Daily and CGTN, the international arm of state broadcaster CCTV, have since begun their own media forums.
On the sidelines of these forums, foreign publishers are approached with offers of free news copy or television programmes from state media sponsors.
"The overseas edition of the People's Daily is one of the most authoritative newspapers in China. Its rich and detailed content is obvious to all. Therefore, I volunteered (to publish People's Daily content), and I look forward to joining the 'big family' of its overseas edition," the editor-in-chief of Austria's Huaxin Newspaper told the People's Daily after attending its 2007 forum.
China's state media is trying to export its model of carefully controlled news, but Mr Gao Bingchen, a Canadian-Chinese columnist who writes under the pen name Huang Hebian, says it is not a two-way relationship.
"The biggest problem is the lack of reciprocity. Western society helps Chinese culture and content by freely disseminating it, but China is completely closed off to content from western countries," he says.
Mr Gao claims he was fired in 2016 from Canadian newspaper Global Chinese Press after writing critically of a state visit to Ottawa by foreign minister Wang Yi and China's human rights situation on his personal social media account.
Independent Chinese-language writers find it increasingly difficult to publish work not sanctioned by party-backed media, says Jonathan Fon, a Chinese-Canadian television commentator.
"(Censorship) does not stop at (other publications) rejecting these sorts of stories. In today's environment, you do not even have the ability to publish things yourself, because no one will help you publish those essays," says Mr Fon, who says he has been blocked from appearing in several Chinese-language Canadian news outlets after writing negatively about Sino-Canadian trade.
Beijing's increased global economic clout has put additional pressure on Chinese-language media abroad.
In Canada, companies that depend on cultivating business relationships with the mainland also enforce compliance to China's party line by dangling much-needed advertisement money in front of Chinese-language media.
"(The companies) won't place ads in so-called 'hostile' media. Even if the paper is neutral the consulate will quietly notice and direct companies or patriotic associations not to place ads in those papers. So if you are neutral, the source of revenue will disappear immediately," says Chongyi Feng, an associate professor in China studies at the University of Technology Sydney.
A Canadian-Chinese writer who goes by the pen name Xin Feng says: "The Chinese-language media here are sometimes run by mainland business people using their media as a platform for attracting business or to actively disseminate propaganda."
In 2016, he received death threats after writing critically about the same state visit by Mr Wang that resulted in Mr Gao's firing.
Chinese supermarkets, which rely on good relationships with local officials and wholesalers in China to import most of their products, have been particularly vocal in linking ad-buying to political correctness, two Chinese-Canadian publishers in Toronto say.
"The risks of speaking out are obviously getting worse, especially since the 19th party congress," says Mr Jia, referring to the party meeting in October that ended term limits for Chinese presidents. "The fear is there, and it's getting worse."
In some cases, the threats against reporters for non-compliance are less than subtle.
The Chinese wife of Chinese-American reporter Xiaoping Chen was detained in September while working in an airport in southern China.
She was released earlier this year, according to friends, but Mr Chen has not been able to contact her directly.
A video of his wife surfaced shortly before she was released, published on a YouTube account with audio files hacked from Chinese and foreign journalists.
In the video, she stated she was voluntarily leaving her husband but appears to be reading off a script.
Mr Chen is the New York-based editor of Mirror Media Group, a Chinese-language website that publishes sometimes-speculative articles documenting the intrigue of China's political elite.
He believes it was his numerous interviews with Guo Wengui, an exiled business magnate who threatened to leak politically sensitive secrets about some of China's most powerful leaders, that put the authorities on edge.
China's public security ministry did not respond to a request for comment.
"(My wife) has basically no interest in my work. Even when I tell her the truth (about China), she still does not quite believe what I say," he told the FT via email.
"But honestly, I never thought they would kidnap my wife." FINANCIAL TIMES
Expansion News groups refine their global reach
Among the new generation of international broadcasters, the Russian television station RT receives a lot of attention for its raucously anti-western viewpoint.
Given their considerable international reach, there is far less recognition of the foreign-language push of the Chinese media groups.
In the early 2000s, state news agencies Xinhua and China News Service, state broadcaster CCTV and the party-run People's Daily newspaper began refashioning themselves as international outlets rather than purely domestic news providers.
All four established or beefed up bureaus. In 2016, CCTV rebranded its international networks as CGTN, a network with more than 70 overseas bureaus broadcasting in five languages across more than 180 countries.
According to CCTV, it also provides free video footage and television scripts to 1,700 smaller foreign news organisations and media groups.
State radio company China Radio International broadcasts in more than 60 languages from 70 overseas stations.
However, CCTV, CRI and China National Radio were merged this year into an English-language behemoth, the Voice of China, aimed specifically at spreading more positive stories about China internationally.
Xinhua has even bigger plans for itself. Last year, three of its largest financial publications were placed into a new subsidiary, China Fortune Media Group.
The plan is to turn China Fortune into a rebranded global financial information company.
In addition to licensing text and video content to other news organisations, China Fortune Media Group would also sell access to state-owned enterprises and banks to foreign investors through a Bloomberg-like terminal as well as run offline events, according to two people familiar with its strategy.
China Fortune hoped to list by the end of the year, but the long-delayed IPO has again been held up in part because of disagreements about what to do with hundreds of Xinhua-affiliated employees who would have to be let go. FINANCIAL TIMES