#trending: 'Even a robot couldn't do it' — schoolgirl pleads with dad for more play time
China — A video of a primary school student in Tianjin, China pleading with her father to give her more play time has gone viral on Chinese social media.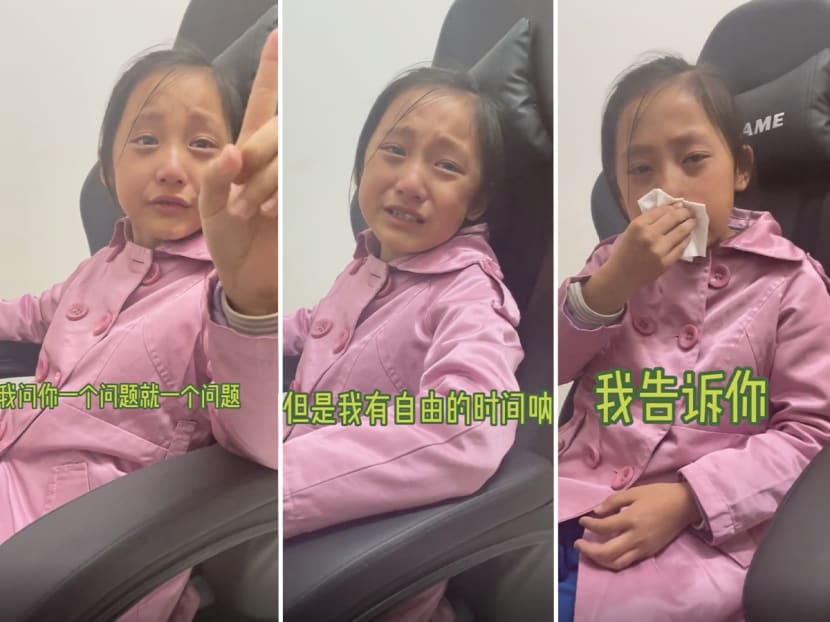 A video of a schoolgirl in China pleading with her father for more play time has gone viral
In tears, she tells her father that she needs "work-life balance" and that "even a robot" cannot handle the amount of work she had to do
Many Chinese social media users praised the girl for speaking eloquently
CHINA — A video of a primary school student in Tianjin, China pleading with her father to give her more play time has gone viral on Chinese social media. 
In the video that lasted slightly more than two minutes and posted on China's video sharing platform Douyin on Oct 14, the student named "Ting Ting" can be seen reasoning with her father in between sobs. 
"Respectfully, may I ask you a question?" the teary-eyed girl asks.
"Do I treat you badly? Do I have any weaknesses? Is there anything I'm doing wrong? Whatever it is, you can tell me. I will change.
"But I need my free time," she continues. "I can't spend all my time studying. In order to study, I need work-life balance. Do you understand?
"I've already finished my homework, I've gotten everything done, is it a problem that I play?"
In response, the 47-year-old father replies feebly: "No, fine, you can play. But you cannot play too long." 
The girl comes to her own defence — she sleeps at 9pm and has never played past midnight. 
"You've been good recently," her father admits to the indignation of his daughter.
"Recently? I've been a good girl every single day!" she exclaims. 
The father goes on to say that he does not have high expectations of his daughter. 
"I know," Ting Ting retorts, "but whatever you are asking of me, even a robot couldn't do it. Even if I grew eight hands, I couldn't get any busier!"
Ting Ting then assures her father that she is independent and fully capable of taking care of herself. Instead, she advises her father to shift his focus on dealing with his own issues such as paying the mortgage and earning rent. 
"Here are my last words for you," Ting Ting declares. "Please treasure our childhood times."
The video, posted on the father-daughter duo's joint account, gained three million views within two weeks. 
Many people who use Douyin praised Ting Ting for being quick-witted and well-spoken, pointing out that she has the talents to be a lawyer. 
One commented: "Her logic is sound and points are clear; she said what many adults can't even think of... She has a knack for debate and a natural gift to be a lawyer."
Many also supported Ting Ting's argument. 
One Douyin user said: "She has a point, (the parent) got schooled, they should reflect and change."
Another remarked: "Treasure the times with your child. Dad is wrong, he should apologise." 
HOMEWORK PRESSURES IN CHINA
In China, an aggressive "helicopter" parenting style termed "chicken blood" parenting has replaced tiger mums, American news outlet NPR reported. Helicopter parenting refers to parents who are overly protective and too involved in the lives of their children.
It is a growing trend for school children to have packed schedules full of extracurricular activities and tuition with the most exclusive tutors and trainers, on top of their schooling hours.
A video of a 12-year-old boy in China went viral recently after he broke down while teaching his younger sister mathematics. 
The viral video, also posted on Douyin, shows the boy crying and bent over in frustration while he questions why his sister cannot understand his explanation. 
An education law to reduce pressures of homework and off-site tutoring on schoolchildren in China was passed in October last year. 
The new law holds local governments accountable for making sure that the "twin pressures" of homework and tutoring are reduced and asks parents to give children reasonable time for rest and exercise, Reuters reported.