Covid-19: 1,200 pubs and bars in Hong Kong to close as government orders two-week shutdown
HONG KONG — The Hong Kong government has ordered a two-week closure of pubs and bars from Friday (April 3), in a drastic escalation of social-distancing rules which will mothball about 1,200 businesses.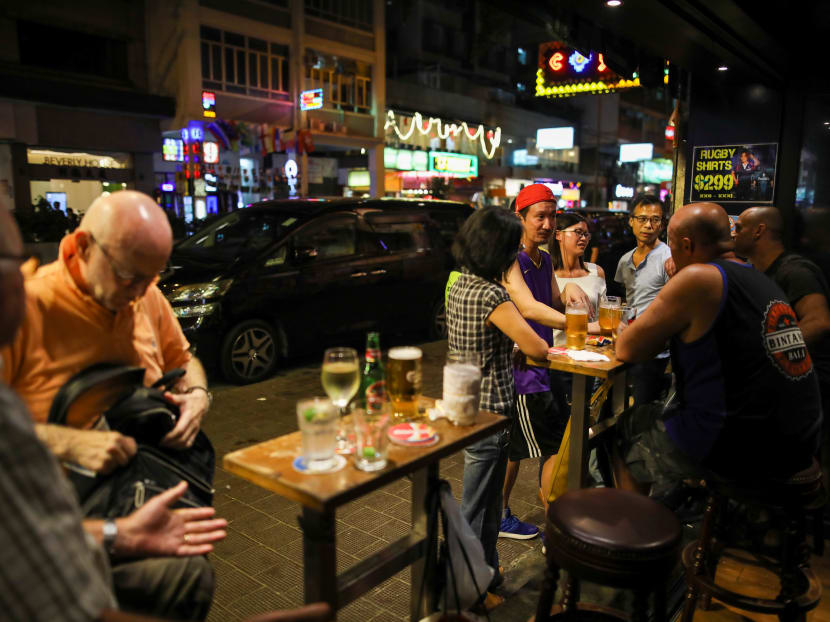 HONG KONG — The Hong Kong government has ordered a two-week closure of pubs and bars from Friday (April 3), in a drastic escalation of social-distancing rules which will mothball about 1,200 businesses.
The shutdown targeting all premises exclusively or mainly used for the sale of alcohol was unveiled after 37 new infections on Thursday took the city's total to 802 and amid a warning that existing curbs against the spread of Covid-19 were likely to last longer than planned.
Those who break the new emergency measure under the Prevention and Control of Disease Ordinance, which kicks in at 6pm, face the prospect of a HK$50,000 fine (S$9,240) and six months in jail.
The bar industry accused officials of singling it out, while the government was pilloried for not taking action earlier, and legal experts described the plan as fraught with potential loopholes.
Speaking at a press conference on Thursday night, Secretary for Food and Health Sophia Chan Siu-chee said the shutdown was needed given that 69 local Covid-19 cases involved visits to bars or pubs. Among those infected through chains of infection was a 40-day-old baby, she added.
Calling bars and pubs "high-risk areas" she said the spread of infection through the community "rang the bell" for intervention.
"The most important and the crux of the matter is that people should really be staying home and not going out," she added.
Even as two more cases on Thursday brought the total linked to beauty parlours to four, Ms Chan said salons would remain on the government's watch list, highlighting that they were already required to take enhanced precautions. She said she did not rule out "issuing further instructions" if the pandemic took a turn for the worse.
Last Friday, officials extended social-distancing laws — which include a ban on public gatherings of more than four people — to six further types of leisure venue, including cinemas, party rooms and gyms, ordering their closure for 14 days from last Saturday.
Mahjong parlours, karaoke lounges and nightclubs were added to the list on Wednesday. But restaurants and bars had been allowed to stay open if they met certain conditions, including halving capacity and keeping tables at least 1½ metres apart.
Mr Allan Zeman, chairman of Lan Kwai Fong Group and the Hong Kong party hub's dominant landlord, said the government told him that about 1,200 bars would be affected by the decision, which he said he supported, though adding that public subsidies would be needed to help cover wage bills.
"The faster we get the infection numbers down, the better it would be for Hong Kong in the long run," he told the Post.
"Everything is quiet in Lan Kwai Fong. Business has been bad in the district for the last few weeks, so whether it's open or closed it does not make a big difference."
Bar owners and employees said they had been singled out unfairly.
"The government chooses to target bars, but the public can still buy alcohol in convenience stores and some restaurants," said Ms Cat Hou Chui-shan, chairwoman of the Bartenders and Mixologists Union of Hong Kong, who also called for financial support for the 2,000 or so bartenders in the city.
She added that the move was "not planned thoroughly enough" comparing it to last month's abandoned proposal from Hong Kong leader Carrie Lam Cheng Yuet-ngor to ban bars and restaurants from selling alcohol.
Barrister Tien Kei-rui of the Progressive Lawyers Group said bars might be able to swerve the ban given the law only applied to premises that "mainly or exclusively" sell or supply alcohol.
"If the venues can prove that food is their main business while provision of alcoholic drinks is just supplementary, then they might continue to operate," he said.
"Convenience stores and supermarkets could also continue their sales of alcohol because it's not a consumption place."
A bar owner in Lan Kwai Fong who gave his name as Benjamin said three of his venues were already closed because of the epidemic.
Ahead of a crisis meeting with staff, he said: "I don't know when this will end. Will the closure be extended after two weeks?"
"I hope the government can waive rents for a few months for us to weather through this toughest period."
A 35-year-old who gave his name as Tom was drinking in a nearly empty bar in the Central nightspot, but agreed with the intervention.
"I think it's the right move for the government to close the bars because of the increasing number of infections."
After the government flip-flopped between a proposed alcohol-sales ban to the current policy forcing closures, infectious diseases expert Dr Joseph Tsang Kay-yan said officials should have considered imposing the shutdown earlier given the close contact of people inside bars.
Dr Chuang Shuk-kwan, head of the communicable disease branch of the Centre for Health Protection, revealed at a press conference that all but seven of Thursday's 37 new cases had travel history, as imported cases continued to drive up Hong Kong's total.
The infected included a two-year-old child and a man who caught the virus after going to the F45 Training gym in Wong Chuk Hang, where a member tested positive on Wednesday.
One of the newly diagnosed beauticians was believed to have contracted the virus through her workplace, New Beauty in Causeway Bay, with Dr Chuang saying they had not found any other "high-risk factors so far".
A second salon worker, who was a friend and Reenex colleague of a beautician diagnosed on Wednesday, was also confirmed as infected on Thursday.
"People should really avoid activities that involve close contact. I think not many activities are essential. Going to beauty parlours is not," said Dr Chuang, who did not comment when asked whether they should close.
Dr Leung Chi-chiu, chairman of the Hong Kong Medical Association's advisory committee on communicable diseases, said the government should impose a two-week shutdown of salons, adding: "If a person is getting a facial there is no way for them to wear masks."
With a respite in new infections nowhere in sight, Dr David Hui Shu-cheong, a member of the government's health advisory team, said earlier on Thursday that the tough 14-day measures put in place last week to enforce social distancing were likely to continue beyond April 11. SOUTH CHINA MORNING POST