For England's next generation, shine of youth trophies only carries so far
LIVERPOOL — On the night England conquered the world for the second time in a matter of months, Jurgen Klopp watched footage of the celebrations over and over again.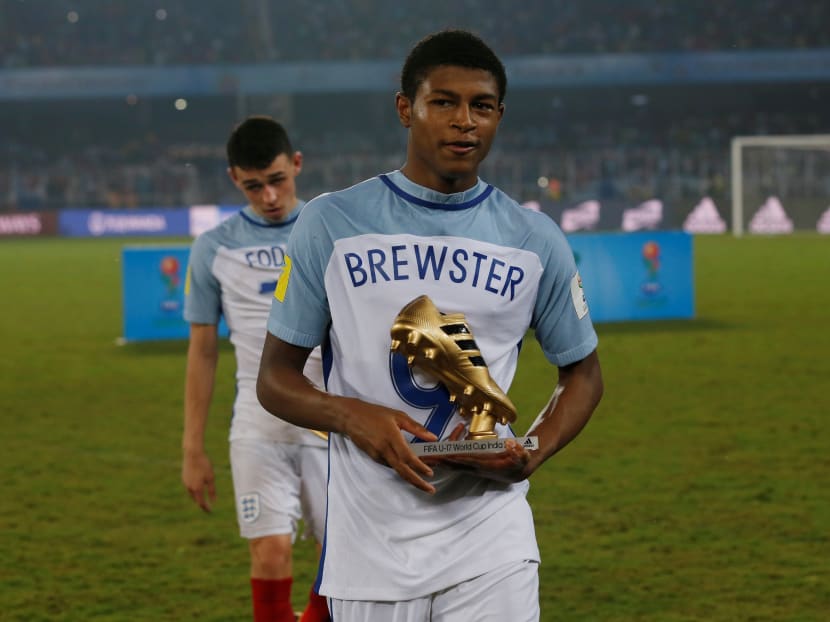 LIVERPOOL — On the night England conquered the world for the second time in a matter of months, Jurgen Klopp watched footage of the celebrations over and over again.
Klopp, the Liverpool manager, had his eye out for one player in particular: Rhian Brewster, a teenage forward of immense promise on Liverpool's books, had scored England's first goal in the final of the Under-17 World Cup in India, and had finished the tournament as its leading scorer.
Klopp was well aware of Brewster's talent.
He had invited the teenager to train with Liverpool's first team when Brewster was only 16; he had even found a place for the young striker on the substitutes' bench for a game against Crystal Palace last season, a few days after Brewster's 17th birthday.
After he had scored three times for England's under-17s in the World Cup semifinal, Klopp had called him and told him to "save the number." He was, clearly, delighted by his young charge's achievement.
Klopp, like everyone else at Liverpool, holds high hopes for Brewster. The belief within the club is that he will mature into an elite striker. His performances in India seemed to bear that out.
And yet, even then, Klopp was quick to strike a note of caution. "For Rhian, this is just the start, not a landmark moment," he said. "He is on a great road, but this is only the beginning."
The summer of 2017 was a golden one for England. Between June and October, the country's much-maligned youth teams won tournament after tournament, embarking on an unprecedented run of success for a nation hardly used to international glory.
A team comprised largely of under-18 players won the prestigious tournament at Toulon, France, for the second year running, on June 10. The next day, in South Korea, England's under-20 team won that age group's World Cup for the first time.
In July, the under-19 team lifted the European Championship trophy in Georgia. The crowning achievement, recorded by Brewster and his under-17 teammates, arrived at the end of October.
Along the way, there were several other near-misses, too: The under-17s only lost the final of their European Championship on penalties in May; the under-21s were beaten on penalties by Germany (much more familiar ground, this) in the semifinals of theirs.
Suddenly, in a country that had long since grown wearily accustomed to the idea that it did not produce young talent, there was a sense of vindication.
In recent years, the Football Association, which governs the game in England, has made an "enormous investment" in youth development, according to Gareth Southgate, the manager of the England senior team, as part of a programme to identify and develop the best young talent.
That is in addition to spending hundreds of millions of pounds on facilities at the national teams' base at St George's Park.
There has been no small emphasis on outreach, too, building better relationships with clubs, encouraging them to release their young players for international duty.
Premier League teams have done their part, too, focusing more and more time and resources on nurturing young players: not just building state-of-the-art academies to house them, but taking practical measures to help them grow.
Some, most notably Chelsea and Manchester City, have arranged strategic loan partnerships in order to expose young hopefuls to first-team soccer. All agreed to a revamp of what was once, variously, the reserve or the under-23 league, now rebranded as Premier League 2.
A mandated number of its games have to be played in a club's home stadium; many are broadcast live, either on television or through teams' websites. The aim is to turn what used to be an afterthought into a closer version of competitive soccer.
The summer of 2017 was taken, then, as the moment that all of the money and the manpower started to pay off, a reward for the time and effort expended to help England punch its weight at international level again.
And yet, for all the triumphalism, Klopp was not the only observer to strike a note of caution. Even after the world had been conquered — not once, but twice — there was still a sense that the greatest challenge for all of these players was still to come.
"People in any industry need opportunity," Southgate said. "You can have the best education system going, but if people do not have the opportunity to display what they can do, then it is difficult to develop."
The Premier League is, perhaps, the most hostile environment soccer can offer for young English talent.
Typically, only around 30 per cent of its players in any given season are English; fewer still are young. When the CIES Football Observatory published a list of the teams with the youngest average age in Europe's leagues this season, no Premier League team made the top 100.
It is a place of immediate need and instant gratification.
Managers, their positions only ever a couple of defeats from threat, are hardly incentivised to develop young potential stars they most likely will not see blossom.
Instead, youth dawdles and drifts in what the former Wigan and Everton manager Roberto Martinez once called the "18 to 22 gap": that window in a player's career immediately after he graduates from a team's academy.
At 18, such players are too inexperienced, too callow, to trust with Premier League stakes; they are sent out on loan, or remain trapped in meaningless youth soccer; by 22, many find, they have been overtaken, or overlooked.
Those lost years put England at a considerable disadvantage: Their peers in Germany, France and Spain, in particular, tend to have played thousands of minutes of top-flight soccer in that time.
Southgate's hope — and that of everyone at the Football Association — was that the success of 2017 would be enough to bridge the divide, to persuade the clubs of the Premier League, in particular, to see this as the moment to give youth its head.
"Hopefully the clubs have seen this summer that our young players are as good as any from across Europe and some of the rest of the world," Southgate said over the summer.
Halfway through the season, there are signs of promise.
Aidy Boothroyd, the manager of England's under-21s, has declared himself "relatively pleased" by the opportunities afforded to those players who shone this summer. He cautions, though, that he and the FA "might have wanted more."
His squad — the under-21s, UEFA semifinalists this summer — has fared the best: Of the 23 players he called up, 13 have appeared regularly for Premier League teams. Only five have played fewer than 300 minutes for their teams, at various levels, this season.
The under-20 World Cup winners, meanwhile, have seen a couple of notable successes: a tandem Boothroyd calls "the Everton connection."
Jonjoe Kenny and Dominic Calvert-Lewin are the only two to have played more than half of the available minutes in the Premier League this season.
Four more prospects — including Bournemouth's Lewis Cook — have managed at least 300 Premier League minutes. Ten others have become regulars at teams in the second-tier Championship or below.
Unsurprisingly, those in younger age-groups have found opportunities more scarce.
No member of the under-19 squad that won the European Championship has played in the Premier League. Of the team that won Toulon, kick-starting the summer's successes, only one player — Stoke's Josh Tymon — has made an appearance for a Premier League club this season.
Like Brewster, most members of the under-17 generation have had to be patient.
Phil Foden, the player of the tournament in India, has made a handful of appearances for Manchester City, and Jadon Sancho just a couple for Borussia Dortmund. The same is true for Steven Sessegnon, at Fulham, and Wolves' Morgan Gibbs-White.
"It is better than last year," Boothroyd said. "These players showed in the summer that they can perform under pressure, that they have the talent, that they can be trusted. We hoped the clubs would take note of that."
It has been cautious, quiet progress, but it has been progress nonetheless.
England's golden summer has not quite been a new dawn, but there are shafts of light piercing through. Like Brewster, all Southgate, Boothroyd and the FA can do now is wait for morning to break. THE NEW YORK TIMES