Explainer: With Liz Truss' resignation, what's next for the UK?
SINGAPORE — She said that she was a "fighter, not a quitter" during a parliamentary sitting. The following day, the United Kingdom's Prime Minister Liz Truss announced the end of her 44-day term.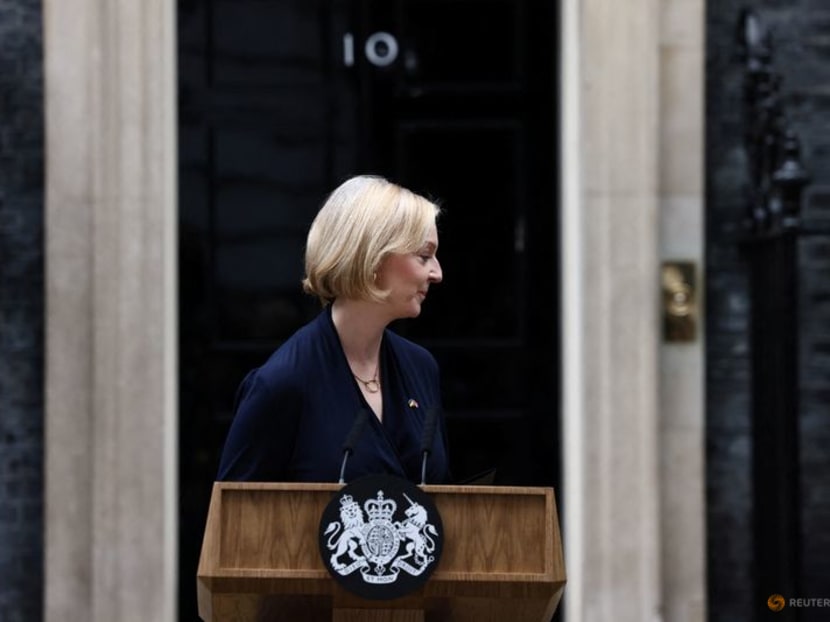 After 44 days in office, British Prime Minister Liz Truss called it quits
She is the United Kingdom's shortest-serving leader
Her resignation leaves the country mired in political and economic turmoil
TODAY takes a closer look at her short-lived regime and what is next for the UK
SINGAPORE — She said that she was a "fighter, not a quitter" during a parliamentary sitting. The following day, the United Kingdom's Prime Minister Liz Truss announced the end of her 44-day term. 
"I recognise that given the situation, I cannot deliver the mandate on which I was elected by the Conservative Party," she said on Thursday (Oct 20) morning (Thursday night in Singapore).
"I have therefore spoken to his majesty the king to notify him that I am resigning as leader of the Conservative Party."
Ms Truss, the country's shortest-serving leader, will remain as Prime Minister until a successor is elected by the Conservative Party next week. However, opposition parties have called for an immediate general election.
Her predecessor, Mr Boris Johnson, had served 1,079 days. His predecessor, Ms Theresa May, had served for 1,107 days.
TODAY takes a closer look at Ms Truss' short-lived regime and what is next for Britain.
WHAT ENDED MS TRUSS' SHORT-LIVED REGIME?
Ms Truss was elected as the UK's Prime Minister on Sept 5, replacing Mr Johnson who had resigned in July after a series of scandals, such as hosting illegal parties during the country's Covid-19 lockdown.
Ms Truss was faced with an uphill task from the get-go — the UK was in the midst of its biggest energy crisis and inflation was in the double digits. Her party's popularity had also nosedived after Mr Johnson's scandals were brought to light.
While her first two weeks were muted as the country entered a period of mourning after the death of Queen Elizabeth II, Ms Truss' government then tanked the British pound's valuation to a record low after announcing a shift in the country's economic strategy.
This was because global investors were alarmed by her plans, which included tax cuts, deregulation and implementing free-market economics. As the pound tanked, so did Ms Truss' favourability.
According to a YouGov poll conducted between Oct 14 and Oct 16, Ms Truss' net favourability among the British Public was minus 70 points, and was on track to overtake Russian President Vladimir Putin. His rating stood at minus 84 points.
She then reversed all the tax cuts she first introduced on Monday (Oct 17), a "humiliating repudiation that left her credibility in tatters and her political survival in doubt", reported The New York Times.
Professor of politics at the University of Liverpool Jon Tonge told the New York Times: "You cannot engage in the sort of U-turn that she has engaged in and retain your political credibility."
In the midst of the chaos, two of her four senior ministers quit in the same week. They were Home Secretary Suella Braverman, who said she was unhappy with the direction of Ms Truss' government in her resignation letter, and Finance Minister Kwasi Kwarteng, who had announced Ms Truss' economic vision.
WHAT LED TO THIS?
Dr Oh Ei Sun, a political analyst at Singapore Institute of International Affairs, a think tank, told TODAY a political mindset shift had led to this situation of Conservative leaders leaving after short, and shorter, terms.
"The fundamental issue lies with an increasingly socialist-minded and self-righteous elite which perversely saw, for example, a tax cut as harmful to the social economy instead of spurring growth," he said.
"This infinitely magnified the chaos of an otherwise successful administration that had steered Britain onto a steady course after Brexit."
Ms Truss' predecessors had served shorter, and shorter, terms one after the other — though none as short as Ms Truss'.
However, Assistant Professor Dylan Loh from Nanyang Technological University noted that short political terms are not unique to just the UK, citing Japan and Australia as other examples. 
Australia's former Prime Minister Scott Morrison, who ended his term earlier this year, was the first to serve a full term in 15 years.
Asst Prof Loh said that there has been a shift in the Conservatives being willing to voice their dissent and break ranks publicly, contributing to the downfall of Ms Truss.
He also noted that they were also more prepared to make use of the 1922 Committee — which comprises all Conservative Party backbenchers and sets the rules for selecting and changing the party's leader among other things — to pressure the prime minister to step down.
Prior to Ms Truss' resignation, some of her lawmakers had submitted letters of no confidence to the 1922 Committee's chairman Graham Brady, reported Reuters.
Dr Oh added that the British public had been increasingly jaded with exacting demands, with trust in the government at a low. This provided the opportunity for Ms Truss' party colleagues to pull her down further.
WHO WILL BE THE UK'S NEXT PM?
With Ms Truss tendering in her resignation, the Conservative Party is set to elect its next leader by next week. This person will be the fifth British Prime Minister in six years.
The electoral process will be similar to how Ms Truss came to power. Each candidate will need 100 Conservative Member of Parliament (MP) backers — which means there can only be a maximum of three candidates. If there are three candidates, Conservative MPs will vote and later eliminate the candidate with the least votes. 
Conservative MPs and party members — of which there are 16,000 — will then elect their party leader-cum-prime minister.
This process has been fast-tracked, said former British Ambassador to the United States Peter Westmacott.
"It has been clear for weeks that neither the country nor the markets would accept two more wasted months of non-government while the Conservatives re-run their leadership contest under the usual rules," he told Atlantic Council.
Commons leader Penny Mordaunt was the first to announce she will be running for the upcoming Conservative leadership vote in a tweet at about 4pm on Friday (11pm, Singapore time).
Former Prime Minister Johnson and former finance minister Rishi Sunak have also been touted as potential candidates, though none have announced their candidacy. Mr Sunak contested against Ms Truss in September.
Mr Sunak currently has 54 backers, Mr Johnson has 29 and Ms Mordaunt has 16, according to a Reuters tally of public declarations of support made thus far.
WHAT CHALLENGES WILL THE NEXT PM FACE?
However, it will not be easy for Britain's next Prime Minister, experts told TODAY.
Asst Prof Loh said: "I think the next PM will have to deal with a very severe economic situation at home, manage the increased political scepticism from society at large, and deal with the ongoing energy crisis and war in Ukraine.
"All of these require a strong government and trust in the government, both of which are unfortunately at one of its lowest points."
Dr Oh added that they will also have to deal with the longer-term issue of the British statute on the world stage.
This is why Dr Oh believes what the UK needs is a "more visionary and inspiring leadership that could shape the public and elite mindset instead of the other way around".
For now, the UK's opposition leaders are calling for a general election to be held instead and for Ms Truss to give up an allowance of up to £115,000 (S$183,495.15) a year she will be entitled to as a former prime minister.