The Finnish secret to happiness? Knowing when you have enough
NEW YORK — On March 20, the United Nations Sustainable Development Solutions Network released its annual World Happiness Report, which rates well-being in countries around the world. For the sixth year in a row, Finland was ranked at the very top.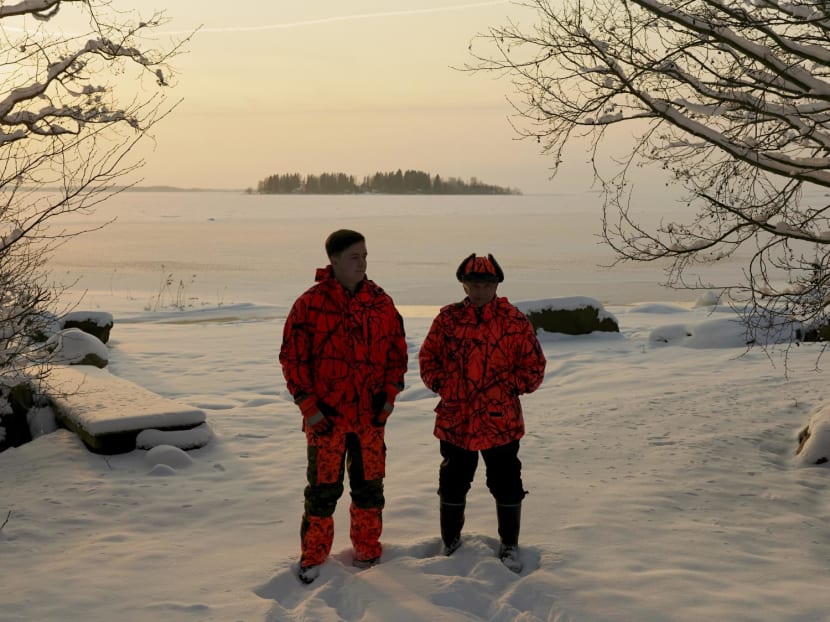 NEW YORK — On March 20, the United Nations Sustainable Development Solutions Network released its annual World Happiness Report, which rates well-being in countries around the world. For the sixth year in a row, Finland was ranked at the very top.
But Finns themselves say the ranking points to a more complex reality.
"I wouldn't say that I consider us very happy," said Ms Nina Hansen, 58, a high school English teacher from Kokkola, a midsize city on Finland's west coast. "I'm a little suspicious of that word, actually."
Ms Hansen was one of more than a dozen Finns whom The New York Times spoke to — including a Zimbabwean immigrant, a folk metal violinist, a former Olympian and a retired dairy farmer — about what, supposedly, makes Finland so happy.
The subjects ranged in age from 13 to 88 and represented a variety of genders, sexual orientations, ethnic backgrounds and professions. They came from Kokkola as well as the capital, Helsinki; Turku, a city on the southwestern coast; and three villages in southern, eastern and western Finland.
While people praised Finland's strong social safety net and spoke glowingly of the psychological benefits of nature and the personal joys of sports or music, they also talked about guilt, anxiety and loneliness. Rather than "happy," they were more likely to characterise Finns as "quite gloomy," "a little moody" or not given to unnecessary smiling.
It turns out even the happiest people in the world aren't that happy. But they are something more like content.
Finns derive satisfaction from leading sustainable lives and perceive financial success as being able to identify and meet basic needs, said Dr Arto O Salonen, a professor at the University of Eastern Finland who has researched well-being in Finnish society.
"In other words," he wrote in an email, "when you know what is enough, you are happy."
THE ART COUPLE GRATEFUL FOR A SAFETY NET
"'Happiness' — sometimes it's a light word and used like it's only a smile on a face," said Mr Teemu Kiiski, the chief executive officer of Finnish Design Shop. "But I think that this Nordic happiness is something more foundational."
The high quality of life in Finland is deeply rooted in the nation's welfare system, said Mr Kiiski, 47, who lives in Turku. "It makes people feel safe and secure to not be left out of society."
Public funding for education and the arts, including individual artist grants, gives people like his wife, Ms Hertta Kiiski, 49, a mixed-media artist, the freedom to pursue their creative passions.
"It also affects the kind of work that we make, because we don't have to think of the commercial value of art," Ms Hertta Kiiski said. "So what a lot of the artists here make is very experimental."
THE ADVOCATE FIGHTING TO BE HEARD
As a Black person in Finland — which is more than 90 per cent white — Mr Jani Toivola, 45, spent much of his life feeling isolated. "Too often, I think, you still feel, as a Black gay man in Finland, that you are the only person in the room," Mr Toivola said.
His father, who was Kenyan, was absent for much of his life, and Mr Toivola, whose mother is white, struggled to find Black role models he could relate to.
In 2011, he became the first Black member of Finland's Parliament, where he helped lead the fight for the legalisation of same-sex marriage.
After serving two terms, Mr Toivola left politics to pursue acting, dancing and writing. He now lives in Helsinki with his husband and daughter and continues to advocate for LGBTQ rights in Finland. "As a gay man, I still think it is a miracle that I get to watch my daughter grow," he said.
THE TEENAGERS RAISED TO BE CONTENT
The conventional wisdom is that it's easier to be happy in a country like Finland where the government ensures a secure foundation on which to build a fulfilling life and a promising future. But that expectation can also create pressure to live up to the national reputation.
"We are very privileged and we know our privilege," said Ms Clara Paasimaki, 19, one of Ms Hansen's students in Kokkola, "so we are also scared to say that we are discontent with anything, because we know that we have it so much better than other people," especially in non-Nordic countries.
The Finnish way of life is summed up in "sisu," a trait said to be part of the national character.
The word roughly translates to "grim determination in the face of hardships," such as the country's long winters: Even in adversity, a Finn is expected to persevere, without complaining.
"Back in the day when it wasn't that easy to survive the winter, people had to struggle, and then it's kind of been passed along the generations," said Paasimaki's classmate Matias From, 18. "Our parents were this way. Our grandparents were this way. Tough and not worrying about everything. Just living life."
THE FARMER AND HIS CELLIST DAUGHTER
Mr Tuomo Puutio, 74, started working at 15 and supported his family for decades as a cattle and dairy farmer. Thanks to Finland's school system, which includes music education for all children, his daughter Marjukka Puutio, 47, was able to pursue her dream of a music career beyond their village.
"You get the chance to be a cello player, even if you are a farmer's daughter," she said.
Music is a source of well-being for many Finns, many of whom sing in choirs, learn instruments or attend regular concerts, especially during the country's long, dark winters.
But Ms Marjukka Puutio worries that these opportunities may not be available to future generations: Finland will hold parliamentary elections Sunday, and the far-right Finns Party, which won the second-highest number of seats in 2019, has promised to cut funding for the arts if it secures a majority coalition this year.
"Music, which I am passionate about, it creates a mindset where you can face your inner feelings and fears," said Ms Puutio, who now manages an orchestra. "It touches parts of our soul we could otherwise not reach. And that will have a long-term effect on people's lives, if these experiences are taken away from us."
THE FORMER OLYMPIAN AND THERAPIST
Many of the subjects cited the abundance of nature as crucial to Finnish happiness: Nearly 75 per cent of Finland is covered by forest, and all of it is open to everyone, thanks to a law known as "jokamiehen oikeudet," or "everyman's right," that entitles people to roam freely throughout any natural areas, on public or privately owned land.
"I enjoy the peace and movement in nature," said Ms Helina Marjamaa, 66, a former track athlete who represented the country at the 1980 and 1984 Olympic Games.
"That's where I get strength. Birds are singing, snow is melting and nature is coming to life. It's just incredibly beautiful."
Her daughter Mimmi, a dance teacher and certified sex therapist, recently got engaged to her girlfriend. Mimmi, 36, said she is encouraged by the openness and deeper understanding of gender and sexuality she sees in the next generation.
"A lot of teenagers already show themselves as they are," she said. As adults, "we need to encourage that."
THE VIOLINIST WHO FEARS A WARMING PLANET
Finland's natural treasures, about one-third of which lie above the Arctic Circle, are particularly vulnerable to the effects of the climate crisis.
Like Ms Marjukka Puutio, Mr Tuomas Rounakari, 46, a composer best known in Finland as a former member of folk metal band Korpiklaani, is concerned about the rising popularity of groups like the Finns Party and the anti-climate policies they've championed.
"I am worried with this level of ignorance we have toward our own environment," he said, citing endangered species and climate change. The threat, he said, "still doesn't seem to shift the political thinking."
THE MATRIARCH AND HER GRANDDAUGHTER
Born 17 years after Finland won independence from Russia, Ms Eeva Valtonen has watched her homeland transform from the devastation of World War II through years of rebuilding to a nation held up as an exemplar to the world.
"My mother used to say, 'Remember, the blessing in life is in work, and every work you do, do it well,'" said Ms Valtonen, 88. "I think Finnish people have been very much the same way. Everybody did everything together and helped each other."
Her granddaughter Ruut Eerikainen, 29, was surprised to see Finland now ranked as the happiest place on Earth. "To be honest, Finns don't seem that happy," she said. "It's really dark outside, and we can be quite gloomy."
Maybe it isn't that Finns are so much happier than everyone else. Maybe it's that their expectations for contentment are more reasonable, and if they aren't met, in the spirit of sisu, they persevere.
"We don't whine," Ms Eerikainen said. "We just do." 
This article originally appeared in The New York Times.