Malaysia's Umno faces an uncertain future as it heads for internal polls
SINGAPORE – The United Malays National Organisation (Umno) is beset by a lack of fresh presidency candidates and a consensus on who should lead it ahead of party elections at the end of this month. This does not bode well for the former Malaysian ruling party and its efforts at reinventing itself as a political force, say analysts and some party members.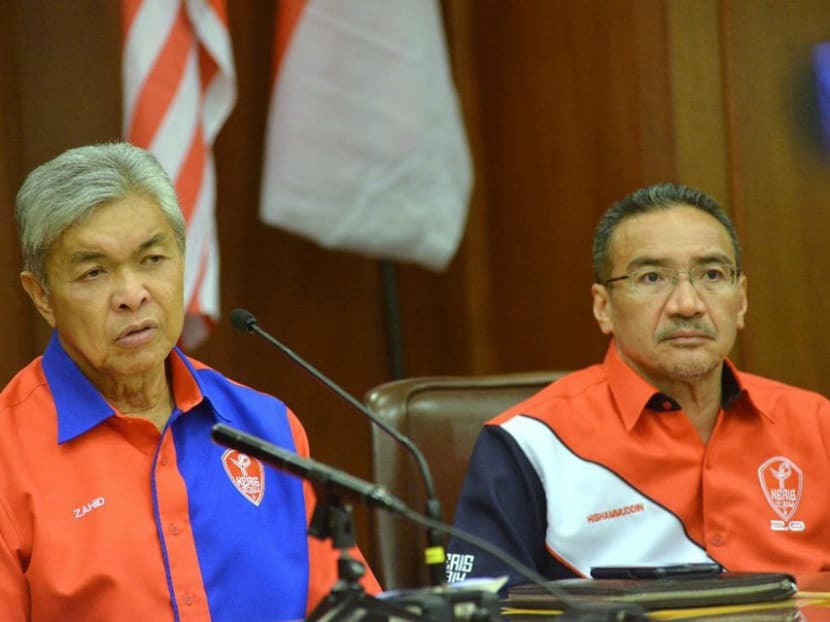 SINGAPORE – The United Malays National Organisation (Umno) is beset by a lack of fresh presidency candidates and a consensus on who should lead it ahead of party elections at the end of this month.
This does not bode well for the former Malaysian ruling party and its efforts at reinventing itself as a political force, say analysts and some party members.
Former deputy prime minister Ahmad Zahid Hamidi, 65, is facing a challenge from veteran politician Tengku Razaleigh Hamzah and another political unknown for Umno's presidency.
Those in support of Mr Tengku Razaleigh, who announced his bid on Saturday (June 16), say Umno needs a new leadership not associated with ousted prime minister Najib Razak.
"Everyone from the previous leadership needs to be changed. We can't rejuvenate the party with old guards - they are part of establishment that brought us down," Mr Tengku Putra Haron Aminurrashid, an Umno member from the Pulai division in Johor told TODAY, referring to the party's dismal showing at last month's general election.
"With Tengku Razaleigh, I believe with his vast governance and political experience, he has what it takes to take Umno forward."
Mr Tengku Razaleigh, 81, a former finance as well as international trade and industry minister, said he made the decision "in the interest of Umno".
"As a political party rich with experience, I am confident of leading Umno as well as to ensure that Umno can play a role as a loyal and a strong opposition to the government," he said.
"I want to make sure Umno can play its role as the Opposition."
The third person who has thrown his name into the hat for the top post is Selangor's Kota Raja division member and blogger Rahmat Azim Abdul Aziz. 
"Zahid has been in the party for so long. He still doesn't know what to do, because we had too many followers and right now, they have no leaders to follow," Mr Rahmat Azim told Malay Mail in a recent interview. 
"Now the follower has to become the leader, and he doesn't know what to do. So what's going to become of Umno?"
Mr Zahid was previously Umno deputy president and he took on the role of interim president after Datuk Seri Najib stepped down from the post to take responsibility for the crushing electoral defeat by the Barisan Nasional (BN) alliance.
Former defence minister Hishammuddin Hussein, another Umno leader closely associated with Mr Najib, announced earlier this month that he will not be contesting for any posts.
The Umno vice president is a cousin of Mr Najib and had been seen as a potential future prime minister given his experience and his positon as the son of former Umno president and prime minister Hussein Onn, who was in turn the son of its first party president and co-founder Onn Jaafar.
Mr Hishammuddin's decision also means that for the first time in Umno's 72-year-history, it will not have a leader carrying the Razak, Hussein or Mahathir name, further adding to sense of uncertainty in the party.  
Nominations for the party elections are open from June 1 to Sunday (June 17) and Umno will elect its top leadership, including president and deputy president, on June 30.
It has been a long time since the top two posts are open for contest.
The last time it saw a tussle was during the 1987 party polls, when then president Dr Mahathir Mohamad was up against Mr Tengku Razaleigh.
That year, Dr Mahathir retained his presidency while Mr Tengku Razaleigh left Umno to form his own party, Semangat 46.
The party did well in its initial years, winning eight federal seats at the 1990 general election but it soon fizzled out.
A decade later, Semangat 46 was dissolved and Mr Tengku Razaleigh and his supporters rejoined Umno.
This raises questions on whether he now has what it takes to lead the party, with some observers doubting he has the charisma to rally the rank and file following its setback.
When asked on Saturday about his chances, Mr Tengku Razaleigh claimed that support has been pouring in from party divisions, but he did not disclose the numbers.
"The obvious thing is to vote for me and my friends. Why? People are demanding change and we just bring change," he said. 
Mr Zahid on Saturday welcomed the challenge posed by the new contender but cautioned against a repeat of the 1987 split.
"Tengku Razaleigh's announcement proves the commitment that all positions in Umno are for open for contest. It shows that Umno is more democratic now," said Mr Zahid in a statement.
"But Umno should not be split into two as it was in 1987 even though we are being more open in our execution."
At the upcoming June 30 party polls, two leaders - former Negeri Sembilan Chief Minister Mohamad Hasan and Umno information chief Annuar Musa - will have a go at the deputy president post.
Eight others, including incumbent Umno youth chief Khairy Jamaluddin, will vie for the three Vice-President posts.
Umno's election comes after BN lost power for the first time in 60 years at the May 9 general election to Dr Mahathir's Pakatan Harapan (PH) pact.
Umno retained only 54 out of 88 parliamentary seats it won in the 2013 general election.
BN - of which Umno is the lynchpin party - did not win enough seats to form the federal government.
The recent deflection of smaller component parties in Sabah and Sarawak to PH has dealt a further blow to BN, as it is now left with only Umno, Malaysian Chinese Association, Malaysian Indian Congress and Gerakan.
These three ethnic-based parties have been steadily losing influence and are all but politically finished after the May election.
The historic loss has floored Umno and has caused soul-searching within its ranks, with some members wondering if the slate of current leaders has the charisma or ideas to revive the party.
"Many people are demoralised and unsure of what to do... this is to be expected," said Mr Johari Abdul Ghani, Umno's Member of Parliament for Titiwangsa and one of the candidates vying for the vice-presidency.
"But this is not a total loss for us," he said in pointing to the number of federal seats Umno won - which is the biggest among all parties who contested in GE14.
"What we need now are leaders who can embrace change and who can revamp the party," the former Second Finance Minister told TODAY.
His views echoed those of Mr Khairy, who in the run up to the party polls, has called for change and a different political culture if Umno is to regain the public's confidence and stay relevant.
Umno youth executive council member Rahman Hussin told TODAY the party must have a mixture of experienced hands as well as fresh faces to lead the party.
At the same time, he said Umno needs leaders like Mr Khairy and Mr Mohamad who are able to appeal to both urban and rural voters, explain difficult policies while at the same time preserve Umno's brand of politics.
Asked why Mr Khairy and the top leadership seemed reticent now, Mr Rahman said: "For the past one month, we have had to take a hard look at ourselves.
"Until we have a new lineup, there are several key questions that needed to be pondered - for example how are we to allow younger leaders to come up and whether ethno-nationalism still valid," he added.
"I think Khairy, Mohammad, Zahid... they are all thinking about these questions too."
Analysts however are doubtful that the party will see any radical changes that will allow it to play an effective role in checking the PH government.
This is due to its lack of experience as an Opposition, as well as its no-contest culture for top leadership posts and decades of centralised power.
Dr Mustafa Izzuddin, a research fellow at the ISEAS-Yusof Ishak Institute, believes Umno will continue its "tried and tested" ethno-nationalist strategy of the past, because its sees the loss in GE14 as a blip or an anomaly.
"The party is unlikely to be revived in the short run because we are seeing the same old faces contesting," said Dr Oh Ei Sun, a senior adviser at the Asia Strategy and Leadership Institute in Malaysia.
If this were to happen, Mr Tengku Putra Haron said the party could be doomed.
"If a majority of the same faces remain in the coming party elections, I fear we may never come back as a government for a long, long time yet."