Grief grips Asian Americans after California mass shootings
MONTEREY PARK —  Asian Americans were reeling Tuesday (Jan 24) after two mass shootings in California targeting members of their community left 18 people dead —  with the alleged gunmen in both cases being older men of Asian descent.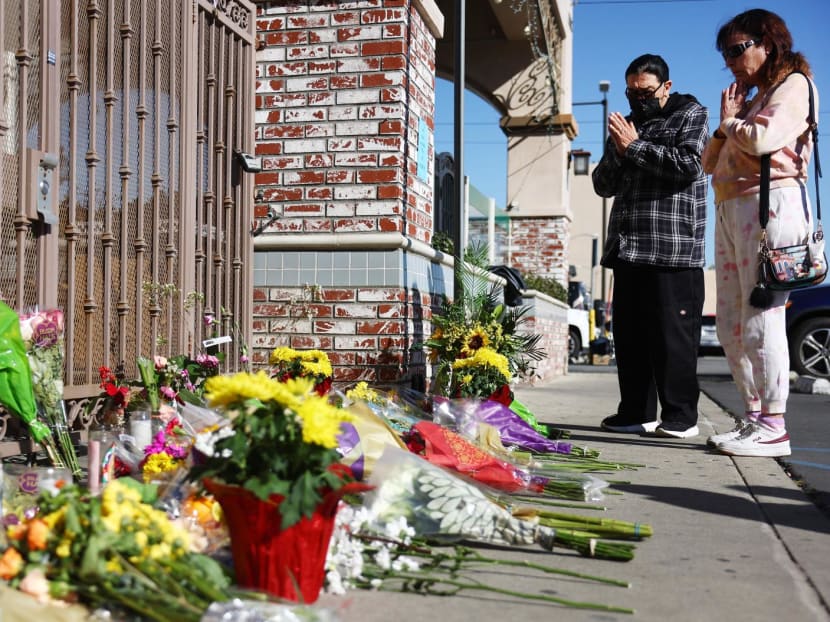 MONTEREY PARK —  Asian Americans were reeling Tuesday (Jan 24) after two mass shootings in California targeting members of their community left 18 people dead —  with the alleged gunmen in both cases being older men of Asian descent.
The killings came in a span of just 48 hours —  so close together that California Governor Gavin Newsom was at a hospital meeting with victims of the first attack when he was pulled away to be briefed about the second.
"It is said all the time: only in America," a clearly exasperated Newsom told reporters Tuesday in Half Moon Bay.
"Only in America. Number one in gun ownership. Number one in gun deaths. It's not even complicated," he said.
"What the hell is wrong with us, that we allow these weapons of war and large capacity clips out on the streets and sidewalks?"
Another shooting occurred overnight in Washington state, where a gunman killed three people at a convenience store, in an act police said appeared to be random.
The carnage prompted President Joe Biden to renew calls for Congress to act quickly on an assault weapons ban. A group of senators on Monday reintroduced a federal assault weapons ban and legislation that would raise the minimum purchase age for assault weapons to 21.
Mr Biden also said he would be dispatching Vice President Kamala Harris to California in the wake of the shootings.
"Our hearts are with the people of California," he said, calling the massacres "devastating."
Investigators were still probing the motives behind the two incidents, which stood out among the scourge of mass shootings in America both for the community impacted -- gun violence is usually seen as rare among Asians and Asian Americans -- and for the age of the suspects, 67 and 72.
The nonpartisan Violence Project says 79 percent of mass shooters from 1966 to 2020 were under age 45. It says a mere 6.4 percent of mass shooters in that time were Asian.
The Monday bloodshed occurred at two farms around Half Moon Bay, a rural coastal community south of San Francisco.
San Mateo County Sheriff Christina Corpus said Tuesday that five men and two woman — a mixture of Hispanic and Asian — were killed, and that 67-year-old Half Moon Bay resident Chunli Zhao had been taken into custody.
A semi-automatic handgun had been recovered.
"The only known connection between the victims and suspect is that they may have been co-workers," she said.
"All the evidence we have points to this being an instance of workplace violence."
The San Francisco Chronicle reported a former co-worker had been granted a restraining order against Zhao over violent behaviour.
"Mr Zhao said to me, today I am going to kill you," Mr Jingjiu Wang wrote in 2013 when the two worked at a San Jose restaurant together.
"He then took a pillow and started to cover my face and suffocate me."
The small community of Half Moon Bay was on Tuesday struggling to come to terms with the mass shooting.
A singing bowl held by a Buddhist monk was struck once for each of the seven people shot dead as residents gathered to grieve in a local church.
"This is tragedy, and to happen on the New Year," Ms Aily Li, whose family owns the China House restaurant, told AFP.
Ms Sophie Li, who works at Shiki Japanese Cuisine in the town, said guns were terrifying.
"Without a gun, we just argue. But if you have a gun, it gives you more power and then something will happen," she said.
"You deal with people who carry a gun and you never know what will happen. People got shot, right?"
VENGEFUL 
That tragedy unfolded as detectives in southern California were still probing what drove 72-year-old Huu Can Tran to shoot dead 11 people gathered for Lunar New Year on Saturday night at a suburban dance hall.
Los Angeles County Sheriff Robert Luna said Tran, who had been arrested decades earlier for unlawful possession of a firearm, fired 42 rounds in the attack in Monterey Park.
"What drove a madman to do this?" he said.
Mr Luna confirmed officers had been told Tran may have been known to some of his victims.
Information about Tran remained unclear. CNN reported that, according to his marriage license, he had immigrated from China; the New York Times cited immigration documents saying he was a naturalized US citizen of Vietnamese origin.
A former friend described Tran as a vengeful loner.
"Two simple words that cover the whole thing: He's a person of distrust. He distrusts people around him. Second word is hate. He hates people around him, especially if he thought someone was doing bad on him," the friend said, according to the Los Angeles Times.
"He would say, 'Someday I will get back at you, get even, get revenge.'
"I think his life was so miserable and desperate that he chose that day to end his life and meanwhile he wanted to get people he didn't like or hated to go with him," the man said. AFP