Have tickets for Taylor Swift, will travel far: The rise of music tourism
HONG KONG — In a recent interview, Miley Cyrus was asked if she was going on tour.
HONG KONG — In a recent interview, Miley Cyrus was asked if she was going on tour.
"Yeah, the Aman hotel tour," the American pop star joked. "Singing in the lobby for that complimentary massage."
Cyrus may not be going on the road any time soon, but many other artists are. From Beyoncé, Blackpink and Taylor Swift to Bruce Springsteen, Coldplay and Harry Styles, a myriad of music superstars are on stadium world tours. And wherever they announce a concert date, their fans follow.
As each stadium concert accommodates between 50,000 and 80,000 fans, and with some artists performing over several nights in a single venue, a significant number of people are flocking to those host cities — many from outside the local area or even the country — in what has been billed as music tourism or concert travel.
In May, Hongkonger Tiffany Chung Yi-lok and her daughter flew to Singapore to see K-pop girl group Blackpink.
"We were unable to purchase any concert tickets in Hong Kong so we decided to try our luck with Singapore instead," she says. "The trip wasn't originally planned, but after successfully buying the concert tickets we decided to combine the concert with a vacation to explore Singapore's tourist attractions."
As well as seeing Blackpink, Ms Chung and her family visited Universal Studios and the SEA Aquarium, on Sentosa, as well as Gardens by the Bay and the Night Safari over a five-day holiday.
Ms Chung and her family were not alone. YouTube and TikTok are awash with Blackpink fans (Blinks), mainly from the Philippines and Malaysia, who flew to Singapore to see their idols on their Born Pink tour — which began on Oct 15, last year, in Seoul, South Korea, and will conclude on Aug 26, in Los Angeles, in the United States.
Many others flew to Bangkok and even Sydney. Most stayed between four and six days in these destinations, visiting attractions, shopping and feasting at well-known restaurants.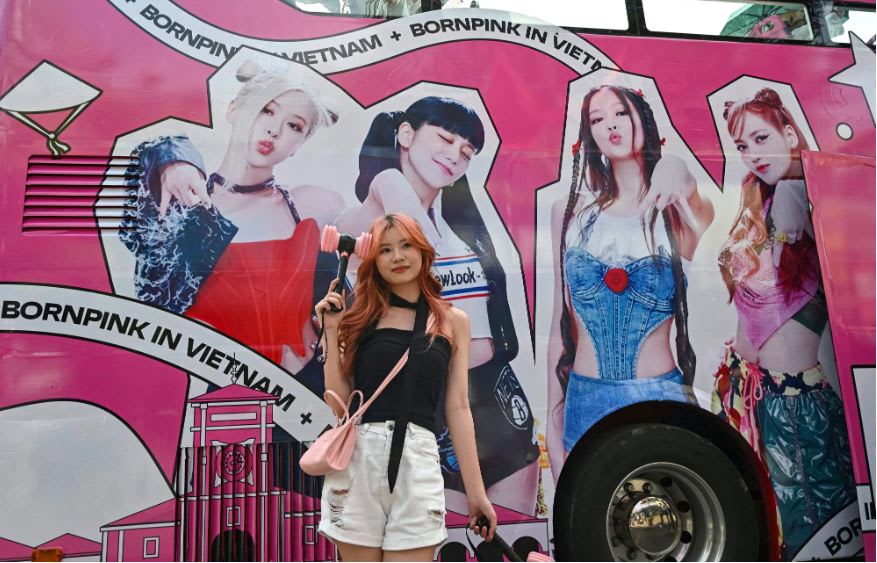 A recent survey in Britain commissioned by ticket resale site Viagogo has found that 63 per cent of respondents had been on a holiday combined with a concert or music festival — the most popular destinations being Paris, Barcelona and Rome.
In the United States, travel website Upgraded Points found that one in three respondents were willing to travel to see their favourite artists. Fans of BTS were willing to travel an average of 3,283km to see the K-pop stars in concert — the furthest of any fan group.
BTS are on a temporary hiatus while some of the band members complete national service in South Korea, but there are plenty of other K-pop artists attracting music tourists.
Ms Jasmine Zhu Guo, who lives in Hong Kong, will travel to Seoul this month to see NCT 127, having already flown to Thailand to see the band. While in Bangkok, she took the time to visit temples and renowned restaurants, and shopped for gifts for her family and friends.
With Coldplay's tour continuing into 2024, including dates in Manila, Singapore and Bangkok; and Taylor Swift announcing concerts in Japan and Singapore, music tourism looks set to be a potent force in Asia soon.
Hongkonger Joycie Lai will be among the Swifties crossing borders to see the American superstar.
"I have actually never been to Singapore before so I'll definitely be checking out the classic touristy spots like Merlion Park, Resorts World Sentosa and Marina Bay Sands," she says.
"I am also really looking forward to seeing the Rain Vortex at Jewel Changi Airport, making my own gin at a workshop, and having some of the latest Asia's 50 Best Bars on my list of places to go to."
Travel operators and hotels have already experienced the effects of Swiftenomics, as it has been called.
"We saw demand for Singapore accommodation soar when tickets went on sale for Taylor Swift's six shows [which will take place in March]," says Mr Omri Morgenshtern, chief executive of online travel platform Agoda.
"There were 160 times more searches than usual. The spike was mostly driven by interest from Southeast Asia. Philippines led the pack, followed by Indonesia, Thailand, Malaysia and Vietnam."
Booking platform Klook, which was offering packages of two tickets to the Taylor Swift concert plus a hotel stay from a choice of 40 properties, said it had more than 600,000 fans across the region waiting in line before the bookings opened.
Its packages for four- and five-star hotels sold out within two hours. The Intercontinental was the most popular choice of hotel, followed by the Grand Copthorne Waterfront.
Most of the fans who booked through Klook were from the Philippines, mainland China and Indonesia, followed by Hong Kong; Hongkongers were the most likely to book five-star hotels, according to Mr Kenny Sham Ho-ki, general manager of Klook Hong Kong and Macau.
Accor, the largest hotel group in Singapore, with over 30 properties under several brands, has also noticed the Taylor Swift effect.
"Within the economy segment, we are already witnessing an upsurge in hotel bookings over March 2024, with some properties already fully booked over the Taylor Swift concert dates," says a spokesman for Accor Asia.
The group has seen a similar surge in interest for its Sydney and Melbourne hotels coinciding with Swift's concert dates in Australia next February.
Bookings for Sydney, where the singer will play four nights at the aptly named Accor Stadium in front of a total of 300,000 people, are up 180 per cent, while those for Melbourne are up tenfold compared to the previous year, the chief executive officer of Accor Pacific, Sarah Derry, says.
Back in Singapore, Marina Bay Sands is preparing to lure Taylor Swift fans with yet-to-be-unveiled "exclusive packages" and "fringe activities" to tie in with her concerts.
If you are not a Swiftie, Blink or member of the Army or Beehive — as BTS and Beyoncé fans, respectively, are known – you may want to avoid places where the stars are in town. In an era of dynamic pricing, hotel room rates rise to the occasion. SOUTH CHINA MORNING POST