Hidden health risks in sugary breakfast cereals
KUALA LUMPUR — Breakfast cereals have long been marketed as the best way to start your day, but such products may now be closer to candy than they are to wholegrain foods of before.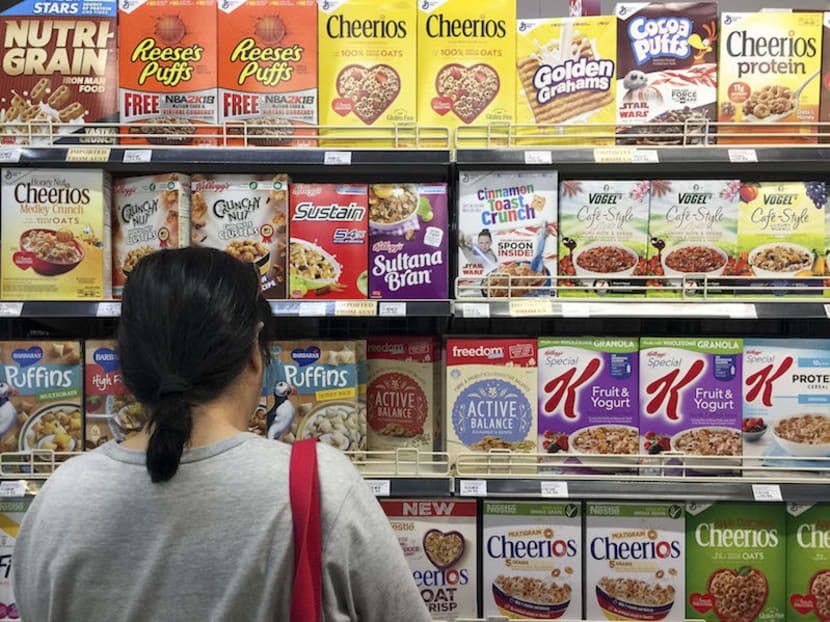 KUALA LUMPUR — Breakfast cereals have long been marketed as the best way to start your day, but such products may now be closer to candy than they are to wholegrain foods of before.
While many may consider a bowl of cereal and milk to be a healthy meal, a survey of the nutritional content of many popular brands showed most have more sugar than is generally recommended for the entire day.
Malay Mail examined 10 popular breakfast cereal brands in Malaysia that are targeted at young consumers and found that only one qualified as low in sugar.
In an average serving size of 30g, some can have up to 12g of sugar; this is before the addition of milk, which is also sweetened in most cases.
More worryingly, dietician Goo Chui Hoong told Malay Mail the recommended serving size was unlikely to sate most consumers, and suggested that many would more likely consume double the amount.
Bumping up the portion to 60g along with 200ml of milk — which itself already contains around 10g of sugar — pushes the sugar content of a typical serving to 34g.
This would put an average serving close to the sugar content found in most candy bars, which are generally between 40g and 50g each.
"The recommended serving size of 30g with half a cup of low-fat milk is a very small serving and it is not uncommon for people to consume double or more of that portion along with milk to make them feel full," Ms Goo said.
"Although some cereals with powdered sugar have higher content than others, it is always advisable for consumers to eat such products according to the recommended serving size."
According to the World Health Organisation dietary table, adults should not consume more than five teaspoons or 25g of sugar a day on average.
The average adult burns 2,000kcal of energy per day, so processed sugar intake should not exceed 5 per cent of the required energy intake for general health, said Ms Goo.
"It should consist of 50 per cent carbohydrates, 15 per cent protein and 30 per cent fat. For children, their energy requirement varies depending on age and gender, with average energy need ranging from 1,000 to 2,800 kcal daily," she said.
Ms Nurzalinda Zalbahar a nutritionist from the Department of Nutrition and Dietetics from Faculty of Medicine and Health Sciences of Universiti Putra Malaysia (UPM), similarly advised caution when consuming sugary cereals.
While most brands recommend a serving size, Ms Nurzalinda said most consumers were likely to just "eyeball" their portions, which could lead to overconsumption.
This could be avoided if consumers use a measuring cup.
"But usually, it is easier to just pour it out instead. This is when we consume more than we are supposed to. Besides, most of the breakfast cereals available are loaded with sugar and fast-digesting carbohydrates (that is known to have high glycaemic index)," she said
Glycaemic Index or GI determines how quickly sugar is absorbed into the bloodstream. Sugar in high GI foods is released quickly and causes spikes in blood sugar levels, which could exacerbate conditions that are made worse by high blood glucose levels, such as diabetes.
Over one in 10 Malaysians have some form of diabetes, according to the Health Ministry's data, and they are advised to avoid high GI food.
While it was important to have breakfast, both Ms Nurazlinda and Ms Goo recommended alternatives to sugary cereals for health.
For those accustomed to sweet cereals, Ms Goo suggested alternatives such as fruit, wholegrain crackers or granola.
More traditional items may be oatmeal porridge, thosai with dhal, soupy noodles, multigrain bread with half-boiled eggs, wholemeal bread with thin spread of peanut butter, or a bowl of fruit with low-fat yogurt.
"Wholegrains contain more fibre than refined grains, as fibre slows down the absorption of sugar into your blood and is therefore helpful for people with diabetes to regulate blood sugar," Ms Goo explained.
Ms Nurzalinda was also effusive about the benefits of a grain-rich diet over sweetened cereals.
"Wholegrain, whole wheat, and oats are a good choice because they are high in nutrients and fibre, especially those without added sugar and dried fruit," she said.
Fibre also has the added benefit of increasing satiety without raising portion sizes, regulating bowel movements and possibly reducing serum cholesterol levels.
Ms Nurazlina and Ms Goo recommended that aside from avoiding foods that are high in sugar, Malaysians should be more disciplined with their portion sizes to avoid health problems and obesity.
Malaysia was listed as the most obese country in the region in an Economist Intelligence Unit titled "Tackling Obesity in Asean". It found that 13.3 per cent of Malaysians were obese while another 38.5 per cent were overweight.
"It must come back to the portion size, moderation and whether it is well balanced or not. Simply compare nasi lemak with cereals: Cereals are a processed food and are sugar added and most of the nutrients are lost during the production process, while nasi lemak is prepared food and close to the ingredients' natural form," said Ms Nurazlina.
"But again, if we take nasi lemak or roti canai every day with sugary drinks such as teh tarik, it is not healthy too. Same goes for cereals."
Ms Goo also advised consumers to be more proactive in learning what they are actually consuming, instead of relying on a food's reputation as being healthy or not.
"Do not be misled by the assumption or perception that something is healthy because it is labelled as such," she said. MALAY MAIL ONLINE