Honeybees are hurting. What else can pollinate our food?
OMAK (Washington) — Mr Jim Freese grows apples, pears and cherries on 45 acres in the north-central part of this state, on sagebrush-studded land his grandfather bought in 1910.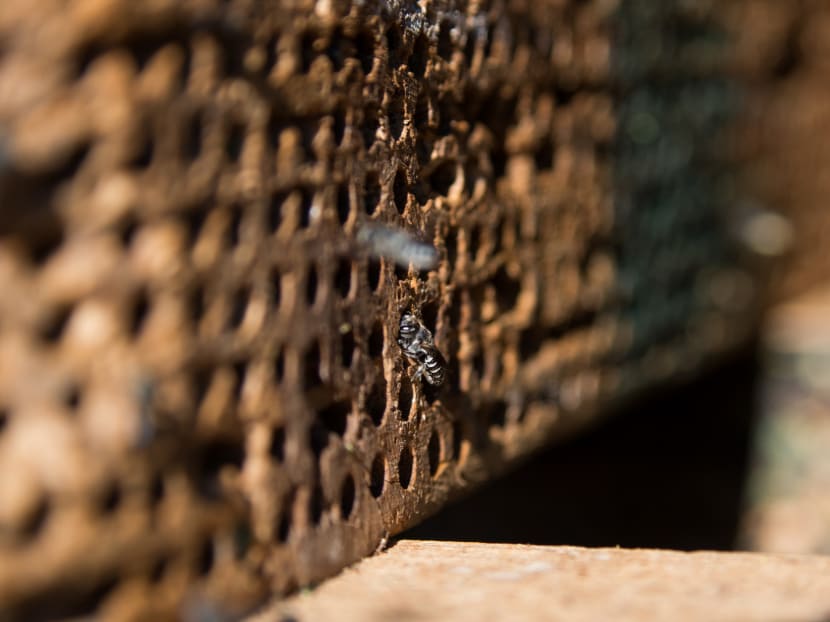 OMAK (Washington) — Mr Jim Freese grows apples, pears and cherries on 45 acres in the north-central part of this state, on sagebrush-studded land his grandfather bought in 1910.
Walking among trees laden with shiny red cherries, Mr Freese recalled that four years ago his trees were not producing well and his farm was financially struggling. Like many growers, he had been relying on rented honeybees to pollinate his cherry trees every spring, along with wild bees and other insects.
But that year, spring was expected to be cool. "Honeybees will just sit in the hive in cooler weather," Mr Freese said. He needed a way to ensure more flowers would develop into fruit than in the past.
At a horticulture meeting, he learned that blue orchard bees — a native species that does not make honey or live in hives — could be used to supplement honeybee pollination. Blue orchard bees will fly at cooler temperatures.
Mr Freese bought 12,000 cocoons and set them in his orchard to emerge when the trees bloomed. His investment paid off. "We doubled our cherry production from any previous record year," he said.
His wife, Ms Sandee Freese, said, "The little bees have been a godsend."
The Freese orchard is one of many commercial agricultural operations around the United States considering pollination with alternative bee species now that the honeybee is beset by problems.
The honeybee, Apis mellifera, has been the dominant pollinator for decades but now is threatened by pesticides, pathogens, parasites and poor nutrition. Last year, beekeepers in the United States lost an estimated 40 per cent of their managed honeybee colonies, according to the Bee Informed Partnership, a nonprofit that advises beekeepers.
Some years that number is even higher, according to Professor Mark Winston, a professor of apiculture at Simon Fraser University in British Columbia and author of several books on bees.
"Is there another agricultural enterprise that accepts an annual loss of 40-45 per cent of its animals?" he asked.
These losses drive up prices for farmers who rent honeybees to pollinate their crops, straining their businesses. Honeybee prices have nearly quadrupled since 2004, even as demand for pollination services is growing.
One-third of our food — including almonds, apples, blueberries, pears and tomatoes — must be pollinated in order to grow. Some scientists warn of risks to agricultural food supplies if there are not enough pollinators.
As honeybee prices continue to rise, farmers are turning to other types of bees — like the blue orchard bee, the bumblebee and alfalfa leafcutter — that have proved to be effective pollinators of some crops in certain settings.
"It's a question of having the right bee at the right time," said Dr Theresa Pitts-Singer, a research entomologist at the Department of Agriculture's Logan Bee Lab.
Dr Pitts-Singer and researchers across the country have been studying how so-called integrated crop pollination — or combinations of varying bee species — can help growers ensure reliable pollination.
The Integrated Crop Pollination Project, a public-private partnership funded by the Department of Agriculture, has explored habitat enhancement for wild bees, improving farm management practices, and the use of diverse or "alternative" bee species.
To explore the economics, Dr Pitts-Singer and other scientists conducted a cost-benefit analysis of using blue orchard bees and honeybees to pollinate almond trees in California.
The analysis, published recently in Journal of Economic Entomology, showed a potential tenfold increase in profit per acre with the introduction of blue orchard bees. Further study is needed to determine whether such an increase is possible in real-world settings, Dr Pitts-Singer said.
Scientists noted that farmers would earn greater profits if they saved blue orchard bee progeny from year to year rather than buying new cocoons every season. That requires careful maintenance of nesting materials and cocoons to prevent disease.
In the wild, blue orchard bees make nests in small cracks or holes. But in agricultural settings, artificial nesting blocks or paper tubes are used.
For Mr Jim Freese, adopting blue orchard bees has meant learning how to care for them. He makes sure a supply of mud is nearby for females to build nests with, cleans the nesting materials and cocoons each winter, and keeps cocoons in a refrigerator until early spring.
"If I double my cherries, I'll do the extra work," Mr Freese said.
Like honeybees, other bee species face risks from chemicals and pathogens. Farmers can support managed bees and attract wild pollinators by planting hedgerows and wildflowers and by reducing the use of pesticides, experts say.
Prof Rufus Isaacs, professor of entomology at Michigan State University and director of the ICP project, sums up bees' needs this way: "Provide a house and food, and don't kill them." THE NEW YORK TIMES