Hong Kong unrest drives mainland Chinese students to look to overseas universities
HONG KONG — Rosy expectations among prospective mainland Chinese students about Hong Kong's top universities have been shaken by images of anti-China slogans and the defaced national emblem.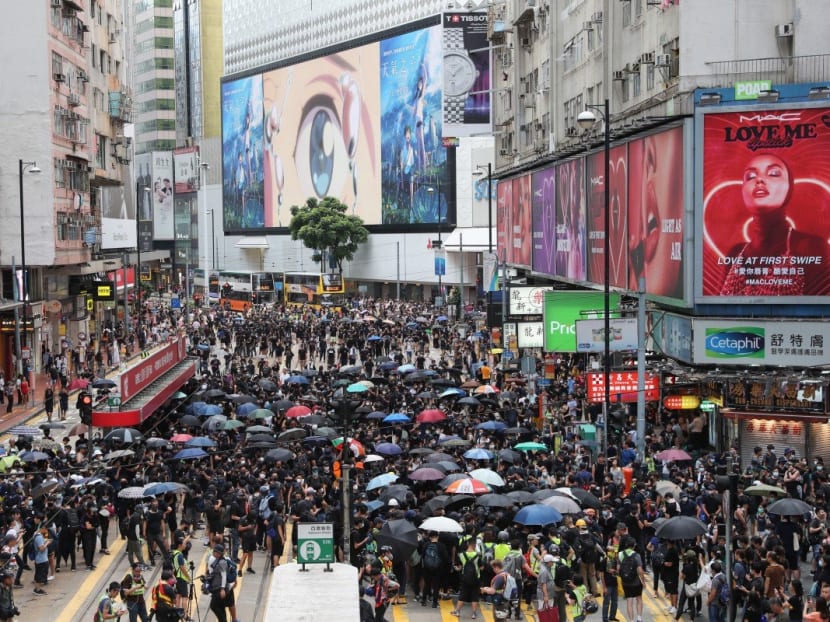 HONG KONG — Rosy expectations among prospective mainland Chinese students about Hong Kong's top universities have been shaken by images of anti-China slogans and the defaced national emblem.
Not everyone is worried enough to change their plans, but the continuing social unrest and economic decline are pushing some students to apply further afield.
Hong Kong's universities have been increasingly popular in recent years among mainland students pursuing Western-style postgraduate study — they are cheaper, closer to home and enjoy a good reputation among mainland employers.
After weeks of protests in Hong Kong, there are signs that some prospective students concerned about the escalating violence are looking further afield to English-speaking countries including Singapore, Australia and Britain.
For Ms Leah Li, a graduate from Shanghai's Fudan University, the latest clashes at Hong Kong's international airport — in which mainlanders, including a journalist, were reportedly abused by protesters — have been a tipping point.
Ms Li enrolled in a master's degree programme in finance which begins at Hong Kong University (HKU) on Aug 19 and is now considering dropping out of the course. She said the escalation in violence had made her realise that Chinese employers may regard degrees from Hong Kong universities less favourably in future.
For the sake of her career on the mainland, Ms Li said, she needed to "take a stand".
Read also
Gordon, a property agent who declined to give his full name, said his business — which focuses on renting out flats to HKU's mainland students — had seen a 20 per cent decline in clients, compared with the same time in previous years.
Two other agents confirmed a decline in rental clients around the HKU campus this year. Another property agent, serving students at City University and Baptist University, said she was asked about the protests every day by incoming students, but was seeing a similar number of clients as in previous years.
While they are denied the full picture as China's censors keep much of the news out, there are mixed reactions among young people thinking of coming to the city to continue their studies.
Ms Lorna Luo, a student at Renmin University's journalism school, said her intention to apply for a place at Hong Kong University and Chinese University next year was not affected by the ongoing unrest.
Ms Spring Luo and Ms Yennefer Ye, two final year students from Guangdong and Hainan provinces, also said they would be going ahead with their applications for next year's intake in Hong Kong for their postgraduate studies.
Read also
Both Ms Spring Luo and Ms Lorna Luo said their VPN services — a common way for Chinese internet users to bypass government censors — had broken down recently, preventing them from accessing media outside the mainland.
Mainland media reports did not explain the cause and demands of the protests but described them as "violence" that undermined the "one country, two systems" principle, Ms Lorna Luo said. "This is selective reporting — it puts the blame on 'foreign intervention' rather than focusing on the issue itself."
Ms Spring Luo said that, while she was not put off studying in Hong Kong, she would not live in the city long term as it was "too fast-paced, too crowded".
"I wouldn't take part in the demonstrations and protests myself. I would rather be a bystander," she said, adding that she did support the demand to withdraw extradition bill as it would undermine Hong Kong's uniqueness and freedom of speech.
Read also
Ms Chen Yuqi, a final year student studying information technology in Beijing, said all she knew was that some pro-independence activists were "making trouble" in Hong Kong.
While she found the protests "really silly" and "intolerable", Ms Chen said the limited space in Hong Kong was the main reason preventing her from staying in the city after graduation.
Her parents had only given their approval for Ms Chen to apply for one year of postgraduate study, rather than the four-year programme, because of the "political mess" in Hong Kong, and told her she must not "get involved in these issues", she said.
While the "scary" attacks against the police in Hong Kong continue, Ms Chen said she was now leaning towards Singapore, a city with Asia's top universities and a relatively low tuition fee among English-speaking countries.
Read also
A final year student studying English in Beijing, who declined to be named, said she had been considering universities in both Hong Kong and Britain, but had decided to make a British university her first choice as a result of the scenes of chaos and violence at Hong Kong's airport.
"The situation has lost control," she said, adding that she had seen increased hatred and division between citizens from the mainland and Hong Kong.
An education agency providing consulting and application services for mainland students found 10 to 20 per cent of prospective students were worried about their safety in Hong Kong, but most decided to proceed with their application, according to its leader, surnamed Li, who is a Hongkonger.
The coverage by mainland media of Hong Kong protesters breaking into the Legislative Council on July 1 had affected attitudes among prospective students, he said, but most of this year's incoming cohort had accepted offers from Hong Kong universities before the protests came under the spotlight of Chinese state media.
"What is happening in Hong Kong cannot affect the tendency of applications, but the degree of violence shown by mainland media would have an effect," Mr Li said. Coverage of the protests by mainland media depicted the protests as violent, pro-independence actions and most students recognised that the unrest was related to "independence" and "revolution", he said.
Violent scenes on television and Weibo, China's Twitter-like social media platform, did make mainland students worry about their personal safety. In contrast, Mr Li said, the attack in Yuen Long — which saw indiscriminate mob violence against protesters and ordinary travellers — was described as just behaviour by mainland media and patriotic social media influencers.
Read also
It is not only the prospect of violence on the streets that is causing concern among mainland students. There is also the worry that they will encounter potential ideological conflicts with classmates and teachers — as happened in late July at HKU.
A number of mainland students had tried to remove posters put up around campus by local students accusing the university's mainland-born president Zhang Xiang of siding with Beijing. An article entitled "What happened to HKU", widely circulated on Chinese social media platform WeChat, included an embedded video of a student, stack of torn papers in hand, being confronted and cursed as a "mainland dog" by a group of Hong Kong students.
A second-year student from Suzhou in Jiangsu province, who declined to be named, said she would not be applying to Hong Kong universities any more. "It's 2019 now. I simply feel it doesn't make sense that I would still be discriminated against in my own country," she said.
Ms Olivia Wang, an English Literature student based in Hunan province, who had planned to apply for next year's postgraduate study, said: "Even though the current turmoil will quiet down, if my future local schoolmates and professors still have a tendency to advocate Hong Kong independence and overly radical behaviour, then my safety cannot be guaranteed."
Ms Wang said she would consider universities in Britain and Australia — options with more study choices and fewer safety concerns — if the clashes in Hong Kong continued, a decision supported by her parents.
"I need a signal from not only the government, but also the residents, that Hong Kong has returned to normal," she said. SOUTH CHINA MORNING POST