Japan moves to accept more foreign workers, but hurdles remain
TOKYO — Japan's move toward opening its doors to more foreign workers is widely seen as a must to better cope with an expected shrinkage in the working population.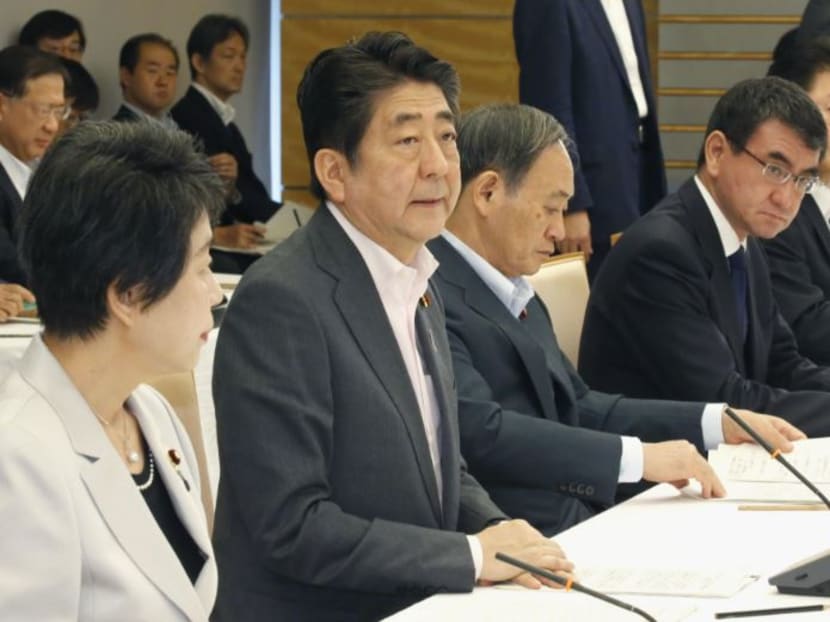 TOKYO — Japan's move toward opening its doors to more foreign workers is widely seen as a must to better cope with an expected shrinkage in the working population.
Potentially broadening the scope of non-Japanese workers accepted into a country that for years has kept a firm grip on immigration would also mark a major policy change.
But the challenges facing an aging Japan are manifold as observers call for a clear-cut, rather than makeshift, approach, and stress the need to create a society easier for foreign nationals to live and work in.
"It's a natural turn of events" to accept more foreign workers, said Mr Yoshimitsu Kobayashi, chairman of the Japan Association of Corporate Executives.
"Given the situation Japan is in and its future, we've already entered a phase in which we need to seek help not just from highly skilled workers," he said at a press conference earlier this week.
Prime Minister Shinzo Abe has instructed Cabinet ministers to make preparations for Japan to accept more foreign workers by offering a new residential status starting next April.
The plan being considered would set a five-year limit on residence under the new status, a point the government uses to distinguish the step from encouraging immigration.
That may help conservatives, a major support base for Mr Abe, but observers say the country needs to have a serious immigration debate for its future.
The country had a record 1.28 million foreign workers as of October last year. Chinese workers made up the largest portion, at nearly 30 per cent, ahead of workers from Vietnam, the Philippines, and Brazil, according to government data.
Currently, Japan offers limited paths to working legally.
Foreign nationals are given residential status to work in a range of fields such as education, business management, law and health care.
Those coming under a 1993 programme designed to transfer technical skills can also work in the country but critics see it as encouraging simple and cheap labor.
The government "should have created a system to accept foreign workers seriously in the first place. In this sense, (the envisaged introduction of a new residential status) is a step forward," said Mr Shoichi Ibusuki, a lawyer well-versed in foreign labour issues.
But he also raises questions about the plan to impose a five-year cap in principle on stays and to bar foreign workers from bringing in family members.
"It's unacceptable from a humanitarian perspective (for foreign workers) to live far from their family members for five years," Mr Ibusuki said.
The potential policy change may be long overdue.
Japan can spare no time amid increased tightness in the labour market. In 2017, job availability rose to its highest in 44 years, with 150 jobs available for every 100 job seekers.
Still, one senior labor ministry official expressed concern about the practice of paying unfairly low wages to foreign workers.
"Not only would it not benefit the foreign workers themselves, but it could also take jobs away from Japanese workers," the official said.
For companies, particularly small and mid-sized companies being forced to hunt for workers, the prospect of Japan paving the way for more foreign labour is a positive development.
Mr Takashi Yamauchi, who heads the Japan Federation of Construction Contractors, hailed the government move as "timely" as the construction sector is expected to see increased demand in the run-up to the 2020 Tokyo Olympics and Paralympics.
The number of foreign workers has already been rising in recent years and the uptrend will likely continue if the government's new plan goes through.
At convenience store operator FamilyMart Co, for instance, non-Japanese workers account for some 5 per cent of its roughly 200,000 workers.
But sectoral gaps have yet to be bridged. Sectors such as nursing care that are in desperate need of labour have faced difficulty in securing workers.
With the rapid aging of Japan's population appearing to pick up pace, the government has increased the number of options for foreign nationals to land nursing care jobs but one hurdle for them to become eligible is often the language.
Labour shortages could also sap economic growth over the longer term — bad news for Mr Abe, who has been trying to revive the world's third-largest economy with his "Abenomics" policy mix.
The government aims to realise a society in which both Japanese and non-Japanese people can coexist and plans to draw up measures to help foreign nationals learn Japanese and find housing.
As of April this year, 46 per cent of local governments had crafted guidelines or plans designed for foreign nationals, with action depending on the percentage of non-Japanese residents.
Meanwhile, proposals have been floated to reorganise the Immigration Bureau and create a Justice Ministry-affiliated agency to handle low-skilled foreign nationals.
"It should go beyond simply enforcing immigration controls. I hope it will play a role in assisting foreign workers living in Japan in a comprehensive manner," said Mr Toshihiro Menju, a senior official at the Japan Centre for International Exchange. KYODO NEWS