John Bolton: Hawk among hawks eager to confront foreign adversaries
WASHINGTON — Mr John Bolton is hardly known for sugarcoating his views.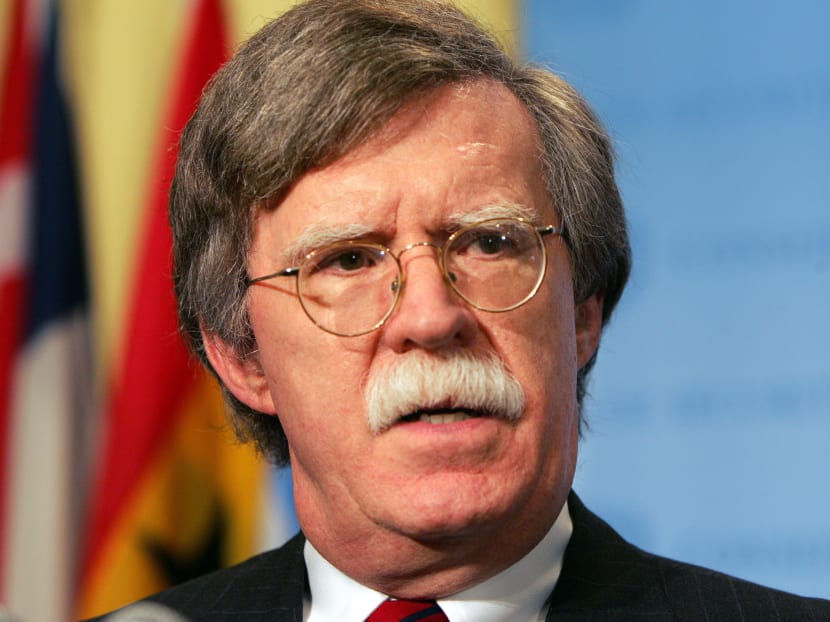 WASHINGTON — Mr John Bolton is hardly known for sugarcoating his views.
He once derided the United Nations (UN) by citing its 38-story headquarters in New York. "If it lost 10 stories," he said, "it wouldn't make a bit of difference."
As it happened, Mr Bolton went on to serve as the United States ambassador to the UN, perhaps the most undiplomatic of diplomats. But if US President Donald Trump wanted a national security adviser who would match his blunt, hard-edge, confrontational approach to the world, then Mr Bolton fits the bill.
With his trademark bushy gray mustache and his take-no-prisoners style, Mr Bolton positioned himself to the right even of the foreign policy veterans who emerged from President George W Bush's administration, a hawk among hawks, a hardliner who thrills conservatives and chills moderates and liberals.
From his perch on Fox News, he has impressed Mr Trump with a muscular vision of US power and a dark assessment of America's adversaries.
When he takes over as Mr Trump's third national security adviser in 14 months, Mr Bolton will almost surely encourage Mr Trump's instincts against diplomatic agreements that both consider weak and unwise.
He shares the president's derisive opinion of the Iran nuclear deal and will presumably prod him to scrap it when a May deadline arrives.
He likewise takes a dim view of international agreements like the Paris climate change accord, from which Mr Trump announced last year that he would withdraw the US.
But Mr Bolton is not always in step with a president who sometimes veers back and forth between threatening "fire and fury" and eagerly seeking talks with foreign leaders.
Mr Bolton advocates pre-emptive military action against North Korea and scorns diplomacy of the sort Mr Trump has embarked on with Mr Kim Jong-un.
He promotes more punitive sanctions against Russia rather than the kind of hand-holding flattery of President Vladimir Putin that Mr Trump practiced even this week. He supported the Iraq War, which Mr Trump calls a catastrophic mistake.
In an interview on Fox on Thursday evening (March 23), Mr Bolton said he recognised that his role would be to play the honest broker bringing different views to the president, and that it would be up to Mr Trump to make the decisions.
But he made clear that he also planned to be Mr Trump's enforcer. When the president makes a decision, he said, part of his job will be "making sure the bureaucracies get the decision and implement it."
Mr Bolton criticised the frequent leaks out of Mr Trump's national security team, saying that a president cannot conduct diplomacy "if some munchkin in the White House" is leaking information to the press. "Leaking of that sort is simply unacceptable," he said.
Mr Bolton's appointment elicited mixed reviews.
"Selecting John Bolton as national security adviser is good news for America's allies and bad news for America's enemies," said Senator Lindsey Graham. "He has a firm understanding of the threats we face from North Korea, Iran and radical Islam."
Senator Edward Markey however, said Mr Bolton could lead the country to war. "Bolton played a key role in politicizing the intel that misled us into the Iraq War," he wrote on Twitter. "We cannot let this extreme war hawk blunder us into another terrible conflict."
At one point, Mr Bolton toyed with running for president himself, only to back off.
Instead, he created an organisation to support like-minded candidates. His super PAC was one of the earliest customers of Cambridge Analytica, which has found itself confronting a deepening crisis after reports this past weekend that the firm had harvested the data from more than 50 million Facebook profiles in its bid to develop techniques for predicting the behaviour of individual US voters.
The firm was founded with a US$15 million (S$19.73 million) investment from Mr Robert Mercer, the wealthy Republican donor who has backed both Mr Bolton's PAC and Mr Trump.
Cambridge's so-called psychographic modeling techniques, which were built in part with the data harvested from Facebook, underpinned its work for the Trump campaign in 2016, setting off a furious debate about the merits of the firm's methods. The same techniques were also the focus of its work for Mr Bolton's PAC.
A native of Baltimore, Mr Bolton, 69, received undergraduate and law degrees from Yale University.
Between stints in private practice, he took a series of increasingly important jobs in government, starting at the US Agency for International Development under President Ronald Reagan and later as an assistant attorney-general.
After the 2000 election, Mr Bolton joined the Republican legal team in Florida during the recount battle between Mr Bush and Vice-President Al Gore.
After the Supreme Court halted the recount, resulting in Mr Bush's victory, Mr Dick Cheney, the new vice-president, persuaded the incoming secretary of state, Mr Colin Powell, to make Mr Bolton an under-secretary in charge of arms control.
Mr Bush later nominated Mr Bolton for the UN post, but his confirmation was blocked in the Senate after key Republicans opposed him.
Mr Bush then gave him a recess appointment instead. He clashed regularly with Ms Condoleezza Rice, Mr Powell's successor as secretary of state, and eventually broke with Mr Bush over what he saw as weak-kneed policies on North Korea and Iran.
After Mr Trump's election in 2016, Ms Rice and other Bush administration veterans like former Defence Secretary Robert Gates and Mr Stephen Hadley, the former national security adviser, privately warned against an appointment for Mr Bolton.
Mr Trump considered Mr Bolton for several posts but ultimately backed away each time.
In the interim, Mr Bolton has repeatedly praised Mr Trump on television and in his Wall Street Journal columns even when the two disagree.
In a Journal column, he made the case for a pre-emptive military strike against North Korea.
"Given the gaps in US intelligence about North Korea, we should not wait until the very last minute," he wrote. "That would risk striking after the North has deliverable nuclear weapons, a much more dangerous situation."
He likewise went on Fox News to disdain South Korea's willingness to negotiate with North Korea. "They're like putty in North Korea's hands," he said. "As the great international relations theorist P T Barnum put it, there's a sucker born every minute."
Two days later, Mr Trump accepted an invitation to meet with North Korea's Mr Kim.
As he prepared to take on his new assignment however, Mr Bolton was careful to minimise any differences with Mr Trump.
Asked on Fox on Thursday evening about the president's decision to congratulate Mr Putin on winning an election that most of the world considered a sham, Mr Bolton said, "I don't consider it a significant point one way or the other," adding, "it's a matter of being polite." THE NEW YORK TIMES