Malaysia GE2022: Fisherman's son going up against Anwar Ibrahim says political inexperience a plus for voters
IPOH — "I'm not a politician. I'm only an entrepreneur, just like you," said Mr Abdul Rahim Tahir to a middle-aged lady while he was buying some roasted corn from her pasar malam stall.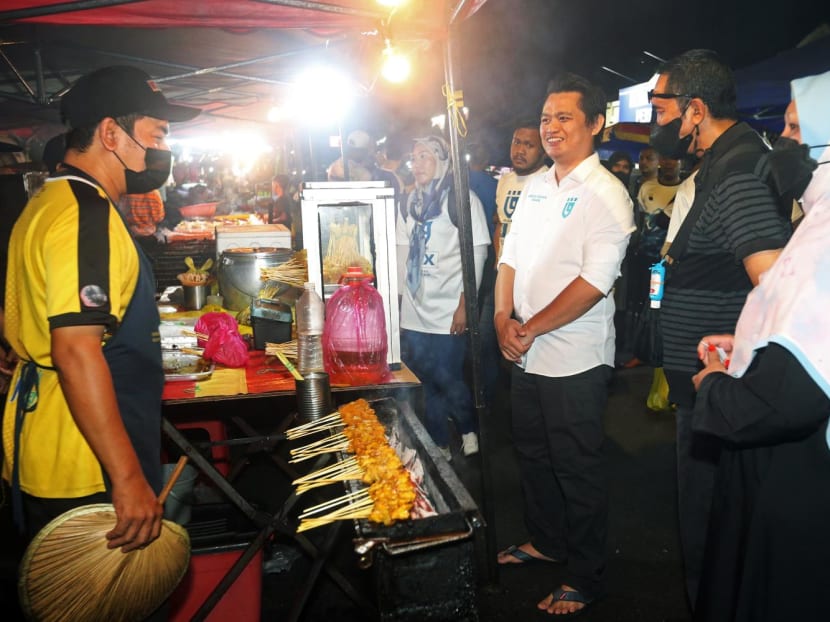 Mr Abdul Rahim Tahir is an underdog in a four-cornered fight for the parliamentary seat of Tambun, Perak
Rather than being deterred, he intends to capitalise on his political inexperience to lure more voters, saying he offers them someone with a clean slate to vote for
He told TODAY that he plans to continue with his charity work for needy constituents should he win the upcoming Malaysian General Election
IPOH — "I'm not a politician. I'm only an entrepreneur, just like you," said Mr Abdul Rahim Tahir to a middle-aged lady while he was buying some roasted corn from her pasar malam (night market) stall.
"But if you're unsure of who to vote for on the 19th (November), maybe you can consider voting for me," he added, before resuming his walkabout at the night market tucked in a small neighbourhood in east Perak.
All things considered, the Parti Pejuang Tanah Air (Pejuang) candidate for the parliamentary seat of Tambun, Perak in the 15th Malaysian General Elections is an underdog.
The 34-year-old son of a fisherman is standing for elections for the first time. Yet, he is going up against prominent leaders from the three major coalitions, including Pakatan Harapan (PH) chairman and prime ministerial hopeful Anwar Ibrahim.
Also in the race are incumbent Ahmad Faizal Azumu, deputy president of Parti Pribumi Bersatu Malaysia (Bersatu) of Perikatan Nasional coalition, and United Malays National Organisation (Umno)'s division chief for Perak, Aminnudin Md Hanifiah.
Mr Abdul Rahim's party is barely four months old, and the coalition of which it is a component, Gerakan Tanah Air (GTA), has yet to even receive formal approval from the Registrar of Societies.
When asked by TODAY during a sit down interview on nomination day (Nov 5) about going up against seasoned politicians, Mr Abdul Rahim said that being a fresh face was his biggest strength. 
Running with no political baggage means that he could offer himself "as a new face whom voters will not feel conflicted to mark a cross next to", he said.
In fact he sees it as a big selling point, and his campaign hashtags include #BukanOrangPolitik (Not a Politician).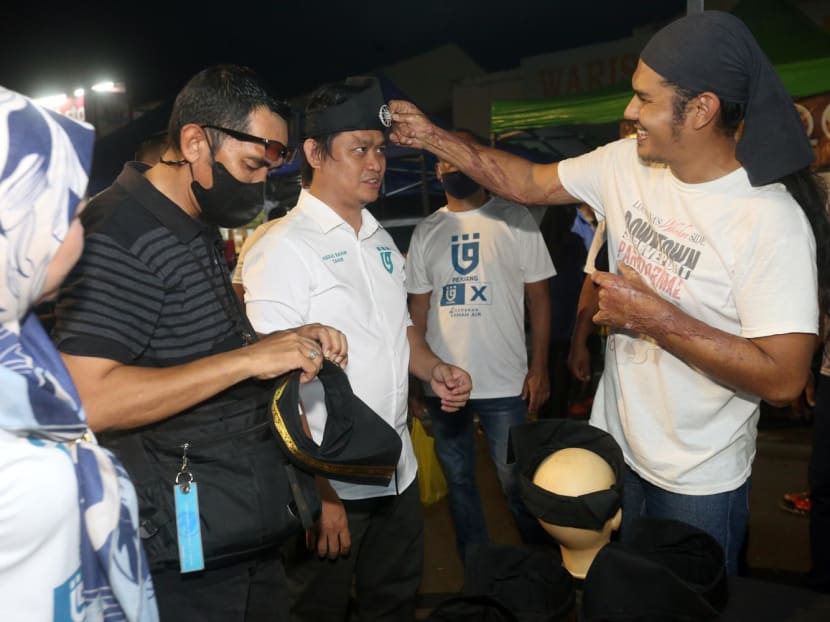 PANDEMIC SPARKED POLITICAL ASPIRATIONS 
Mr Abdul Rahim said he was inspired to join politics when Malaysia's Covid-19 lockdown was implemented in 2020, which saw many citizens fall onto hard times.
Seeing that "very little" help was handed out, Mr Abdul Rahim said he decided to take action and went out two to three times a week distributing food packs and essentials to the needy across various parts of Perak.
"At that juncture, I thought it was high time for the government to include more non-politicians, so that they can be closer to the people," said the founder of a local charity program named Imika Charity. 
And he was drawn to Pejuang as he said other parties were not as open to accepting candidates who had no political experience, he said.
OWED 'AH LONG' HALF A MILLION
Even as he conveys the message that he is an "orang rakyat", or a commoner, Mr Abdul Rahim is in fact a wealthy businessman.
His biodata that was handed out to journalists states that he is the chief executive of Imika Empire, "one of the biggest bumiputera-owned firms in Malaysia selling computers", with about 30 outlets all over the country.
The interview with TODAY before he went for his night market walkabout was held in his sprawling, two-storey landed house.
But when asked how he expects voters to relate to him given his wealth, Mr Abdul Rahim said that his current success is the culmination of a long and difficult journey that began in 2010 when he started his own company.
"Frankly, I was ever under heavy financial debt. I have owed Ah Long (loan shark), for example, almost RM500,000 (S$147,590)," he said.
He also noted that he comes from humble roots, as the son of a fisherman born in Pantai Remis, a fishing village in Perak.
"I don't want to say I was poor, as it might make my parents feel slighted. Because it wasn't that they weren't working, they had in fact worked really hard," he said. But the house he grew up in had no television, nor did the family have its own car or motorcycle.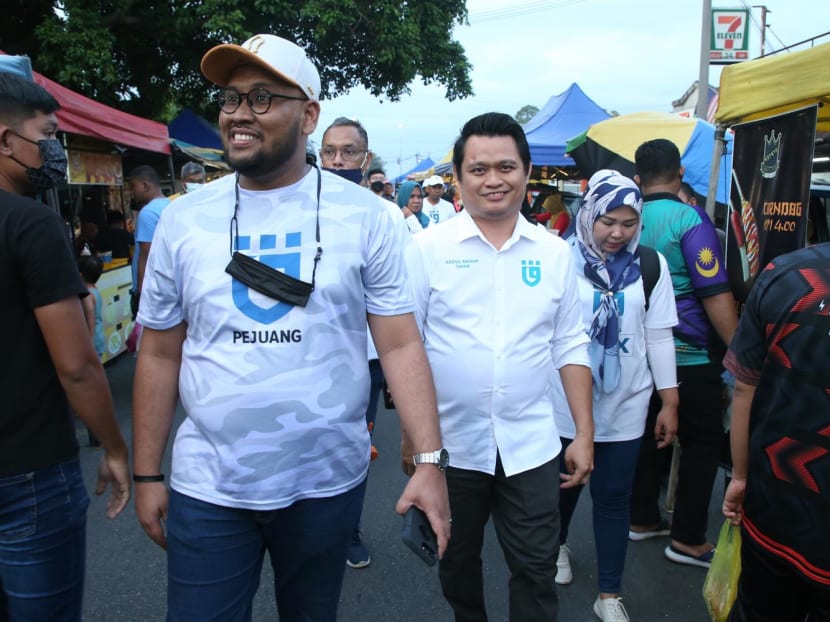 VISION FOR TAMBUN: HELPING THE POOR
Indeed, Mr Abdul Rahim said serving the community will continue to be his main agenda should he manage to pull an upset over his competition at the polls.
He said he has not much to offer to the self-sufficient electorates whose main asks are better roads or more development for the country.
"But what I can promise is, we will continue helping the poor and those in need," he said.
Earlier in the day after the official nominations, he had told the media that another focus of his campaign was to encourage the youth to come out and vote as he found that they tend to have less interest to do so.
He told TODAY that he also found scepticism and apathy towards politics among the older voters, especially those who were disillusioned after not getting help from the government.
"This mindset is something we need to change. The more you dislike, the more you must go out and cast a vote," said Mr Abdul Rahim.
He said he believed that without an alternative choice like him, about half the registered voters would not go to the polls as they "don't know anymore who to vote for".
"But if I campaign on encouraging people to come out and vote, regardless of whom they intend to vote for, the chances of me winning will be very high," he said. "Or at the very least, I won't lose my deposit."
Visit our Malaysia Elections 2022 page for the latest coverage, updates from TODAY journalists on the ground and more.