Malaysian PM announces pay rise, other goodies for civil servants and pensioners
PUTRAJAYA — Civil servants will get higher salaries effective from July 1, Malaysian Prime Minister Najib Razak announced on Wednesday (April 4).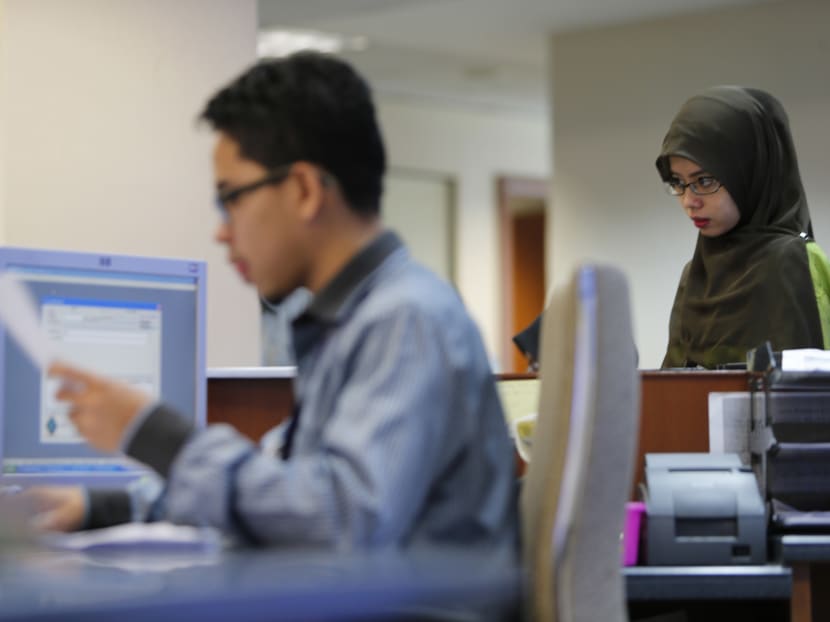 PUTRAJAYA —  Prime Minister Najib Razak on Wednesday promised 1.46 billion ringgit ($$490 million) in salary hikes to Malaysia's civil servants, a key vote bank for the ruling coalition in a looming general election.
Malaysia's 1.6 million civil servants, most of them ethnic Malays, have traditionally been supporters of the ruling Barisan Nasional coalition. However, the rising cost of living has been a concern for many, with some ruling party officials warning that they could turn against the party if the issue is not addressed.
Mr Najib, who is expected to announce dissolve Parliament this week to call for snap elections, needs to consolidate support for his coalition to stave off an unprecedented challenge from his former mentor turned opposition leader, Mahathir Mohamad.
"The government has agreed to increase the salaries amounting to one service year for all 1.6 million civil servants ... with an additional 1.46 billion ringgit from July 1," Mr Najib told a gathering of civil servants in the administrative capital, Putrajaya.
"This was in recognition of your loyalty, support and dedication towards the Government."
Mr Najib promised a one-time cash payment of 1,500 ringgit in October for civil servants and 750 ringgit for government retirees as part of the government's 2018 budget.
Civil servants saw a salary hike between 7 and 13 percent in 2012 ahead of elections the following year.
Mr Najib faces a tough contest in the upcoming polls amid a multi-billion dollar scandal at state fund 1MDB. Najib and the fund have denied any wrongdoing. Parliament approved a plan last week to redraw electoral boundaries, a move that the opposition and critics say will help Mr Najib's coalition retain power.
The prime minister also told government servants on Wednesday that non-Muslim staff would be allowed to take seven days of unrecorded leave for religious events yearly while there would be a special haj quota for retired Muslim staff.
"In the 2018 Budget, the government approved unrecorded leave of seven days for umrah, for Muslim civil servants," he said.
"Therefore, the government has agreed to extend unrecorded leave for non-Muslim staff, to carry out their respective religious activities, subject to a maximum of seven days, throughout their period of service. It takes effect beginning January 2018.
"At the same time, the government would also continue to protect the welfare of retirees.
"To make sure the government retirees are able to perform their haj beginning 2018 and beyond, I have therefore agreed to fix a quota, which would be announced later, after the government obtains the number of quotas allocated for Malaysia, by the Saudi Arabia government," he added.
"Unlike the Opposition, which continuously runs down public officers and plans to reduce the number of those in service, be rest assured that the Government of the day is always committed to looking after your welfare," said the Prime Minister. AGENCIES