For many disabled people, a battle to stay in Australia or New Zealand
MELBOURNE — For eight-year-old Shaffan Muhammad Ghulam to leave Australia would most likely be a death sentence, his doctors say.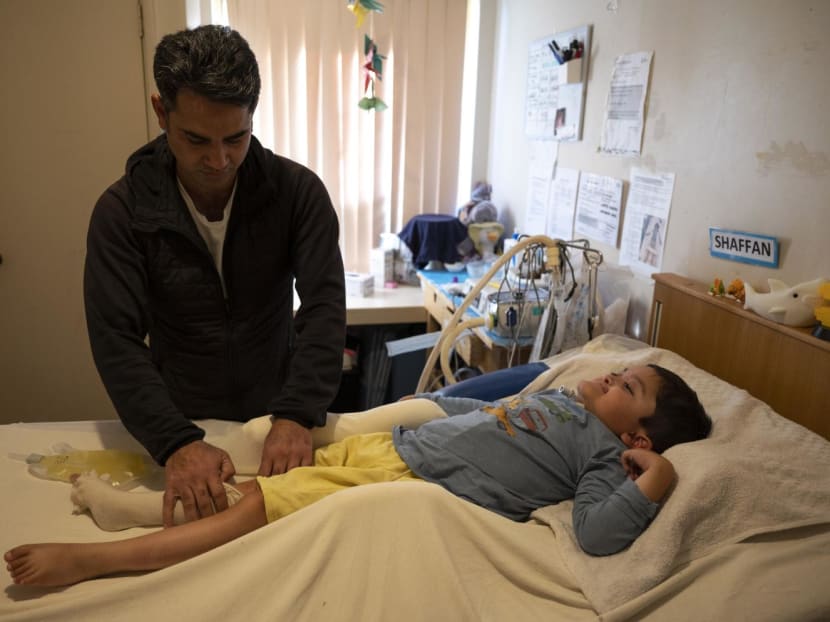 MELBOURNE — For eight-year-old Shaffan Muhammad Ghulam to leave Australia would most likely be a death sentence, his doctors say.
Born to Pakistani parents in Perth, Shaffan has a rare genetic condition that has damaged his spinal cord and left him paralysed. Every night, and whenever he is sick, Shaffan uses a ventilator to help him breathe. To travel on a plane, with its low air pressure, might fatally impede his breathing.
Yet, since he was less than one year old, Shaffan's parents have fought to keep the family in Australia, which suddenly considered them ineligible for long-term residency because the boy's medical treatment was seen as a burden to the health care system.
"This is something which is not in our control," said Mr Qasim Butt, Shaffan's father. "This is something that is not anyone's fault."
Despite its reputation as a world leader in health care, Australia, along with neighbouring New Zealand, is one of very few countries to routinely reject potential migrants on the basis of their health care needs.
People seeking long-term visas for either country must undergo rigorous medical screening. Those who may pose a significant cost to the taxpayer over a period of five years — measured at about US$45,000 (S$63,700) in New Zealand and about US$32,000 in Australia — or who have medical conditions considered especially costly have their visa applications denied.
Having private health insurance makes no difference, and being born in either country does not confer automatic citizenship.
Across both countries, more than 1,600 people are affected by the policies each year. People have been turned away with conditions as varied as autism, obesity, intellectual disability, lupus and multiple sclerosis. Until October 2021, New Zealand imposed a blanket ban on potential immigrants who had tested positive for HIV.
"Our law by design tells a whole group of people that they don't have proper human rights protections and guarantees," said Mr Ricardo Menéndez March, a Green Party lawmaker in New Zealand who has sought to overturn the policy.
The governments of Australia and New Zealand have defended their policies on the grounds that they protect public health, preserve citizens' access to scarce medical resources and help limit government spending.
"The current migration health framework is pragmatic and balances compassion and cost containment," a representative for the Australian government said in a statement.
Most other countries with public health care systems take a different approach. Countries in the European Union are legally obligated to provide adequate health care for migrants with disabilities. In 2018, Canada overhauled a similar policy after the government found that the potential costs constituted just 0.1 per cent of all public health spending. Australia's and New Zealand's governments did not respond to questions on the estimated cost savings of their policies.
In Australia, if one person in a family falls short of the health requirement, all immediate family members are denied visas. In New Zealand, everyone except the person without the "acceptable standard of health" may receive a residence visa, effectively cleaving families in two.
That is the situation for Mr Allan and Ms Lorigail Alfonzo and their 12-year-old daughter, Arianna, who has autism. Although the parents, from the Philippines, have been granted permanent residency, Arianna has not. So, for six years, Mr Allan Alfonzo has lived alone in Auckland, New Zealand, where he works as a carpet layer, while his wife and daughter remain in the Philippines.
"Our family is being separated by this policy, and it hurts," Ms Lorigail Alfonzo said.
The couple has appealed the government's decision, hoping Arianna will get an exception. But the appeals process is byzantine: It takes months or even years, costs tens of thousands of dollars in medical and legal fees, and leaves families in limbo, adding to their financial distress.
In New Zealand, where a series of cases has brought public scrutiny to the issue, Prime Minister Jacinda Ardern justified the policy as necessary for maintaining a fragile public health system.
"When you individualise and talk about individual stories, those stories are hard and very difficult," Ms Ardern told Newshub, a New Zealand news outlet, in February. But, she said, "We do have a universal public health system. Once you are here on long-term visas, you receive that free care, so we need to make sure we can continue to provide that free care, well, to everyone."
Migrants are also sometimes denied visas over the potential cost of other kinds of state-sponsored care, including special education. Ms Ignacia Vasquez, 19, has an intellectual disability and can say only a few words but is physically healthy. "She's completely lovely," said her mother, Ms Carolina. "Sometimes people don't even know she has a problem."
When Ms Carolina Vasquez and her husband migrated to New Zealand from Chile in 2015, their daughter was denied a visa on the grounds of the costs related to her disability and remained in Chile with family.
She was eventually granted a student visa in 2019, when the associate minister of immigration intervened. But that visa has an expiration date of just a few years, and the family has been fighting ever since for her to be able to stay on, submitting an avalanche of reports from medical specialists at their own expense.
A spokesperson for the Australian government said the cost threshold for each person's medical care was reviewed every two years. The New Zealand government recently almost doubled its cost threshold, but it did not adjust the list of medical conditions that would result in a visa denial.
Mr Butt had spent eight years in uncertainty before, earlier this year, he received a phone call summoning him and his youngest daughter to the Perth immigration office. There, he learned that a government minister had intervened and the entire family could stay in Australia permanently.
At home, he and his wife held each other and cried tears of relief and gratitude.
"The things are clear, in front of my eyes, now," Mr Butt said. "I can begin planning for my future."
This article originally appeared in The New York Times.