This might not be a Cold War, but it feels like one
NEW YORK — During a trip to China more than a decade ago as vice president, Mr Joe Biden gave a speech celebrating the United States as the wealthiest country ever. The United States, he said, was two and a half times as rich as his host nation.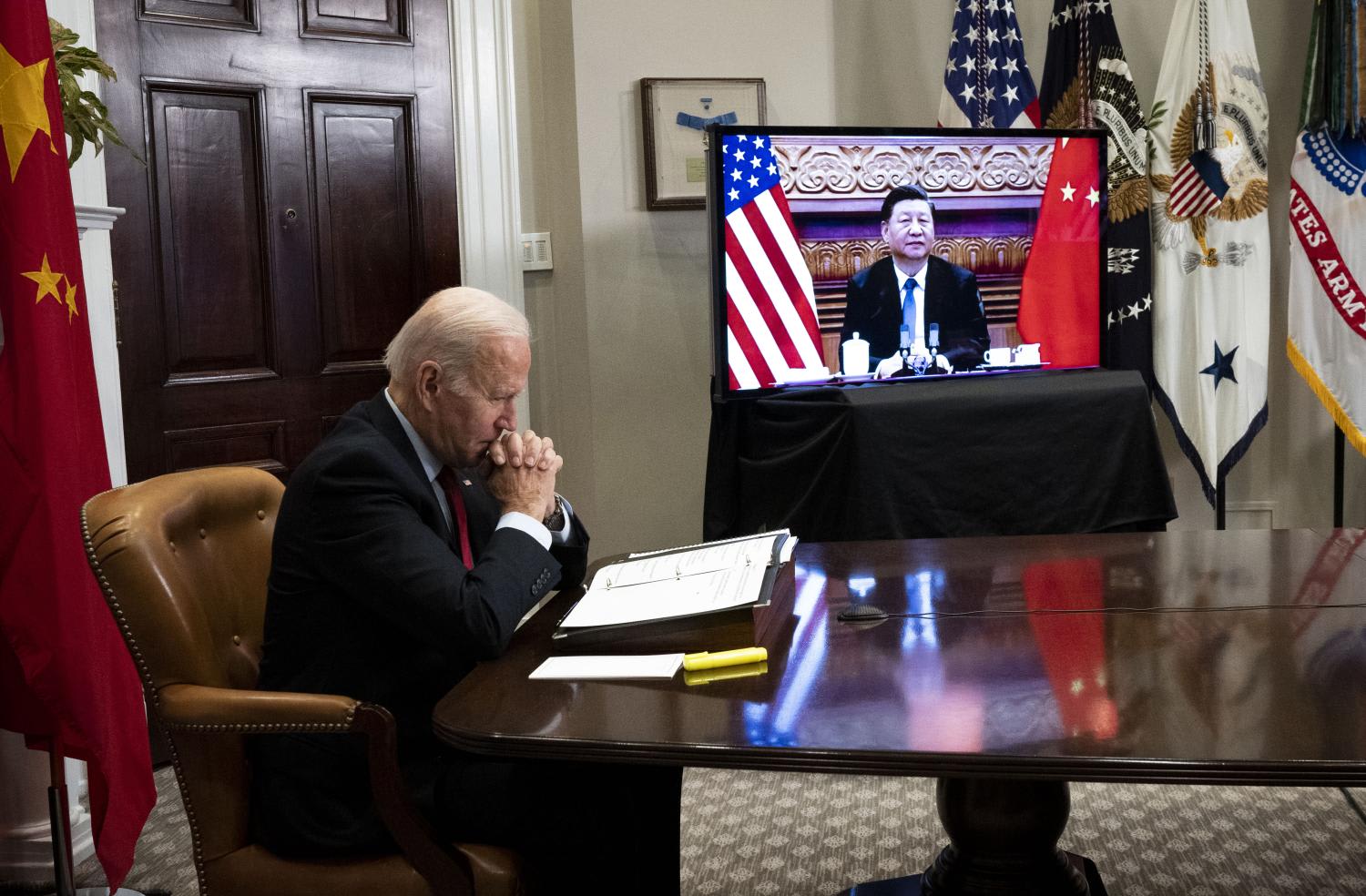 NEW YORK — During a trip to China more than a decade ago as vice president, Mr Joe Biden gave a speech celebrating the United States as the wealthiest country ever. The United States, he said, was two and a half times as rich as his host nation.
That afternoon, when Mr Biden met his counterpart, Mr Xi Jinping, for an informal stroll, security dominated the discussion. Mr Xi complained that Washington was sending surveillance planes to spy on China, and Mr Biden replied that the flights would continue, he would later tell American journalists.
Back then, such differences looked relatively manageable, not least because of regular meetings between the two nations' officials. Now, that wealth gap has narrowed, the security challenges are more perilous and the communication is minimal.
As their country's leaders, Mr Biden and Mr Xi are increasingly on a collision course that risks bringing about a new version of the Cold War, diplomats and analysts say. Military, economic and ideological tensions reverberate unchecked between the two powers. American allies in the Asia Pacific region fear being squeezed by Beijing, as China builds out its nuclear arsenal and competes for semiconductors.
And China, seeking to create an alliance of autocracies, is increasingly finding common purpose with Russia, with Xi and his Russian counterpart, Mr Vladimir Putin, set to meet in person later this week. Despite Russia's setbacks in its war with Ukraine over the past week, Beijing isn't likely to change its approach to the relationship. It needs a strong partner in Moscow to push back against what it sees as US hegemony.
Meanwhile, Beijing and Washington are moving farther apart. After House Speaker Nancy Pelosi visited Taiwan in a show of support for the self-ruled democracy that China claims as its own, Beijing canceled three rounds of military talks and postponed five others on climate and international crime. The military discussions, while sporadic and often formulaic, were still considered important in an increasingly risky environment, with American and Chinese ships often navigating perilously close to each other in the waters off China.
"Around us, a storm is gathering," Prime Minister Lee Hsien Loong of Singapore said in a speech last month. "US-China relations are worsening, with intractable issues, deep suspicions and limited engagement between them. This is unlikely to improve anytime soon."
Mr Lee said he was concerned that "miscalculations and mistakes" could easily make things worse.
Not that long ago, the climate was at least modestly better.
After Mr Xi became China's top leader, he was quickly welcomed by President Barack Obama at a California estate. The Chinese leader visited four US cities in 2015, and Mr Obama went to China. Their deputies convened regularly in each other's capitals, and large delegations of top officials held annual forums.
There were even suggestions that too much talk was producing too little action. At the annual Strategic and Economic Dialogue in Beijing in 2015, Secretary of State John Kerry spent an afternoon checking out an exhibit on African wildlife trafficking. That was during a period when China was building artificial islands in the South China Sea, about which there was little discussion.
Mr Biden and Mr Xi have spoken only five times by phone since early 2021. That scarcity of contact makes the frictions more dangerous, diplomats and analysts say.
"The absence of a sustained private dialogue favours mounting tension," said Dr Charles Kupchan, a member of the National Security Council in the Obama administration and a professor of international relations at Georgetown University. "Disagreements fester and mistrust builds."
In a recent call, the two leaders agreed to fix a date for a face-to-face meeting, which seems likely to happen in November at a gathering of G-20 leaders in Indonesia. Both are confirmed participants, along with Mr Putin.
If it happens, it will be their first in-person talks since Mr Biden entered the White House. Mr Xi met with Mr Putin earlier this year in Beijing and is expected to sit down with him again this week in Uzbekistan, part of a broader trip that would be the Chinese leader's first visit to a foreign country since the start of the Covid-19 pandemic.
Beijing and Washington try to play down the metaphor of a new Cold War. But as each side moves to gain the upper hand, their actions often give the opposite impression.
In an article in Foreign Affairs this month, Cornell University Professor Jessica Chen Weiss wrote that both sides were "already engaged in a global struggle."
Given the deep distrust, new discussions are needed, albeit not necessarily the full array of contact seen under the Obama administration, Prof Weiss said in an email. "Given intense distrust on both sides, such discussions should not aim at creating a new framework or slogan that each side will see as a Trojan horse," she said.
The power balance was different during the Cold War. The Soviet Union was never an economic competitor with the United States, and Washington was able to exploit its quarrel with China.
President Richard Nixon persuaded Mao Zedong to forsake his old Soviet ally and come to America's side. Nixon and Henry Kissinger, his national security adviser, leveraged the new alignment to convince the Soviets to enter into arms control talks that continued into subsequent administrations.
Those talks were interwoven into summit meetings that allowed the leaders to meet with a substantive agenda in hand, and offer reassurances.
"Today our arms control agenda has vanished, in fact has moved in reverse," said Mr Jon Huntsman, who has been the US ambassador to both China and Russia.
Communications with the Soviet Union never reached the low point they are at now with China, Mr Huntsman said. "The Chinese simply won't engage," he said. "Lights out. Nada."
The United States is worried about what appears to be China's rapid expansion of its nuclear arsenal. In July 2021, nuclear experts at the Federation of American Scientists said there was clear evidence that China was building more than 100 silos in its western desert for launching nuclear missiles.
In a November phone call, Mr Biden suggested to Mr Xi that they begin talks on "strategic stability." That phrase can cover nuclear strategy and crisis management, said Dr Lyle Goldstein, director of Asia engagement at Defense Priorities, a research group in Washington.
Asked about Mr Biden's offer at a news conference in mid-August, China's ambassador to the United States, Mr Qin Gang, said that such talks were not possible until the United States resolved the "political foundation of our bilateral relations," meaning the future of Taiwan.
The loss of military discussions between the United States and China is perhaps the most worrisome development.
Those meetings were often stilted, with the Chinese officers reading from prepared scripts, Dr Goldstein said. But sometimes the talks were helpful, nudging the two sides toward better understanding, if not specific solutions.
"I found our discussions to be respectful and collegial," said a former commander of the Pacific Fleet, Admiral Scott H Swift, who met with his Chinese counterparts in 2016 and 2017, when relations were warmer. "As a result, we were able to move beyond our rhetorical challenges and focus on reducing the likelihood of unintended incidents at sea escalating to challenges our respective leadership would view as counterproductive."
Adm Swift said he stressed the guidelines known as the Code for Unplanned Encounters at Sea, which set out protocol that Chinese and American vessels could follow when navigating close to each other.
In the current atmosphere, what interactions remain between the two countries are strained, at best.
In a classic piece of Cold War theater last month, the Ministry of Foreign Affairs in Beijing summoned the US ambassador R Nicholas Burns, to appear at its offices at the very moment that Ms Pelosi landed in Taiwan.
Mr Burns waited to make sure she had landed. Then he drove to the ministry, arriving a few minutes late.
"We had a difficult and contentious meeting," Mr Burns said. "I defended Speaker Pelosi's right to visit Taiwan and said Beijing was overreacting and manufacturing a needless crisis."
This article originally appeared in The New York Times.