Migrant spouses find acceptance hard to come by in South Korea
SEOUL — Ms Cecilia Flores works as a barista in a cafe in Mapo district, where she talks to her customers in fluent Korean. She can cook Korean food and is well-versed in Korean customs.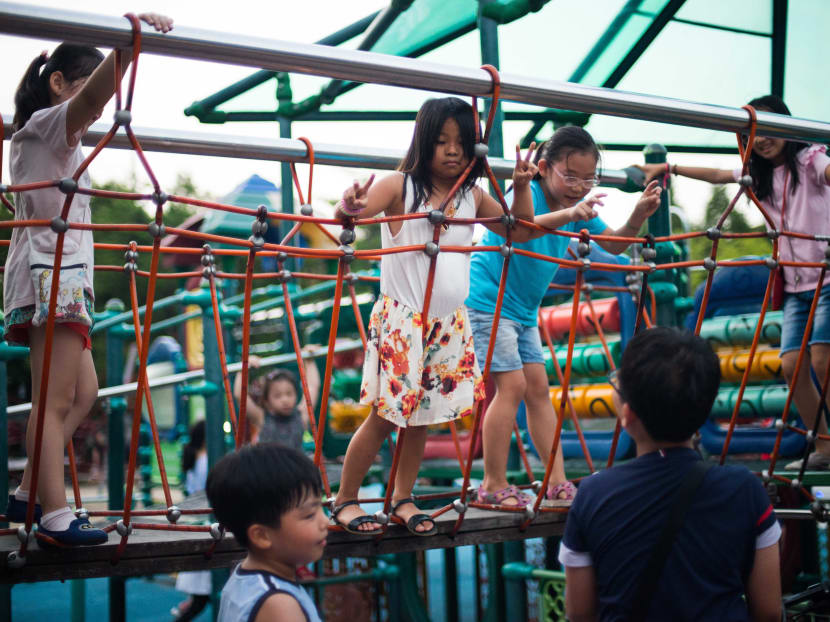 SEOUL — Ms Cecilia Flores works as a barista in a cafe in Mapo district, where she talks to her customers in fluent Korean. She can cook Korean food and is well-versed in Korean customs.
But her son was only six years old when he asked his mother: "Why are you Filipino? Why can't you be Korean?"
Ms Flores, 30, moved to Seoul in 2008 after marrying a Korean introduced to her by her cousin, who also married a Korean.
Said Ms Flores of her son: "We would be happily holding hands on the street, but the moment we bumped into his friends, he would snatch his hand away and put some distance between us."
At home, Ms Flores relishes the moments when her son lets her lay her head on his lap, or comes running with a glass of water and pillow when she is tired.
"But outside, he sometimes treats me like a stranger because his friends tease him for having a foreigner as a mother," she said.
Her nine-year-old son is not the only one who makes her feel like an outsider.
When she first attended a parent-teacher meeting at her son's school, she noticed how the teachers greeted every parent but her.
The Korean mothers too avoided her.
"It hurts. But I am Filipino and you can't change that," said Ms Flores, who also has a five-year-old daughter.
She is one of 273,198 foreign-born spouses, including naturalised ones, living in South Korea as of August 30 this year.
The figure has more than doubled from 124,971 a decade ago.
A majority of the 154,267 spouses who have yet to attain citizenship hail from China (37.2 per cent), followed by Vietnam (27.2 per cent), Japan (8.6 per cent), the Philippines (7.6 per cent), Cambodia (2.9 per cent), Thailand (2.3 per cent), Mongolia (1.5 per cent) and other countries (12.7 per cent).
About a third of those who come from China are ethnic Koreans who had migrated to northern China, close to the North Korean border, during World War II.
International marriages surged in the 1990s, when the migration of ethnic Korean women from rural to urban areas forced men in the countryside to take foreign brides.
Once a countryside phenomenon, the practice has shifted to cities as well, due to the societal pressure on Korean men to get married.
Seoul has the second highest number of migrant wives by province, beaten only by Gyeonggi, the most populous province.
In 2006, following the annual increase in the number of migrant wives, the government coined the term 'multicultural family' to describe the families that result from international marriages. It then introduced a slew of initiatives to help integrate foreign women into society, recognising their potential to boost the country's ailing birth rate.
Multicultural family support centres were set up in major districts, offering Korean language classes, employment support and even activities like how to don a hanbok — the Korean traditional costume.
There are now over 200 such centres across South Korea.
Such policies have been effective in helping migrant wives have an easier life, said Mrs Nguy Thi Thuy Huong, vice-chairwoman of the Association of Vietnamese Women in Korea.
"Financial support is provided by the government for struggling families. Korean language centres help migrant wives overcome their language barrier — one of the major difficulties women from different countries face after coming to Korea," she said.
SETTLED BUT NOT FULLY ACCEPTED
But some experts say that the government's approach has been fixated on helping migrant wives, with less focus on getting Koreans to accept them.
"Their efforts are focused on settlement assistance for new members," said Professor Park Kyung Tae of Sungkonghoe University, adding that these efforts are aimed more at helping the newly arrived brides adapt to Korea rather than to help Koreans understand people of other cultures and how to live with them.
Said housewife Lee Shim Bi, 37, a Filipina married to a Korean and a mother of one: "Although Koreans are quite kind, some think that if you live here, you have to follow the rules here."
Mrs Lee, who has lived in Korea for the past 18 years, added: "Yes, they support multiculturalism by teaching us how to fit in. But we only accept; we never share."
Despite a 2015 study estimating that immigrants would make up 10 per cent of Korea's population by 2030, multiculturalism remains a new concept to many South Koreans, who grew up proud of their society's ethnic homogeneity.
For private school teacher Choi Il Ok, 59, finding out she had to teach some mixed race elementary school children at a family support centre gave her the jitters.
"I was afraid because I had never met multicultural children. I didn't know what to expect and I thought they would be difficult to manage," said Mrs Choi.
"But I eventually learnt that they are not so different from ordinary Korean children. I'm proud to be able to teach them now."
Ever since the government turned its attention to the families of migrant women, awareness of multiculturalism has grown.
A 2013 survey conducted by the Asan Institute for Policy Studies showed 67.5 per cent of respondents have a positive attitude towards multicultural families.
FROM WORKPLACE TO HOME
But not all Koreans are as positive as Mrs Choi though.
Vietnamese Tran Thi Hong Nga, 27, is indignant at the way Korean women at her previous company treated her and the other foreign wives working there.
Her ex-colleagues would shout at her and exclude her from conversations during group lunches, she said.
"They wouldn't treat another Korean the same way. We decided we would just pack food from home and eat in the office, because we didn't want to go out with them," added Ms Tran, who worked as an office administrative assistant.
She eventually left her job because it got too tiring to take care of her daughter while working.
Such workplace discrimination is not uncommon.
Ms Zarifa Hagitova from Uzbekistan snapped when her ex-employer failed to pay her salary for the second month running, simply because she was a foreigner, she claimed.
The 27-year-old filed a complaint with the Ministry of Employment and Labour, threw all her efforts into learning Korean at a multicultural centre, and now works at the government-run Danuri Helpline call centre where she counsels marriage migrants who face problems at home.
Ms Hagitova also had to put up with some tension with her in-laws. They forbade her from inviting friends home, "because they are foreigners, and will steal from our house".
Dr Cho Young Hee of the International Organization of Migration – Migration Research and Training Centre said the surge in the number of multicultural support programmes has led some to accuse the government of providing more for foreigners than its own people.
For instance, 86.4 billion won (S$103.4 million) was set aside in this year's national budget plan to fund multicultural family support such as language classes, job and entrepreneurship training and community meetings.
Domestic disagreements often stem from not understanding foreign cultures, said Mrs Cecil Park, 47, a counsellor at the Seoul Counseling Center for Migrant Women.
"The family cannot admit that (the wife) has her own culture and upbringing, and that it cannot change in one day or one month," said Mrs Park. "She has to adapt to the way of living here, but the family of her husband can't wait. And so the fight begins. They don't understand that they need to adapt too."
The counselling centre mostly handles cases of domestic violence against migrant wives.
According to Mrs Park, it receives one to three new cases every day — from minor issues such as domestic arguments, to major issues such as a wife who ran away to a shelter to escape physical abuse.
From 2006 to 2013, the number of divorces between Korean men and foreign wives rose from 3,900 to 7,600.
The number of broken marriages and cases of abuse resulting in the deaths of migrant wives prompted the Ministry of Justice to introduce stricter requirements for a marriage visa.
Since 2014, Korean spouses need to earn at least 14.8 million won a year. Marriage migrants have to prove a level of proficiency in Korean as well.
Divorce rates have fallen since then, but cases of discrimination continue to worry Mrs Park, who has worked at the counselling centre for 14 years.
She reckons that for every 10 marriage migrants, seven face prejudice in their new families.
The situation is compounded by the fact that South Korea has yet to introduce legislation regarding discrimination on the grounds of race, ethnicity and country of origin.
And it appears that children from multicultural families are not spared the intolerance, either.
In the neighbourhood of Daerim, eight-year-old Lim Pyo Ra began noticing a few years ago that the laughter at the playground would always be directed towards her the moment she spoke to her mother in English.
Her mother, Ms Glaiza Valdez, 32, said it has been a year since Pyo Ra started refusing to reply to her in anything but Korean — even if Ms Valdez insists on speaking to her in English or Tagalog.
The number of multicultural students in South Korea more than tripled to 99,186 in 2016, from 31,788 in 2010, prompting the government to open schools specially for them.
Multicultural family support centres also offer programmes to support the children's language development, supervise their homework and encourage them to share their culture with neighbours.
AN UNCERTAIN FUTURE?
But observers say that more can be done to urge ethnic Koreans to be accepting of other cultures.
Last June, a government official revealed that the Korean army is expected to become multiracial by 2025.
The Defence Ministry has forecast that the annual number of male enlistees from multicultural families will reach an average of 8,518 between 2015 and 2031.
Up until 2012, men of mixed races were barred from serving in the military. The ministry has said that it plans to study soldiers' perception of multiculturalism and develop ways to keep discrimination at bay.
Professor Park of Sungkonghoe University said for a nation so new to multiculturalism, South Korea is "not bad".
"For instance, we don't get a lot of cases of hate crime," he said.
Social initiatives such as Cafe O Asia, which employs migrant wives across its 15 cafes in Seoul, have also sprung up in recent years.
It remains to be seen, however, which direction the government will take with its multicultural policies when it unveils the five-year plan for migrants in December this year.
Said Mrs Lee from the Philippines: "I think Koreans like learning, but some of our cultures are not properly introduced to them. Somebody must do more to support that. They must know what our culture is, and our beliefs."
Claudia Chong, a final-year journalism student at Nanyang Technological University's Wee Kim Wee School of Communication and Information, did this report as part of the school's Going Overseas For Advanced Reporting module. This is part of a series on South Korea that TODAY is running.