Muhyiddin blames political rivals after resigning
KUALA LUMPUR — Mr Muhyiddin Yassin has blamed his political rivals for making him the shortest-serving prime minister in office.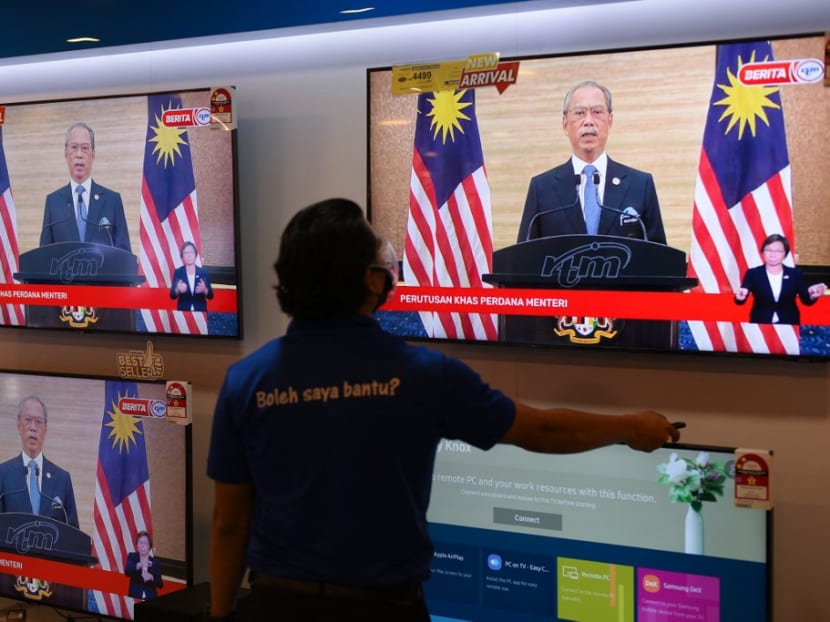 KUALA LUMPUR — Mr Muhyiddin Yassin has blamed his political rivals for making him the shortest-serving prime minister in office.
"This didn't work because there were parties who were determined to seize power at the expense of lives," said Mr Muhyiddin, who tendered his resignation to the Yang di-Pertuan Agong earlier on Monday (Aug 16).
The Bersatu president said he could have taken the easy way out by working with the "kleptocrats".
"But I did not choose that. I will not work with kleptocrats and interrupt the judicial process, or turn my back against the federal constitution to stay in power," said the 74-year-old whose administration is the shortest at 532 days.
The longest-serving prime minister is Dr Mahathir Mohamad (8,136 days) during his first tenure, followed by Tunku Abdul Rahman (4,767) and Mr Najib Razak (3,321).
Mr Muhyiddin came to power last March with support from United Malays National Organisation (Umno), which is led by Mr Ahmad Zahid Hamidi who is currently facing 87 charges in court.
His eventual downfall is the result of a "revolt" by Mr Zahid and a group of 14 other Umno lawmakers, some of whom are also facing criminal charges, including former prime minister Najib Razak.
Apart from having to manage the Covid-19 pandemic, Mr Muhyiddin's 17 months in power has been marked by controversy that included instituting an eight-month emergency rule to stop parliament from meeting.
Mr Muhyiddin said although he had initially proposed to have his legitimacy tested in Parliament through a confidence motion, the withdrawal of 15 Umno Members of Parliament (MPs) and the opposition's rejection of his offer meant he had lost the majority support.
"Hence, there was no need for my legitimacy to be tested in parliament anymore and hence I tendered my resignation as prime minister together with the cabinet today in accordance to Article 43 (4) of the federal constitution.
"Although, I have heard the millions of Malaysians who have asked me to remain as prime minister, I cannot fulfil their wishes as I have lost the confidence of the majority in Dewan Rakyat.
"I have done everything possible till the last minute to save the Perikatan Nasional government but it has not worked due to my political rivals."
Mr Muhyiddin left Istana Negara about 1pm after an audience with the Yang di-Pertuan Agong. He had arrived earlier at 12.23pm.
He also held a morning of final meetings, first, with a group of officials at the Prime MInister's Office in Putrajaya at 8.30am, before chairing a special cabinet meeting, his last in his 17-month tenure.
The last two weeks have seen the Pagoh MP lose his parliamentary majority after 15 Umno MPs pulled their support.
The Bersatu president refused to resign as prime minister, but his final attempt of an olive branch to the opposition on Friday failed, when all opposition parties rejected his offer of reforms in exchange for support.
The 74-year-old former Umno politician became the country's eighth prime minister in March last year after Dr Mahathir Mohamad resigned as prime minister following the Sheraton Move.
Mr Muhyiddin led Bersatu MPs out of Pakatan Harapan (PH) and with support from Umno, Parti Islam Se-Malaysia (PAS) and a breakaway faction from Parti Keadilan Rakyat (PKR), toppled the PH administration. THE MALAYSIAN INSIGHT